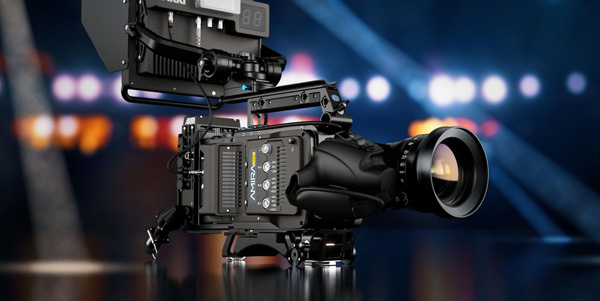 The ARRI AMIRA Live is a new version of the AMIRA camera designed specifically for multi-camera live broadcasts. It makes external cabling unnecessary between the camera body and the fibre adapter, in order to set up a neater, more reliable configuration for live productions. Delivered with the 6.1 software update that adds many new features and the VMM-1 onboard monitor, AMIRA Live aims to combine the efficiency of system cameras with cinematic looks.
Multi-camera Configuration
Like other Super 35 format cinema cameras, AMIRA previously needed several external cables connecting the camera to the fibre backend for SMPTE 311M signal transmission in order to adapt it to multi-camera broadcasting. For live broadcasters, relying on cables increases the risk of accidental disconnection or damage. The AMIRA Live largely avoids such risks with a new SMPTE 311M fibre transmission system developed in partnership with specialist audio transmission firm DTS. The simpler camera configuration is generally easier for camera operators to work with.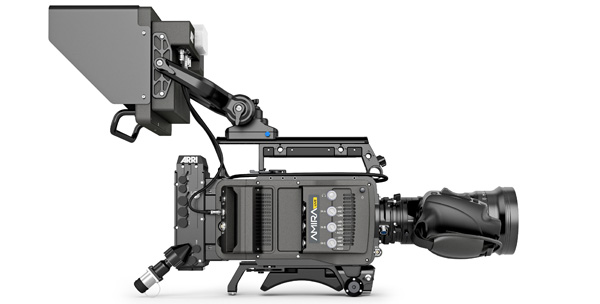 Users can record in-camera for post-production, finishing or slow-motion effects, while simultaneously transmitting live HD or UHD signals to a broadcast facility, stage display or social media channel that has access to standard production environments like OB vans or studios. In this way, the combination of ARRI cameras and the fibre system delivers a cinematic look with the efficiency of a live transmission system.
AMIRA Live's cable-free design brings it into line with the system cameras typically used for multi-camera broadcasts. However, these new cameras use a 2/3-inch sensor, whereas AMIRA Live uses ARRI's ALEV III Super 35 sensor, the same sensor design used in all ALEXA cameras, resulting in the same image quality. This sensor and ARRI's colour science make it possible to broadcast live images with a similar look to feature films, cinematic TV series and OTT productions.
SUP 6.1 Software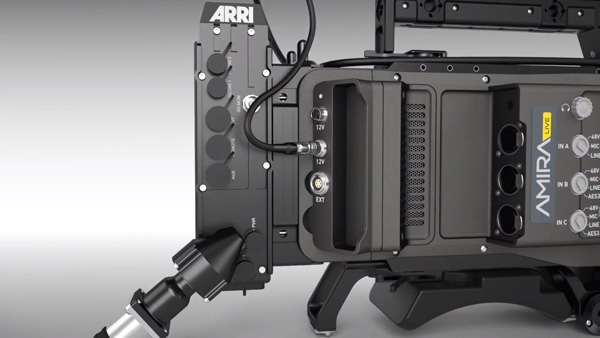 The SUP 6.1 software update coinciding with the AMIRA Live's release makes several changes including better noise reduction, a wider range of settings for sharpness, more precise defective pixel correction and faster start-up. The update adds a green tally display to the viewfinder image and an intercom talkback facility via the VTR or user button, which should ease communications for users operating the camera from the shoulder.
The cameras can be controlled with standard Sony RCPs (Remote Control Panels), permitting Sony RCP image parameter and iris control for ENG-style PL and B4 lenses including box lenses and EF lenses, as well as the AMIRA'S cinema lenses. The configurable Skaarhoj RCP V2 is also supported, a control panel giving access to all relevant camera parameters such as LUTs and setup files, through the ARRI Camera Protocol CAP.
SUP 6.1 also now means that no special device is needed when using the cforce mini RF to control the iris with the RCP (Remote Control Panel). The cforce mini RF is an intelligent lens motor with a built-in radio module that takes the place of an extra receiver unit on the camera. Thus, the new software allows photographers to use cinema prime and zoom lenses to give a distinctive style to their work, but still follow the same workflow they use for system camera lenses.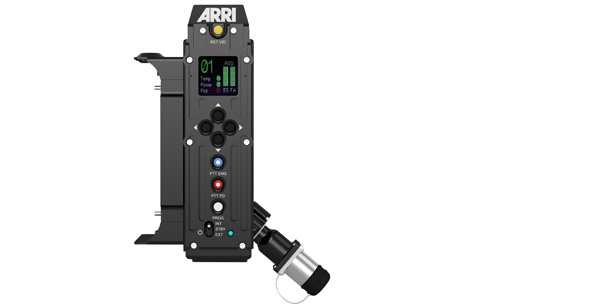 ARRI VMM-1 10-inch Monitor
A further component of the new AMIRA Live package is ARRI's VMM-1 monitor, a 10-inch onboard monitor that connects directly to the camera viewfinder interface or can be daisy-chained with the Camera Control Panel CCP-1. It includes controls for contrast, colour, backlight and peaking with a peaking on/off switch, a physical on/off switch for the frontside tally, and two-camera user buttons. The monitor comes with an adjustable, quick-release Monitor Yoke Support MYS-1 bracket.
The AMIRA Live is available to order now. Prototypes have so far been used on professional broadcasts for the David Guetta Productions tour, a TV talkshow and the Ehrlich Brothers magicians. www.arri.com