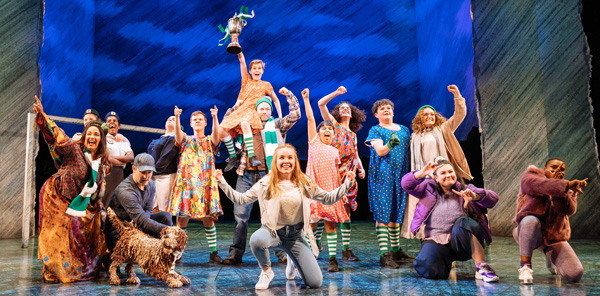 Royal Shakespeare Company (RSC), located in Shakespeare's hometown of Stratford-upon-Avon, is recognised around the world for its live performances. Before the pandemic, the Company produced around 20 productions a year, playing regularly in London, Stratford-upon-Avon and on tour in the UK and internationally.

RSC Content Producer Mark Kendrick said, "Our doors closed in March last year, and so far, we have been unable to reopen them to the public. With the theatre set to remain closed through the winter, we decided on a digital approach and live streamed a series of plays performed on our main stage."

The festival series opened with a celebration of 'The Boy in the Dress', an adaptation of the children's book by David Walliams. The festival also features plays for public audiences and educational organisations, including adaptations of Shakespeare's work by author Michael Morpurgo.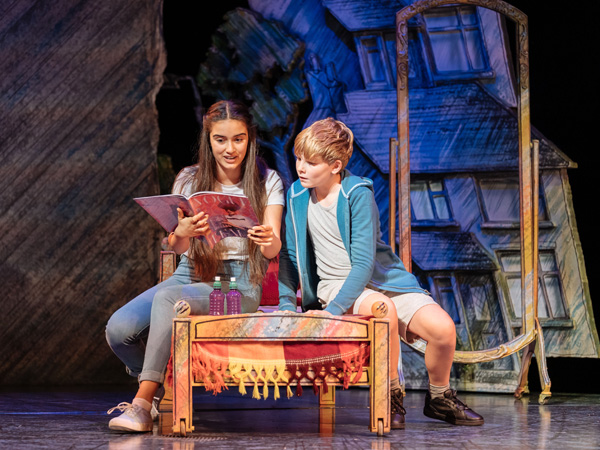 Audience Perspective
"One of the main challenges was, how do we give those productions the same buzz and feel as live theatre?" Mark said. "We had to create a workflow that combined our existing theatre knowledge and practices with the principles of broadcast. We pride ourselves on world class theatre production. Whatever we did had to match the high standards our audiences have come to expect from us."
The theatre company implemented a live multicamera production based on the URSA Mini Pro 4.6K G2 and ATEM Television Studio Pro HD switcher to keep theatre goers entertained. "We decided to film each performance from the audience's perspective, which meant getting out into the stalls. Every production has been slightly different, and so we adapted the camera positions to suit.
"Generally speaking, however, we had two URSA Mini Pro cameras, operated by cameramen, located centrally in the stalls, while a third recorded an angled shot from the stage side. We also relied on the Micro Studio Camera 4K to capture wide shots of the stage and auditorium."
Playing to the Camera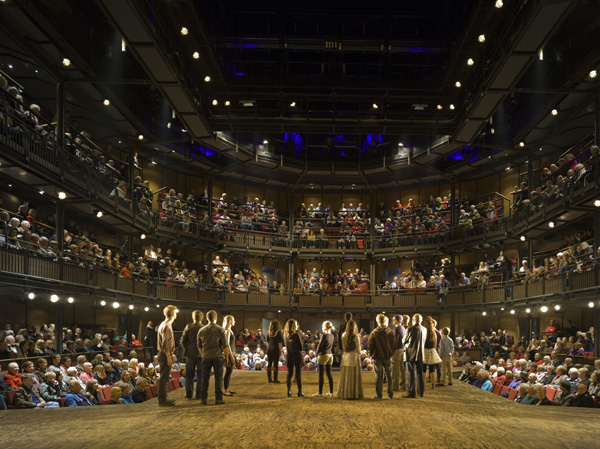 RSC's theatre with an audience ...
Actors now play to the camera instead of the house, which has involved learning essential differences between stage and video craft. "This has proved challenging in certain respects as there is also an obligation to keep the cast and crew safe and socially distanced," Mark said. "We also found that we had to approach lighting the stage differently each time to ensure we still captured a quality look on screen."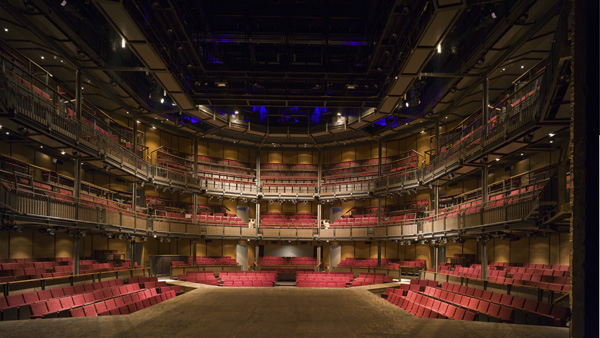 ... and without.
All the cameras are connected over SDI, routed to a Smart Videohub 12G 40x40, and vision mixed via the ATEM Television Studio Pro HD. He said, "The image quality from the URSA cameras is excellent and we are impressed with their build quality and reliability as well. The cameras often run for more than 12 hours a day, but never miss a beat. The workflow and integration with the software control and HyperDeck Studio Pro recorders allow us to create macros which made hitting show cues straightforward.

"Our knowledge and understanding of how to record live theatre has grown considerably, and this has opened up ideas and conversations about what is possible to us, post-Covid," said Mark. "We will always be a live venue, but this new knowledge could pave the way to reaching more audiences worldwide in the future." www.blackmagicdesign.com