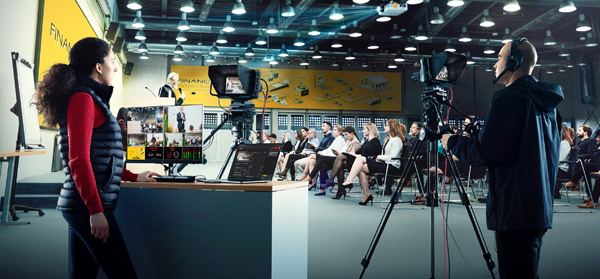 Blackmagic Studio Cameras for live production have a compact all-in-one design with professional features, and can be set up quickly on location. The cameras are designed with carbon fibre reinforced polycarbonate and integrated 7-inch viewfinders, making them lightweight and easier to transport and set up than large traditional studio cameras.

Blackmagic Studio Cameras have the same features as full-sized studio cameras but in a portable design. The two Studio Camera models include the Studio Camera 4K Plus, designed for use with the ATEM Mini switcher. It has a 4K sensor up to 25,600 ISO, MFT lens mount, HDMI out, a 7-inch LCD screen with sunshade, built-in colour correction and recording to USB disks. Studio Camera 4K Pro is built for professional SDI or HDMI switchers, and has the features of the Plus model as well as 12G-SDI, professional XLR audio, brighter HDR LCD, 5 pin talkback and 10G Ethernet IP. Other Studio Camera features for professional applications are tally and camera control.
Images and Colour
With the digital dynamic range and colour science of a film camera, the cameras can record cinematic looking images in challenging lighting conditions. The sensor's ISO of up to 25,600 means supports shooting in dimly lit locations. The cameras are optimised to reduce grain and noise in images. Gain ranges from -12dB (100 ISO) up to +36dB (25,600 ISO), at the same time maintaining the dynamic range of the sensor. The gain can be set from the camera, or remotely from a switcher using the SDI or Ethernet remote camera control. The colour corrector can also be controlled from the switcher.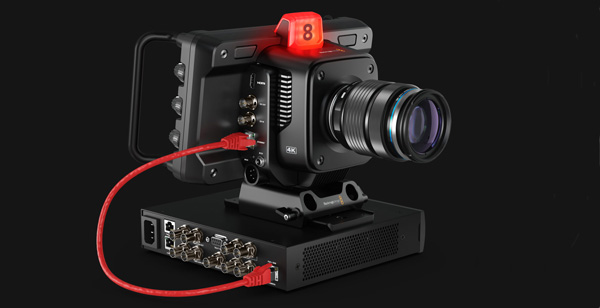 The 4K sensor combined with Blackmagic generation 5 colour science yields the same imaging system used in digital film cameras. The 13 stops of dynamic range reach the darker blacks and brighter whites required for colour correction. Its 4096 x 2160 resolution – the digital cinema definition of 4K – accommodates HD and Ultra HD work, and all models support frame rates from 23.98 fps up to 60 fps.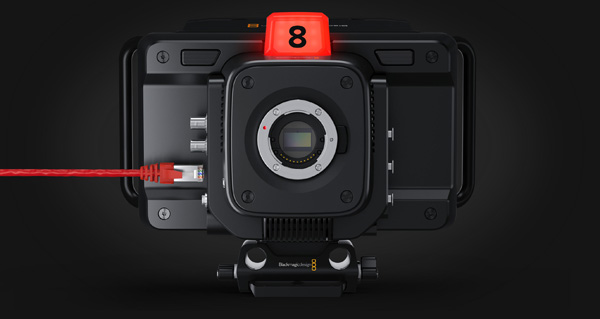 Shooting
Blackmagic Studio Cameras are designed for live production, but are not limited to use with a live switcher. Users can also record footage externally by shooting Blackmagic RAW and saving to USB disks, when working in any situation that uses a tripod. To quickly mount the cameras onto tripods, all models include a machined metal tripod mount and a quick mounting plate that slides the camera onto the tripod, with forward and rear adjustment to refine the balance.
The 7-inch viewfinder makes it a good match for projects such as chat shows, television production, broadcast news, sports, education, conference presentations and weddings. The display is bright, built with side handles, a touch screen and physical controls to help users to track shots, and is comfortable to use for long periods of time. The touch screen has menus for camera settings with knobs for brightness, contrast and focus peaking. On screen overlays show status and record parameters, histogram, focus peaking indicators, levels and frame guides, and 3D LUTs can also be applied for monitoring shots with a specific colour and look.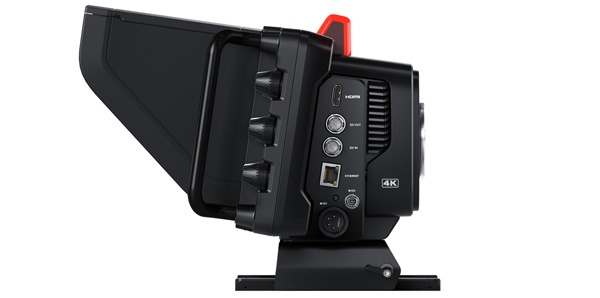 Blackmagic Studio Cameras have an MFT lens mount, which is compatible with a wide range of affordable photographic lenses designed for use in high resolution photography. To avoid having to reach around the camera set-up to adjust the lens zoom and focus, optional focus and zoom demands are available that allow users to adjust the lens from the tripod handles, similar to a large studio camera with the same feel as conventional B4 broadcast lenses.
Each zoom and focus demand has two USB-C ports, so that users can daisy-chain and then connect them to the camera with a single USB connection. Their design is precise, giving users very fine lens control and the ability to frame and adjust the lens without taking their hands from the tripod handles.
Connectivity and Power
Blackmagic Studio cameras have a good choice of connections for both consumer and broadcast equipment. Both models have HDMI with tally, camera control and record trigger, making them suitable for ATEM Mini switchers, headphone and mic connections and two USB-C expansion ports. The USB port will also power any phone or disk plugged into it. The HDMI connects video to the ATEM Mini, while camera control, tally and the remote record trigger is sent to the camera via the same HDMI connection, at the same time.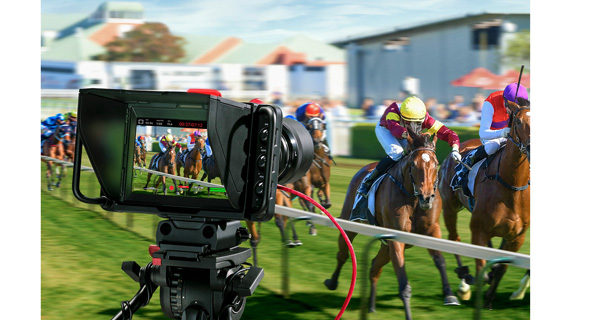 The 4K Pro model has SDI connections that include talkback, so that the switcher operator can communicate with camera operators during live events to guide shot selection and avoid all the cameras capturing the same shot at the same time, for instance. The talkback connector, built into the side of the camera, supports standard 5-pin XLR broadcast headsets.
To support broadcast workflows, the 4K Pro model also has 12G-SDI, 10GBASE-T Ethernet, talkback and balanced XLR audio inputs. The 10G Ethernet allows all video, tally and talkback via a single connection in the same way as a SMPTE fibre workflow, but using much cheaper, standard Category 6A copper Ethernet cable. The Ethernet also carries program return feeds and camera control.
With a large power supply, the Blackmagic Studio Converter handles all video conversions at the switcher end, allowing breakout of all video, audio and talkback connections at the studio. It also adds PoE to the Ethernet cable so that no further power connection to the camera is needed. Power options include a common 12V DC locking power connector on both models, which prevents the cable from being accidentally pulled out. On the other hand, when the crew is using a single Ethernet cable to connect to the Pro model, then the whole camera and its accessories can be powered from that connection.
External Recording
As mentioned, the high speed USB-C expansion port is suitable for recording to external disks or connecting to various accessories. When Blackmagic RAW files are recorded to an external USB flash disk, for example, users can move the disk directly to a computer for editing and colour correction without having to copy files.

Blackmagic Studio Converter

12-bit Blackmagic RAW files preserve sensor detail and colour throughout the post pipeline, avoiding the noise, artifacts and loss of sensor detail caused by some highly compressed file formats such as H.264. Blackmagic RAW also saves camera settings as metadata, supporting post-production changes to ISO, white balance and exposure in DaVinci Resolve, and the small files give fast performance during editing.
Audio
Blackmagic Studio Cameras include built-in, shock- and wind-resistant microphones, a 3.5mm audio input for connecting video camera microphones, and a 3.5mm headphone jack. The 2-channel balanced XLR inputs support +24 dBu line level and have an ultra low noise microphone preamplifier with P48 phantom power, alongside an equivalent input noise (E.I.N.) of -131 dBV(A). There are also two 117 dB high dynamic range analogue-to-digital converters – any microphones plugged into the XLR inputs will have a higher level of noise than the camera's audio.
Blackmagic Studio Cameras are now available worldwide through Blackmagic Design resellers, costing from AUD 2,045, or USD 1,295. www.blackmagicdesign.com