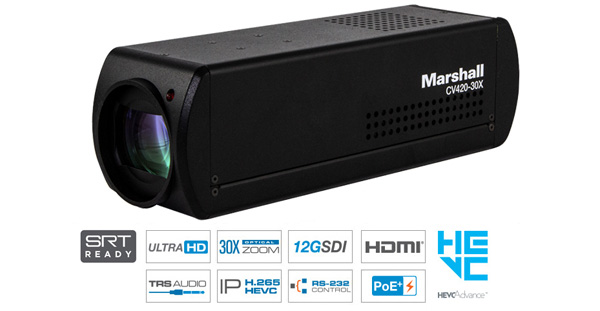 Able to carry low latency video at up to 4K/60fps resolution over coaxial (12GSDI) cable, 12G-SDI is now used more widely for broadcast and audio/visual applications. Marshall Electronics new CV420-30X 12GSDI camera is built with 12GSDI, HDMI and IP (HEVC/SRT) simultaneous outputs, which means it will fit into a wide variety of applications that suit broadcast and professional A/V workflows.
The CV420-30X has a Sony Exmor-R sensor that captures 4K (UHD) video up to 3840x2160p at 60fps through a 30X optical zoom range. Its straightforward design and ease of use make it a good choice for live broadcast, houses of worship, sportscasts, newscasts, reality television, concert production, corporate video, courtroom capture, government assembly, education and social media streaming.
The camera was developed as a new model in Marshall's 30X zoom block camera range. The long 30X optical zoom lens achieves an extended zoom range from 4.6- to 135-mm, starting at nearly 70°, out to 3° horizontal angle-of-view in order to maintain sharpness in images, from ultra-wide to ultra-long telephoto shots. The CV420-30X also operates with extreme low-light sensitivity when shooting in compromised lighting conditions, or in dynamic lighting environments such as live concerts, houses of worship and indoor or outdoor sports events.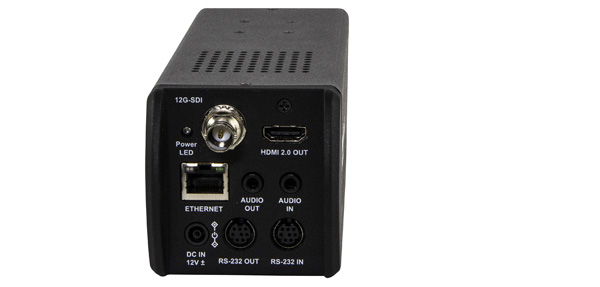 "Marshall is receiving more requests for 12GSDI as 4K is adopted more widely," said Tod Musgrave, Director of Cameras for Marshall Electronics. "The CV420-30X is suitable for use in networked UHD and HD workflows using one cable to integrate the camera into the network while leaving the 12GSDI output available to plug into video switching or use for uncompressed video capture."
The CV420-30X has 12GSDI (BNC) output as well as three IP streams with multiple-protocol support including HEVC and SRT (4K60) open-source video transport protocol that optimises video streaming performance across unpredictable networks. The camera also supports protocols including DHCP, DNS, HTTP, HTTPS, IPv4, NTP, RTSP, TCP, MPEG-TS, RTMP and RTMPS. A single ethernet (CAT) cable to the camera carries video up to UHD, audio, control and power (PoE+), with IP (HEVC) and 12GSDI/HDMI simultaneous outputs with stereo audio embedding.
CV420-30X extends the Marshall IP camera line so that it can support systems for most IP network projects. The Marshall VS-PTC-IP broadcast-style controller works as a command source for the CV420-30X with one cable IP (Ethernet) plugin. Using Marshall Electronics' open-source command structure, it can also be controlled via various types of video management software (VMS), OBS Studio Plugins/Docks, a web browser and a variety of other command sources.
Marshall Electronics will announce an show the CV420-30X 12GSDI camera at NAB 2021. www.marshall-usa.com