=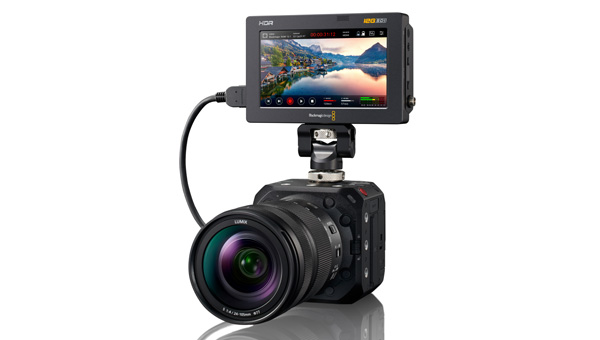 Shooting Blackmagic RAW on the Blackmagic Video Assist 12G HDR external recorder
Panasonic's LUMIX BS1H full-frame box-style camera for prefessional applications combines cinematic video capture with live stream functionality. The camera is built with a 24-megapixel full-frame sensor and shoots 6K full-area video with flexible depth of field, low-light performance, 14+ stops of dynamic range, V-Log and extended recording.
Standard connections and interfaces range from SDI, HDMI, Genlock IN to Timecode I/O and support LAN with PoE+ for power and control. With V-Log and V-Gamut included, the BS1H has the colour reproduction and imagery of the VariCam line of Panasonic production cameras – similar to the S1H full-frame mirrorless camera or the EVA1 compact cinema camera.
35mm Full-Frame Sensor
The LUMIX BS1H has the same 24.2-megapixel 35mm full-frame CMOS sensor (35.6 mm x 23.8mm) as the LUMIX S1H. It has a maximum ISO of 51200, allowing low-light shooting and taking advantage of the full frame sensor's ability to work at a high ISO. Supporting this, the Venus Engine processor controls noise and an optical low-pass filter suppresses moiré patterns.
Making the most of the pixels in the full-frame image sensor, the LUMIX BS1H can record smooth video in a lot of different formats starting with 6K video at 24p, or 5.4K at30p with 3:2 aspect ratio, or 5.9K at 30p with a 16:9 aspect ratio. It also shoots 10-bit 60p 4K/Cinema 4Ki HEVC video when using the Super 35mm equivalent image area or, using the full area, 4:2:2 10-bit 4K30p can be recorded in H.264. The high-resolution data can also be used to create 4K videos with higher image quality or to crop images in 4K.
The LUMIX BS1H features V-Log/V-Gamut with a dynamic range of 14+ stops, the same as the Panasonic VariCam, capturing colour variations precisely from dark to bright areas. Subtle gradations such as skin tones are also accurately reproduced so that, using the colour management in post, users can achieve consistent results.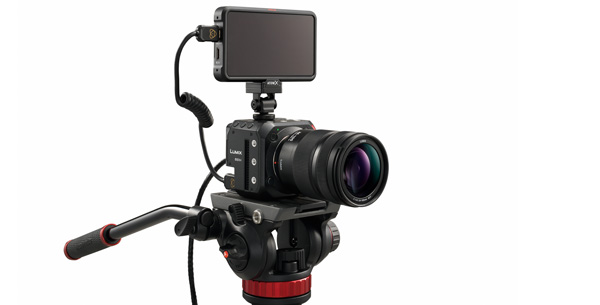 As well as recording high dynamic range (HDR) video, the camera shoots video with a designated gamma curve compatible with ITU-R BT.2100, and outputs Hybrid Log Gamma (HLG) format in Photo Style.
The camera incorporates a Deep Learning autofocus algorithm that helps it to accurately detect specific subjects including humans, people's faces and fast-moving animals. As well as the eye, face and body, the head is recognised separately by real-time detection, increasing precision. The camera also continues to track subjects when they move quickly, turn away, tilt their heads or move far away from the camera.
Formats, Frame Rates and Resolution
As mentioned, the LUMIX BS1H is capable of 4:2:2 10-bit 4K 60p/50p HDMI output, and can shoot for extended periods, owing to efficient heat dispersion. It records in a variety of recording formats including 4:3 Anamorphic mode.
The LUMIX BS1H has two alternatives for RAW workflows, with support for unusual creative specifications. These are [5.9K] / [4K] / [Anamorphic (4:3) 3.5K] 12-bit RAW video data, output over HDMI and saved as Apple ProRes RAW on the Atomos; or Blackmagic RAW on the Blackmagic external recorder.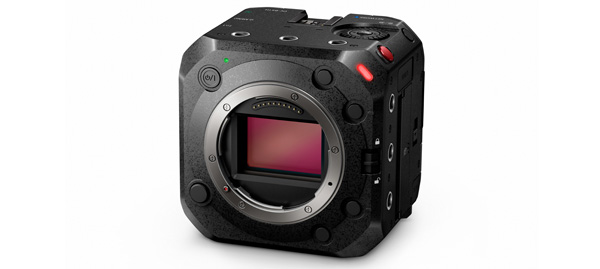 During RAW output V-Log or V709 is selectable on the external monitor through SDI, and shooting assist functions including V-log View Assist, Luminance Spot Meter and Zebra Pattern can be used.
With the VFR (variable frame rate) functionality, users can record 2.5x speed (24p/60 fps) for slow motion in Cinema 4K/4K resolutions, and 7.5x (24p/180 fps) in full-HD for super-slow motion. The minimum frame rate for quick motion video is 2 fps. Higher frame rate recording includes audio and autofocus, which can then be used to create slow-motion video in post.
To support live streaming, the LUMIX BS1H's IP streaming function transmits images over ethernet to a PC on a wired network, and then live streams content to social platforms using PC software. The camera can transmit 4K 60p (50p) video in H.265, which needs only half the bitrate when transmitting video with the same image quality as H.264, and twice the image quality when transmitting at the same bitrate as H.264. Transmitting video in UHD 4K at low bitrates is possible, even in low bandwidth situations.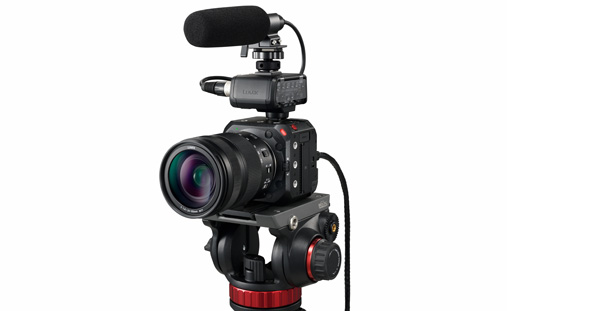 Connectivity
Built into the box-style body are a large number of connection ports. The LUMIX BS1H complies with Power over Ethernet+ (PoE+) which allows users to operate and power the camera using a single ethernet cable through compatible peripherals. Control over up to 12 of the cameras is possible using Panasonic's PC software LUMIX Tether for Multicam.
Terminals include USB 3.1 Type-C, plus 3G-SDI and HDMI Type-A, which can be used for simultaneous output. Genlock IN (BNC) and Timecode IN/OUT (BNC) functions are available for multi-angle synchronised video recording. These will support a scalable system built up with third-party external monitors, rigs and gimbals. The camera is also equipped with two SD Card slots for backup or relay recording.
The Linear Focus control helps achieve smooth, repeatable focus transitions when using the camera with LUMIX S Series lenses with the BS1H. When S Series lenses with Optical Image Stabilisation are mounted, Boost I.S. (Image Stabiliser) can be used during recording.
In an aluminium and magnesium alloy body frame, the LUMIX BS1H is compact and lightweight to work with, with durability for field operation. The LUMIX BS1H is priced at AUD5,299 RRP, to be available in November 2021. www.panasonic.com.au