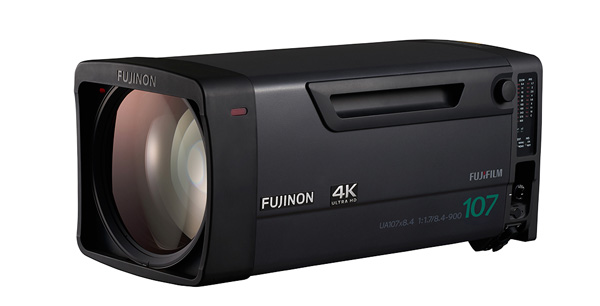 The new FUJINON 4K-compatible UA107x8.4 broadcast zoom lens is equipped with a new image-stabilisation mechanism and customisation capabilities. It will launch alongside a new zoom rate demand unit, FUJINON ERD-50A, that is built with a large LCD panel. When combined with the ERD-50A, the new UA107x8.4 lens was developed to make shooting 4K video easier. The two products will be released in late November 2021.
The use of 4K-compatible video equipment for broadcast is spreading rapidly today across diverse types of video production including live sports and concert coverage. Anticipating the expansion of HD video, Fujifilm became the first manufacturer to release a 4K-compatible broadcast lens, which has since expanded into line-up of other 4K lenses and accessories.
The new lens reaches a very high 107x magnification zoom, covering the focal length range from 8.4 mm in wide angle to 900 mm in ultra-telephoto, when capturing subjects from a long distance away. It has a built-in LCD panel added for fine-tuning the shooting settings, including zoom curve and focus curve. Aspherical elements and fluorite elements are used to control aberration. The use of the floating focus system makes its performance more consistent by controlling multiple lens groups according to shooting distance.
The lens' new image-stabilisation mechanism means the lens can accurately correct image blur caused by wind or shaking on set without causing any time lag, to give more stability. The mechanism is based on the ceramic ball roller system. Ceramic balls are lighter and faster than steel, using less power to run, and rarely need lubrication. As a result, the lens' stabilisation performance is better than the previous model and controls swing-back well.
ERD-50A Zoom Rate Demand Unit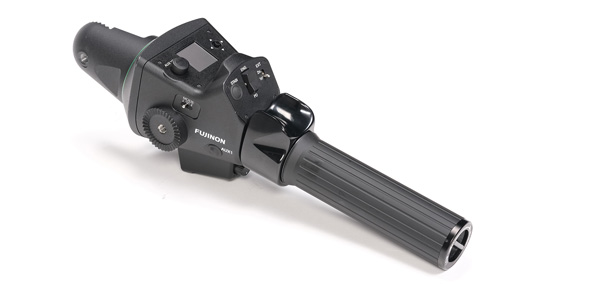 Users combining the ERD-50A zoom rate demand unit with the UA107x8.4 lens can select the optimum zoom curve or zoom pattern for a given shooting scene out of 200 options – for example, swiftly and accurately zooming in on an athlete for dynamic live sport coverage, or extremely slowly and smoothly zooming in toward a musician for expressive live music video. ERD-50A activates the image stabilization and back-focus adjustment.
UA107x8.4 may also be combined with FUJINON's focus position demand unit EPD-51A, released earlier, for 4K video production that requires precise focussing.
The unit is built with a clearly legible LCD panel and a four-way operation button. The unit has an AUX button that users can assign a frequently-used function to, and comes with a display for checking shooting settings, including the AUX button assignments and the on / off status of image stabilisation, while shooting video.
The layout for frequently-used switches, such as those for the image stabilisation and extender, has also been optimised. The switches are positioned within reach of a thumb while the user is holding the grip. The AUX VOL dial on the top panel can be used for back-focus adjustments. Users can store up to nine sets of settings including zoom curve / zoom pattern selections and the AUX button function. www.fujifilm.com