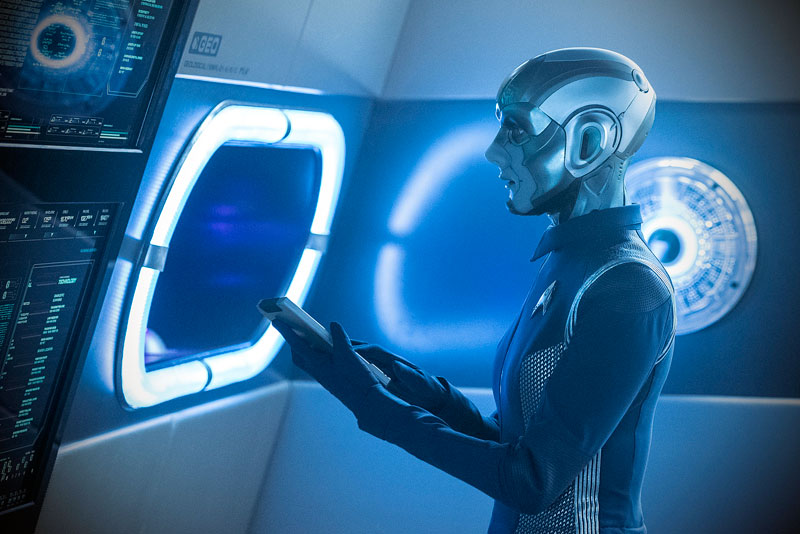 Season 4 of Star Trek: Discovery has a look intended to draw viewers further into the story than previous seasons. The lead DP Philip Lanyon shot scenes in full frame format with Cooke Optics Anamorphic/i Full Frame Plus SF (Special Flare) 1.8x prime lenses, to supplement the Anamorphic/i 2x SF lenses that have been used since Season 2. Although each lens range has a different de-squeeze factor, they can be cut directly together and give the project new options for expression.
"I gained experience with the Star Trek franchise and the Cooke Anamorphic/i 2x with the SF coating, from when I shot an episode of Discovery during Season 2," said Philip. "Then I became the lead DP for Star Trek: Picard with the same lenses. I love the Special Flare. They really give me a visual playground in which to convey different emotions through light, colour and composition, which is perfect for both Picard and Discovery.
"We are in so many interesting and unique environments with strong lighting sources that interact organically with the glass. When a ship is near a star, or there are space gases or an alien planet, each presents a unique flare that gives the environment authenticity, a feeling of being there. Plus, they give me the control to bring in more flare or take it away, just with a simple lighting change. That adds a lot to the Star Trek universe."
Up Close
For the 13 episodes of Star Trek: Discovery Season 4, Philip shared the role of DP with Franco Tata and Chris Mably. Philip wanted to shoot in both Super 35 style with the Anamorphic/i 2x SF, and also add full frame format with the Anamorphic/i Full Frame Plus SF. "Full frame has some distinct advantages, along with a cleaner image — it allows me to get closer to the subject with a wider field of view without the distortion of a wide-angle lens," he said. "That allows viewers to feel more of the relationship between the subject and its environment in a close up — not only who or what they are, but where they are."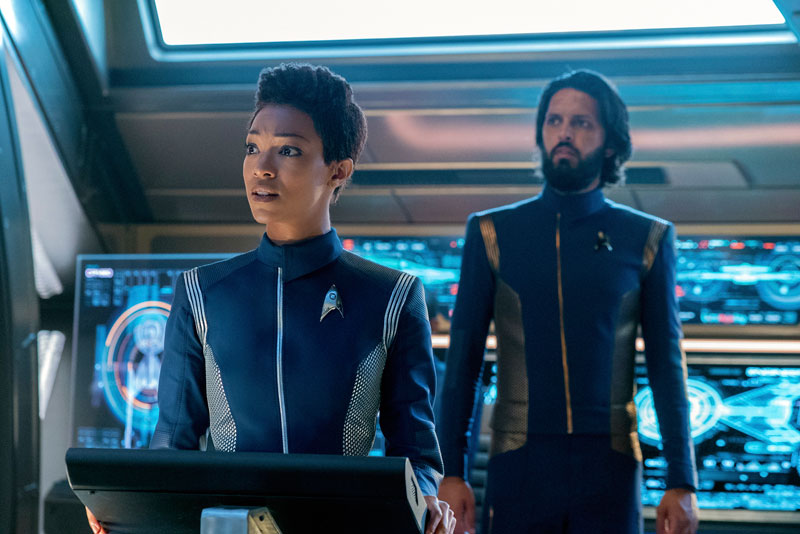 Philip was the main driver behind using full frame for Discovery, although the decision to introduce full frame was partly technically driven. "Discovery used virtual production environments in Season 4 and the large format can effectively give you softer backgrounds, which was important to control moiré and other artefacts that may occur on a LED wall. But those advantages aside, shooting in full frame is what I wanted for the look and feel of Season 4," he said.
Although Discovery was the first Star Trek series to adopt the full frame format, it wasn't the last. Star Trek: Strange New Worlds, due for release in 2022, also includes scenes shot with Cooke Anamorphic/i Full Frame Plus SF, independently of what Philip was doing on Discovery. "A mentor of mine, Glen Keenan, who shot Season 2 and 3 of Discovery and was lead DP of Strange New Worlds, was testing on the larger format at the same time that I was. It was coincidental, but it shows just how well both full frame and special flare work for Star Trek."
Full Frame on Set
Shot using ARRI ALEXA Mini, Mini LF and SXT cameras, Philip had a large assortment of Cooke lenses. These included three complete sets of the Anamorphic/i 2x SF primes (25mm, 32mm, 40mm, 50mm, 65mm MACRO, 75mm, 100mm, 135mm, 180mm and 300mm) and one set of the Anamorphic/i Full Frame Plus 1.8x SF (40mm, 50mm, 75mm, 100mm and 135mm).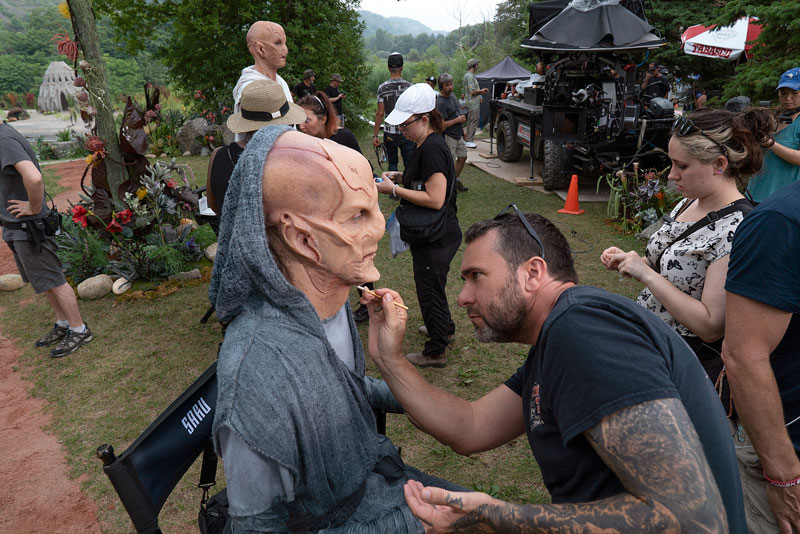 The Anamorphic/i Full Frame Plus SF set was dedicated to the virtual production stage for the first 11 episodes, and used on the A camera on the last two. Director Olatunde Osunsanmi wanted to bring more single-shot sequences to the end of the season, and the large format gave just the right quality to those scenes. All of these lenses and the cameras were supplied by Sim International.
"On Discovery I used the 65mm MACRO more in macro mode than in regular 65mm mode, while the reverse was true on Picard," said Philip. "Macro is perfect when you want to get an extreme close up on a face or someone's badge or when someone is working a panel. But it's also a great length for medium or long lens wide shots."
The 25mm was Philip's favourite lens in the 2X Super 35 SF series, and is the widest lens in that series. "I'm always trying to get wider, get bigger, to see the environments and feel the relationship between foreground and background, establishing the actors in these incredible spaces. Our sets use a lot of practical light so you can look everywhere and see in all directions." In the Anamorphic/i Full Frame Plus SF family, the lens he used most was the 40mm, which performed on Steadicam and hand held.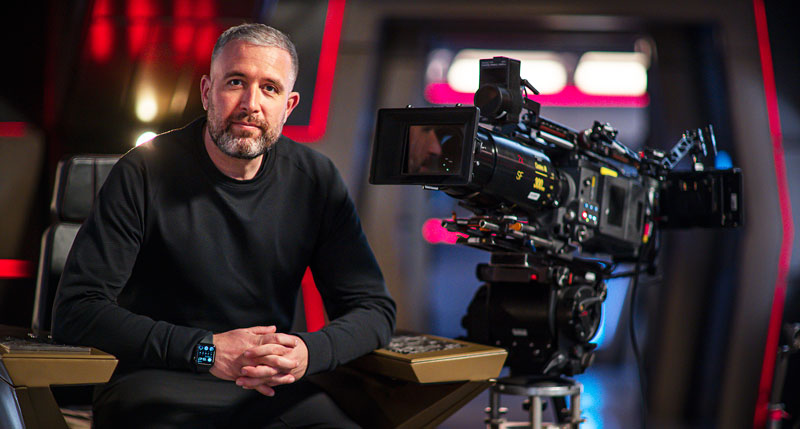 Director of Photography Philip Lanyon
Pandemic Adjustments
CBS All-Access (now Paramount+) officially announced Star Trek: Discovery was renewed for Season 4 on 16 October 2020, one day after the premiere of Season 3. Production on Season 4 began in Toronto in November 2020 and had a filming schedule that was slightly longer than originally planned due to Covid-19 restrictions.
"We did have to make some pandemic adjustments," Philip said. "While we had one extra day to film each episode, we also had to account for the number of crew and actors on the set. So, actors would have to clear out when the crew needed to make adjustments. We had to use remote heads and Steadicam a little more often. Clear wireless communication was essential since we needed to minimise face-to-face contact. We still have all the movement and big shots we wanted to get, it just took a little more creative planning and time. I'm incredibly proud of how we did that."
Answering Questions
When Philip re-joined Star Trek: Discovery for Season 4, he had a few questions regarding the continuation of the storyline. "Where have these characters come from? What has been their journey? Where are humans, in terms of our relationship with the future? Where is the sci-fi lexicon in our current culture? How do we imagine or perceive outer space?" All those questions and more would be answered as he worked with producing director Olatunde Osunsanmi to create a visual mood board.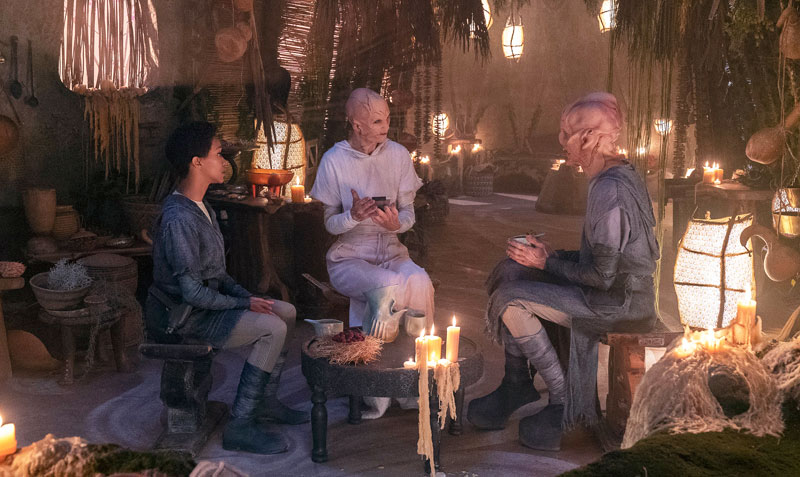 "Olatunde is so in tune with the project because he's been there from the beginning. He had a lot of great ideas about heightening what was there and going further with more interesting movement and more scope. Cooke's /i Technology lens metadata was recorded so that the VFX house Pixomondo would have lens information for each frame we shot. We had completely different planets to portray, on locations and in the virtual realm, all with a visual difference in space and scope to give Discovery a bigger world than we've seen in the past three seasons."
Star Trek: Discovery is available on the Paramount+ streaming service in the US, with Season 4 premiering in 2021. Bell Media has distribution rights for Canada on CTV Sci-Fi Channel (English), Z (French) and the Crave streaming service, and Netflix has streaming rights in another 188 countries. www.cookeoptics.com