The new PTZ camera lineup from Panasonic includes two entry-level utility models, two mid-tier models with wider applications, and a new 4K robotic camera. Their main capabilities include support for the new video protocols, simple and versatile installation and operation, and compatibility with the existing Panasonic video system for straightforward workflow integration.
Applications include recording lectures and lessons for education, live concerts or theatre productions, and specialised set-ups on stages in VR and mixed reality studios. The cameras incorporate Panasonic's most recent generation of optical image stabilisation to eliminate blur and shakiness, and all captured video data is encrypted.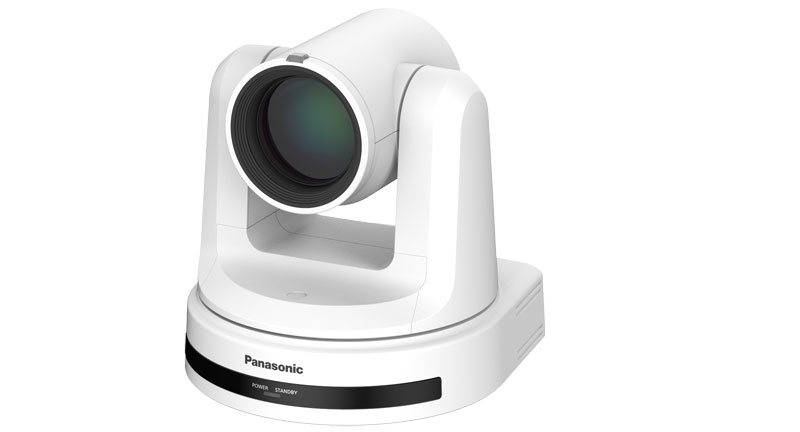 The AW-HE20 (HD) and AW-UE20 (4K) utility PTZ cameras have a wide 71 degree (H) lens with 12x optical zoom combined with multiple outputs – 3G-SDI, HDMI, USB and IP – which can all be used simultaneously. These models are intended for use in teaching spaces, for example, or within small to medium meeting rooms of between four and 16 people. They are compatible with Panasonic's AW protocol and other common streaming protocols to support integration with most recording devices, software, video conference platforms and room automation systems. (More about streaming protocols below.)
The AW-UE40, AW-UE50 and AW-UE80, built inside compact dome housing, have a 1/2.5in 4K sensor combined with a 4K zoom lens, including optical/optical-electronic image stabilisation. The wide-angle lens increases to over 74 degrees (H) with 24x optical zoom that works with iZOOM, which combines optical and digital zooming to enhance an image.
The 24x optical zoom lens covers the range from 25mm at the wide-angle end to 600mm at the telescopic end – 35mm film equivalent at 4K/HD. While digital zoom electronically enlarges the image, which can risk loss of clarity, iZoom becomes active at the end of the optical zoom range. At that point, the camera starts to gradually and dynamically combine sensor cropping and/or digital zoom to increase the effective zoom range, with minimal image degradation, to a maximum of 28x for UHD and 36x for Full HD. With a usable HD zoom range of 36x, the cameras are suitable for either small or large spaces.

The pan/tilt mechanisms of the cameras differ – the AW-HE20 and AW-UE20 use a traditional gear system while the AW-UE40, AW-UE50 and AW-UE80 use the new Direct-Drive system. The Direct-Drive motor operates with extremely quiet movements with a noise criterion rating of NC25 or less, and stability to minimise blurring. With their positional, speed and dynamic accuracy, the AW-UE40, AW-UE50 and AW-UE80 cameras are a good choice for preset triggered, tracing and operated shots.
Streaming Protocols
As well as the Panasonic AW protocol, all five cameras are compatible with SRT, RTSP and RTMPS streaming protocols. The AW-UE80W incorporates Full Bandwidth HD NDI as standard – the AW-UE50W and AW-UE40W need to be activated for NDI separately, and all three can be upgraded to incorporate NDI/HX. NDI|HX compatibility supports efficient IP transmission, even for large scale video capture in an existing network environment. The AW-UE20W and AW-HE20W do not support NDI.
The AW protocol is the serial and IP protocol that Panasonic has been using for their PTZ cameras for over a decade. Using this protocol means that these new PTZ cameras can be added to existing systems by applying a free firmware update to the Panasonic controller, and in many cases, no update will be needed.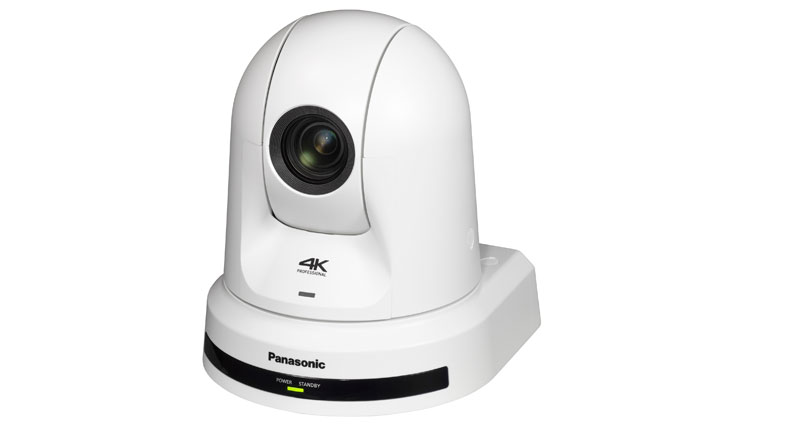 Like Panasonic's existing AW-UE100 and AW-UE150 cameras, the AW-UE80 has the FreeD protocol built-in, allowing users to integrate it into compatible VR, AR or MR systems. FreeD outputs camera tracking data for AR/VR systems, and the camera's pan-tilt-zoom focus information required for AR/VR composition.
Video Outputs and Connectivity
This PTZ range has numerous options for linking to PCs and other AV devices. All cameras have HDMI out and IP streaming out, and all but the AW-UE40 have 3G-SDI out. Also, all but the AW-UE80 have USB video outputs. PoE support enables a single-cable set-up in which video and audio, control and power are supplied via a single Ethernet connection. The cameras may also be linked with online systems as they support Virtual USB Driver software that makes it possible to use PTZ cameras in positions that would typically be difficult for USB cables to reach.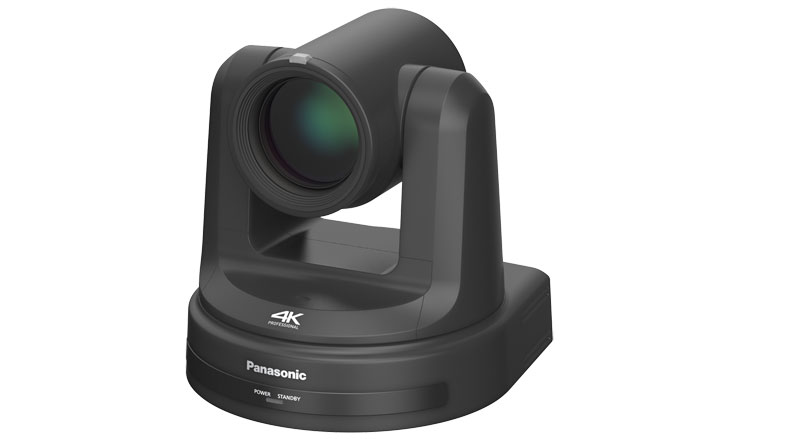 Remote Control
Up to 200 of the cameras can be managed at the same time with an optional Remote Camera Controller and Panasonic's PTZ Control Centre software, which is available for download. For the AW-UE40, AW-UE50 and AW-UE80, another option is Auto Tracking Software (AW-SF100/AW-SF200). When activated on a PC connected to the same network as the camera, the software automatically detects a person in front of the camera and, using motion detection and facial recognition, tracks the subject within a minimum range of error regardless of the direction the person is facing.
With this comprehensive range, Panasonic is making a new, compact PTZ camera line available with a full production system to support end user workflows. business.panasonic.com.au