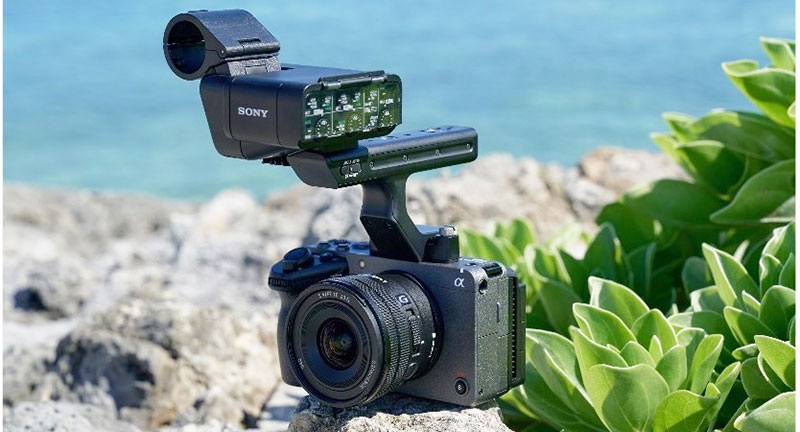 The Sony ILME-FX30 is a new model in the Cinema Line, a 4K Super 35 compact cinema camera with Dual Base ISO, Log recording and support for user-imported LUTs. At the same time as the camera, Sony is launching two new CFexpress Type A Memory Cards – CEA-G320T and CEA-G640T – large capacity cards with high read/write performance, that will also be compatible with the FX30.
Sony intends the camera to be an entry level model for new filmmakers, or used as a supplementary camera. To enhance cinematic expression, the camera has a new back-illuminated APS-C Exmor R CMOS sensor (Super 35 format) with a dual base ISO (800/2500), able to capture high sensitivity, low noise images with 14+ stops of latitude.
Image Capture
The FX30 supports a variety of video recording codecs. It can shoot 4K Super 35 (16:9) by oversampling from 6K – capturing frames at the sensor's full resolution and then downsizing in-camera. Because the video frame is not cropped, the image quality is preserved, with the potential to improve both the resolution and signal-to-noise ratio.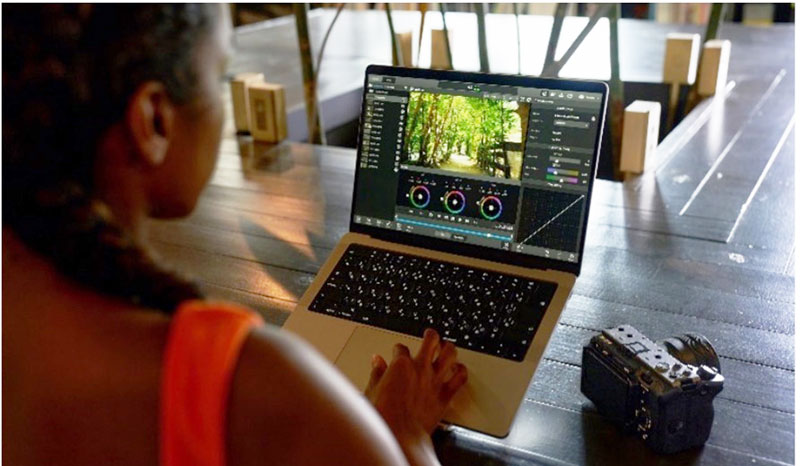 For slow motion, the FX30 is able to shoot 6K video at up to 60fps, 4K at 120fps and full HD at 240fps. An HDMI Type-A connector can be used to output 4K 16-bit RAW to an external recorder. Another useful ability is recording 10-bit 4:2:2 video internally when using Long GOP or All-Intra compression, which keeps more colour information to help customise looks in post.
Like the rest of the Cinema Line, the FX30 supports shooting with the S-Log3 gamma curve, which also allows more flexibility when colour grading, and has several modes to help with exposure settings – Cine EI, Cine EI Quick and Flexible ISO.
In general, cinematographers will choose to keep the shutter speed and aperture fixed, while adjusting ISO sensitivity. In Flexible ISO mode, the ISO is automatically adjusted to compensate as lighting conditions change. The Cine EI modes, on the other hand, allow you to leave the ISO fixed at base ISO for maximum quality, while adjusting the exposure index, so that they can achieve an 'ideal' exposure in post. Maintaining base ISO maximises the latitude and image quality, while creating an ideal foundation for grading.
Users can shoot video while monitoring the footage with a chosen LUT to preview the final image. The camera comes with various built-in cinematic looks as well, such as Sony's S-Cinetone, and is built with the BIONZ XR processing engine to help achieve natural gradations and realistic colour reproduction.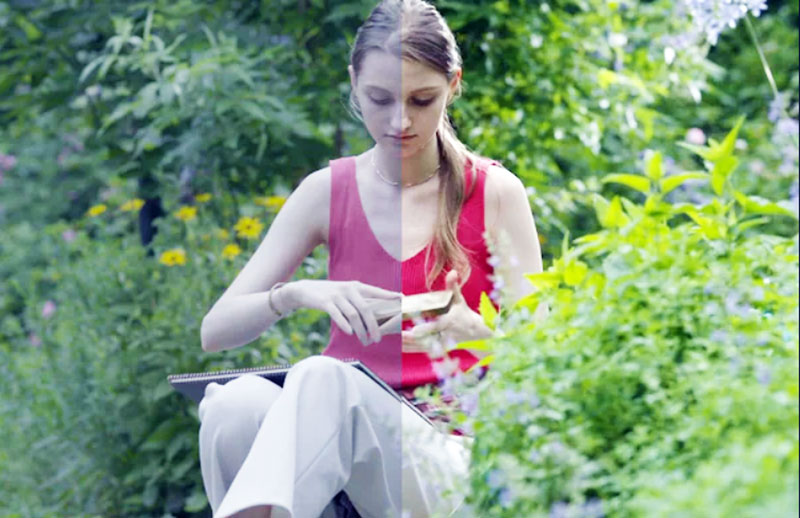 Shooting with the S-Log3 gamma curve
Autofocus
The FX30 includes several different autofocus (AF) settings including real-time AF for precise focus on the face and eyes tuned to humans, birds or animals. Subject tracking extends across the whole frame, and real-time tracking is based on Sony's AI-based subject recognition.
To gain more control, the camera's Focus Map helps users visualise depth of field, and Breathing Compensation maintains a stable angle of view by limiting the field-of-view shift that can occur when racking focus. The camera also has optical in-body 5-axis image stabilisation for handheld shoots.
A vari-angle rear monitor opens to the side for positioning and framing and is bright enough easy outdoor daytime viewing, The FX30's main menu screen is customisable and presented in a list style giving quick access to frequently used items.
Metadata for Post
On the creative side, the FX30 includes functionality to assist with post workflow, such as editing using embedded LUTs and EI metadata. The FX30 records a wide variety of metadata for use with Sony's Catalyst Browse or Catalyst Prepare application, including camera rotation, breathing compensation, embedded LUTs and shot marks. Image stabilisation metadata for use by Catalyst is generated when using a Sony E-mount lens.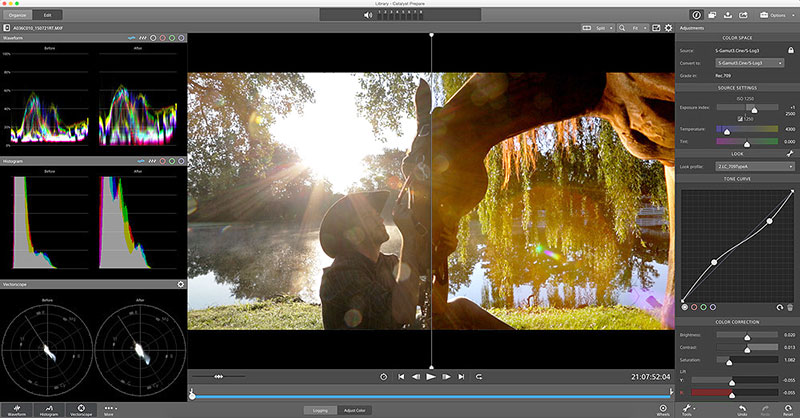 Catalyst Prepare - colour correction
This metadata is available using the new version of Sony's Catalyst Prepare or Browse applications. A new Catalyst Prepare Plugin for Adobe Premiere Pro was also released in August.
Operation and Form Factor
The FX30 is compact and lightweight, and has a flat-top design with threaded accessory attachment points, making it easier to use for shooting handheld, capturing low-angle shots, mounting on a gimbal, or adding accessories. An optional XLR handle unit can be used to capture low-angle shots and to capture audio through inputs including two XLR audio inputs and a 3.5 mm stereo mini jack for 4-channel recording.
External microphones can be connected directly to the camera as well via the Multi Interface Shoe or microphone jack. The FX30 also features an internal stereo microphone for audio recording.
For reliability, the camera features a heat dissipation structure for uninterrupted 4K/60p recording, reliable power for extended recording, and a durable magnesium alloy chassis. Compatibility with a range of E-mount lenses, high-performance microphones and other components support flexible systems for many applications. The new FX30 and FX30B will be available in Australia from late October 2022.
Memory Cards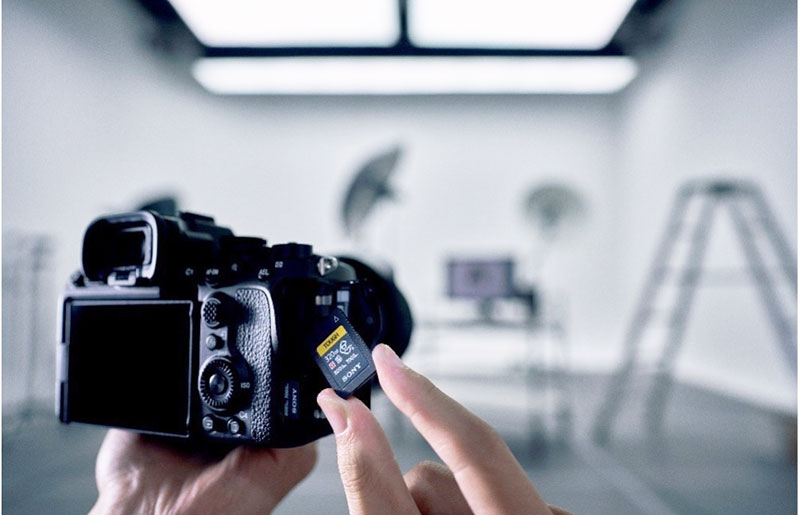 The FX30 is built with two memory card slots that are compatible with both CFexpress Type A cards and SDXC/SDHC cards. This means the FX30 is also compatible with Sony's new large capacity CFexpress Type A memory cards. Beyond the existing 80GB and 160GB cards, large capacity 320GB and 640GB cards will be added to the series – the CFexpress Type A memory card CEA-G320T and CEA-G640T will be available before end of 2022.
These large capacity cards support high-speed performance with a maximum write speed of up to 700MB/s and Video Performance Guarantee VPG400, which sustains write speeds of up to 400MB/s and enables 4K 120p high bit rate video shooting. The cards' TOUGH specification indicates that they have been certified waterproof, dustproof (IP57) and robust enough to support stable long-term shooting in various environments. www.sony.com.au