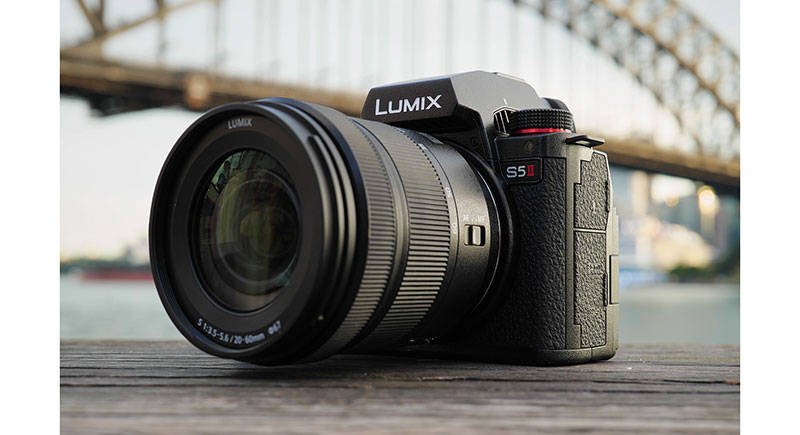 Panasonic is releasing two new hybrid full-frame mirrorless cameras, the LUMIX S5IIX and S5II, built with a new 24.2MP sensor and processor resulting from the Panasonic and LEICA L2 Technology alliance formed in 2022. These new components have made it possible to develop Phase Hybrid AF and Active IS for better control over subject tracking and stabilisation. Other new features are a cooling system efficient enough to support extended 4:2:2 10-bit C4K/4K recording, full-sensor video shooting, and a REAL TIME LUT feature for in-camera colour grading without post-production.
The LUMIX S5IIX has several professional features pre-installed, including HDMI RAW video data output, USB-SSD, ALL-Intra and ProRes recording, and wireless and wired IP streaming.
On-Sensor Phase Detection Auto-Focus
The cameras' new 24.2-megapixel 35mm full-frame CMOS sensor is built with on-sensor PDAF (Phase Detection Auto-Focus), a new high performance type of auto focus with 779 focus points.
For accuracy, PDAF uses Depth From Defocus, a technique that estimates depth in a scene by comparing the camera blur in two or more images captured at different focal positions, and uses an AI engine to detect the image subject. Phase detection systems compare light coming in from two different locations on the AF sensor. Adjusting the lens to make the light rays converge precisely focusses the image.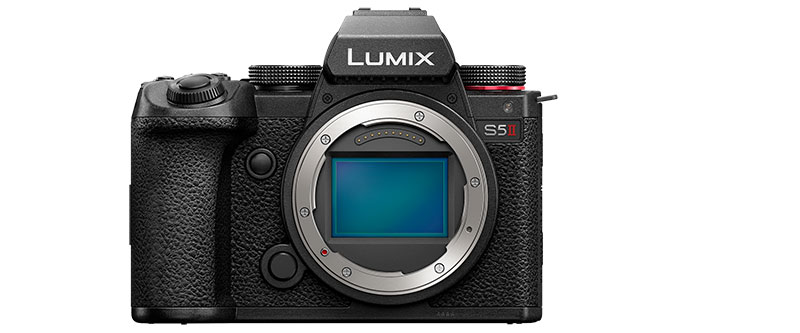 With the adoption of PDAF, the subject detection and light metering systems can accurately lock on, track and capture the target subject in focus. The approach suits varied shooting situations such as fast moving sports, multiple subjects and backlit or low illumination environments. Interactive vlog-style content can be improved as well, such as talking to camera in a studio or holding up objects to the camera. For YouTube content creators, reliable AF performance also increases the camera's overall usefulness when shooting at 24fps.
Processing and IS
Under the L2 Technology alliance, Panasonic and LEICA have developed a new imaging engine that has approximately 2x higher-speed signal processing for high bit-rate video recording and improved high burst rate photography. With this engine and a larger buffer memory, the LUMIX S5II and S5IIX are capable of high speed burst shooting at up to 30 fps (AFS/AFC) with an electronic shutter in JPEG/RAW.
The new cameras' image stabilisation, LUMIX Active IS, determines the status of camera shake and optimises horizontal, vertical and rotational correction ratios. Panasonic estimates the system's ability to compensate for camera shake to be about 200% more than the level achieved in the LUMIX S5i. This ability is especially useful for handheld filming while walking without using a gimbal, for long-shutter handheld shots such as night-time or moving water, and telephoto fixed-frame shots. The cameras include Dual IS 2 – synchronised lens IS and body IS – with a 5-axis gyro sensor for stills, also shooting at slower shutter speeds or with wide angle or telephoto lenses.
Recording Options
The LUMIX S5II and S5IIX are the first in the S Series to record 4:2:0 10-bit 6K (3:2) video, which can be cropped for multiple aspect ratios (16:9, 9:16, 1:1) from the same source footage, while maintaining resolution. For example, a 9:16 vertical image taken out of 6K footage retains a greater than 4K vertical resolution and can be viewed on mobile devices.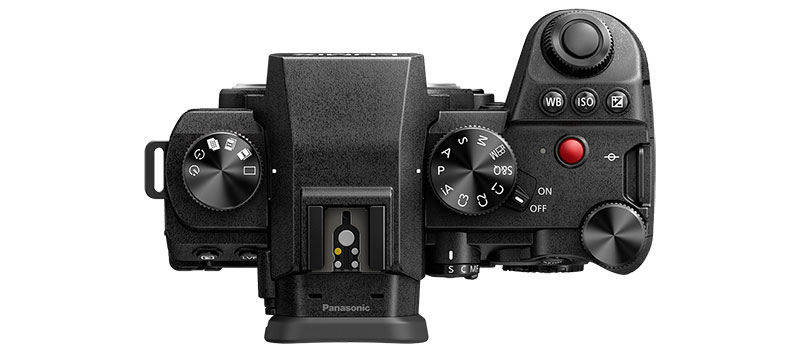 When shooting at resolutions below 5.8K, the cameras can record continuously for unlimited periods, in all environments, owing to a new active heat management system. The mechanism is compact and doesn't add extra bulk to the body.
The 14+ stop V-Log/V-Gamut capture produces high dynamic range images, consistent colour management and straightforward post-production.
In-camera colour grading via the REAL TIME LUT feature shortens the post workflow, but allows the same creative scope for LUT design. Users can set up repeatable looks, or generate the same style, in-camera instead of waiting to apply their LUT in the grading suite. This feature is useful for a series of projects for the same studio, for instance.
Regarding other recording options, the new cameras can record 4K HDR video, and 4:2:2 10-bit Cinema 4K/4K for unlimited periods. They also shoot 4:2:0 10-bit 6K footage in 17:9 aspect ratio, and 5.9K in 16:9. By using the optional XLR Microphone Adaptor DMW-XLR1 and the 3.5mm input jack/built-in microphone, users can capture four channels of audio, without relying on external audio recording devices.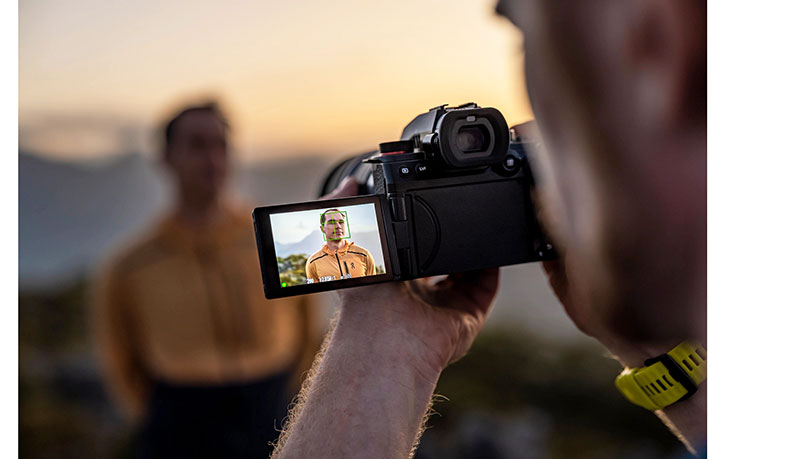 Frame Rate
High Frame Rate capture is available in C4K/4K up to 48p, and FHD up to 120p. HFR capabilities come into effect when shooting above 30p, and determine the quality of the audio and playback in real-time at the frame rate captured, according to your playback device.
For instance, TV sets supporting 4K 50/60p will display sharper-looking video. Editors can slow down the speed in their NLE in post for viewing in slow motion, although it's not possible to preview the slow-motion effect on camera. HFR videos are recorded with audio with auto focus options available.
Slow & Quick motion, available in C4K/4K between 1 and 60fps and FHD from 1 to 180fps, is slightly different and functions as as a consumer version of VFR (Variable Frame Rate). The main difference between HFR and VFR is that no audio is recorded, and the footage is conformed to your base frame rate of 24, 25, 50 of 60, resulting in a slow-motion effect when the file is played back.
4K 60p Time Lapse video can also be produced in-camera. The exposure is automatically adjusted to prevent large changes in brightness between adjacent frames. Practical tools included are Waveform Monitor, Vector Scope, Zebra Pattern, System Frequency (24.00Hz), Synchro Scan, Fan mode and a control panel for quick menu selection.
Workflow Enhancements
The small size of the new S Series cameras and the lenses available means users can keep their kit fairly lightweight and compact. Convenient functionality includes AWB Lock, which keeps the white balance set in auto, and Sheer Overlay can now be used in Creative Video mode footage sequences. This feature displays a transparent version of a captured image while the user frames the next shot. Live Crop allows digital zooming and panning on the 6K sensor in a 4K video recording, allowing smooth motion without having to move the camera.
The new 3,680K-dot OLED LVF (Live View Finder) has a magnification ratio of approx. 1.52x / 0.76x, equivalent to a 35mm camera. The 3.0-inch free-angle LCD rear monitor (3:2 aspect, 1840K-dot) with touch control is useful for quick changes to settings, even when both the HDMI cable and USB cable are connected or the user is in front of the camera.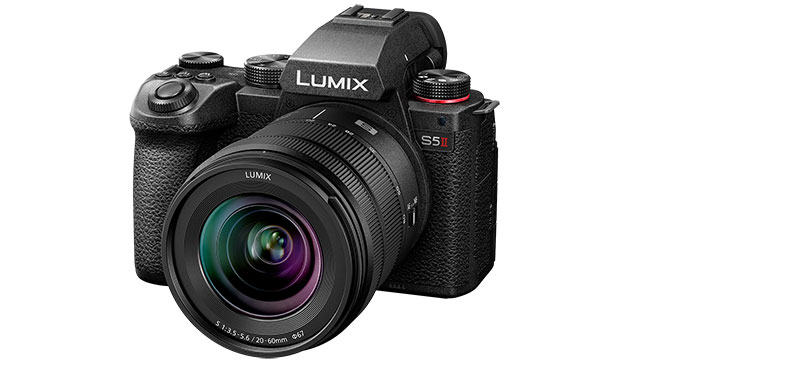 The Live View Composite Mode can be used to set the desired exposure before taking the shot. The user then views the image on the screen as it is being exposed, in real time, and stops the exposure when ready with the shutter button. This mode works well for light painting, shooting light trails and other long exposures.
A 96-megapixel High Resolution Mode is a new setting on the drive dial. In this mode the camera captures eight images in quick succession, while small movements of the sensor between shots capture extra resolution. The camera combines the shots into one image automatically, making stitching images in software unnecessary. This mode also features motion compensation, making it practical to use High Resolution Mode more widely.
Quality and Connectivity
The new heat dispersion mechanism in the LUMIX S5II and S5IIX, combining a small fan and high-efficiency heat sink, is what makes continuous video recording possible in C4K 60p without bulking out the camera body. It makes the cameras suitable for extended recordings or livestreaming. For heavy field use, the magnesium alloy full die-cast body is splash and dust-resistant.
The LUMIX S5II and S5IIX support USB 3.2 Gen 2 for high-speed writing and readout, and have a full HDMI Type A terminal with a robust connection without using adaptors. Users can set up Relay Recording, Backup Recording or Allocation Recording modes on the dual SD Card slots (UHS-II x 2), with the card access indicator now located inside the card slot cover. . For external microphone connection, a Φ3.5mm input jack is provided with a headphone jack.
Using Bluetooth 5.0 Low Energy connection, Wi-Fi 5-GHz (IEEE802.11ac) and 2.4-GHz (IEEE 802.11b/g/n), photographers can share content with their smartphones. With an always-on Bluetooth connection, a smartphone can act as the camera's remote control via the LUMIX Sync app. The settings of the LUMIX S5II and S5IIX can also be copied and transmitted wirelessly to other S5II and S5IIX cameras when using multiple cameras.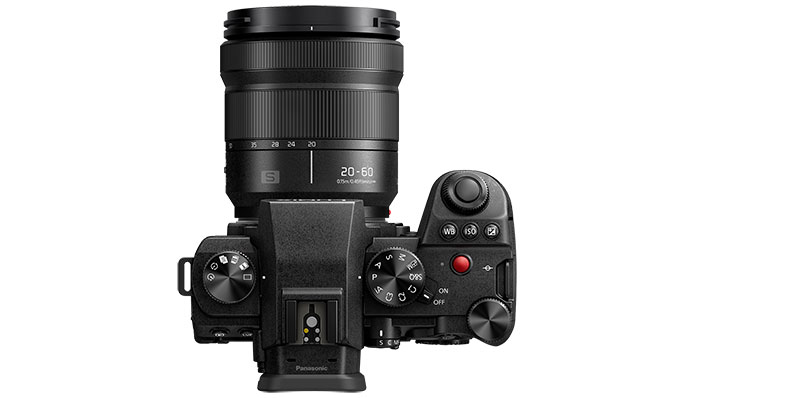 The cameras are compatible with LUMIX Tether applications which enable tethered shooting via USB. Users can control and view multiple cameras by connecting them to a PC. For live streaming, LUMIX Tether for Streaming (Beta) with LIVE VIEW mode is available. LUMIX Sync for iOS/Android devices enables image transfer to a smartphone or tablet via easy wireless connection.
The 2200mAh high-capacity battery (DMW-BLK22) can be recharged either via AC or USB which is convenient if you are travelling and want to use a USB power bank. It also complies with USB PD (Power Delivery) when used with the optional LUMIX Battery Charger (DMW-BTC15). The current Battery Grip (DMW-BGS5) is compatible with the new cameras.
Full-Frame Lenses
The Panasonic LUMIX S Series now has a total lineup of 14 lenses including the new LUMIX S 14-28mm F4-5.6 MACRO (S-R1428). The LUMIX F1.8 lens series of five fixed focal length lenses all feature the same exterior and share the same filter size. Using lenses of a similar size, diameter and centre of gravity also makes it simple to switch between them when an S Series camera is mounted on a gimbal, for example. All these lenses have the same colour rendering and bokeh performance. As they cover almost any framing and composition, using these lenses simplifies workflow and post-production.
LUMIX S Series lenses all feature linear motors with the option to change how the focus ring responds. For the non-linear setting, focus is shifted with a variable amount according to the rotation speed of the focus ring. For linear setting, focus is shifted with a designated amount according to the rotational quantum of the focus ring. Sensitivity – the amount of focus shift per rotational quantum – can be selected from 90 to 180 degrees. With MF Assist, users can enlarge the focus point to check critical focus while recording.
Furthermore, the L-Mount system encompasses the largest native lineup of full-frame lenses with 61 lenses to date. The LUMIX S5II and S5IIX will also recognise the focal length of an analogue lens such as anamorphic or other older lenses, and automatically apply the in-body image stabiliser.
LUMIX S5IIX with Professional Extras
The LUMIX S5IIX has some professional features beyond the LUMIX S5II, for example, video codecs such as All-Intra and ProRes, and the ability to output RAW video via HDMI when supported by an external recorder. It is unusual as a full-frame mirrorless camera that can record directly to an external SSD via USB-C, easing workflows. This camera has the same streaming capabilities as the GH5II, including wired and wireless IP streaming and USB tethering.
The LUMIX S5II will be available in late January 2023 and the S5IIX in late May 2023. www.panasonic.com