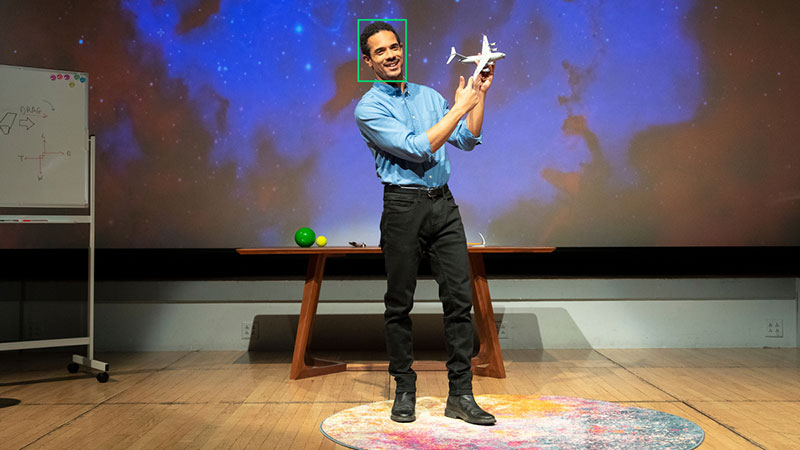 Sony's two new 4K PTZ cameras, the SRG-A40 and SRG-A12, include built-in AI analytics that allows them to automatically and consistently track and naturally frame presenters, regardless of movement or posture, without having to rely on a computer. This new Auto Framing feature gives the cameras the ability to quickly track and rediscover objects, with several automatic framing options.
Other characteristics of the cameras are their image quality, the flexibility of IP connectivity, extended zoom range, remote control and relatively simple configuration and operation. Use cases include education, corporate, medical, government, broadcast and faith applications, as well as live events.
PTZ Auto Framing
The cameras' PTZ Auto Framing makes various automated framing angles available for close-ups, waist-up or full body images, which give users flexibility and scope for creativity and customisation options.
As soon as the power is turned on, the cameras begin to operate automatically, searching for and rediscovering an object to track. A combination of consistent recognition techniques are employed, including facial recognition, which is capable of detecting masked as well as exposed faces. For multi-camera set-ups, a new tally light identifies for users which camera is actively in use and tracking movements.
Image Quality
Both the SRG-A40 and SRG-A12 are built with Exmor R CMOS sensors for high-quality, naturally vivid images with limited noise that support 4K 30p and Full HD 60p video output. The SRG-A40 applies the Clear Image Zoom system that digitally doubles the optical zoom from 20x to 30x in 4K, or 40x in Full HD. The SRG-A12 achieves up to 12x zoom.
In Tele Convert mode the SRG-A40 can extend up to 80x zoom, while the SRG-A12 can extend up to 24x, without losing resolution and maintaining smooth, fast PTZ movement between cameras. Day mode and night modess help optimise capture in bright conditions and shadows.
Flexibility and Stability
The new models are built with 3G-SDI, HDMI and IP connectivity and can be controlled remotely through VISCA and VISCA-over-IP, using a single network cable for power, output and control. NDI|HX protocol is available through an optional license. VISCA is Sony's own PTZ camera control protocol.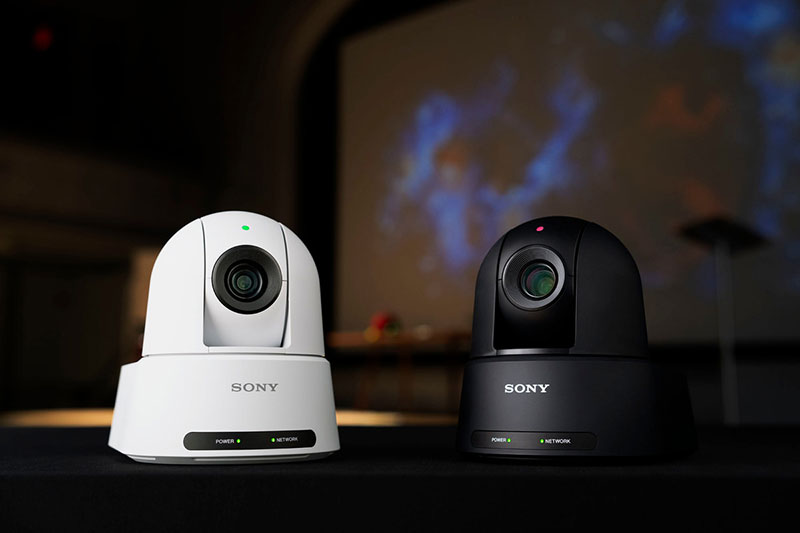 The new cameras include Power over Ethernet Plus Plus (PoE++) transmission, making them simpler to integrate into new or existing environments without separate cabling for power supply and data transfer. Their robust connection and integration options help users take advantage of PTZ cameras' ability to capture images from and be controlled in hard-to-reach locations. This flexibility makes it possible to incorporate distinctive angles and vantage points into productions.
Support for RTSP (Real Time Streaming Protocol) allows remote viewing over IP, and compatibility with SRT (Security Reliable Transport) protocol helps achieve accurate, smooth, stable video streaming.
Configuration for Operators
The cameras are designed to be simple to set up and use in order to make them suitable for operators with varying levels of expertise. With the Picture Setting File feature, for instance, users can set up and duplicate menu settings from camera to camera, creating a uniform look.
The new PTZ motion sync can be used for smooth, rapid PTZ movement to a target position at a maximum ±170° pan/tilt angle range. Using a Pre-set Recall function, an operator can set up a series of quick transitions from one camera angle to other pre-set angles, in order to capture the key moments in a shoot.
A picture freeze preset can also be used to hold the last image captured in place as the camera moves. This feature will help prevent blurry transition shots and minimise distraction.
Virtual webcam driver software is available for organising up to five connected cameras as collaborative conference and lecture tools. Once the shoot is set up, the operator interactively enhances and controls image quality through the computer during web-based meetings.
The SRG-A40 and SRG-A12 are expected to be available at mid-year 2023. The new models are making their debut at ISE in Barcelona priced at £4300 for the SRG-A40 and £3600 for the SRG-A12. Note that Sony's Edge Analytics Appliance, REA-C1000, will support the PTZ Auto Framing function with a firmware upgrade in late 2023. The PTZ Auto Tracking License, REA-L0200, is required. pro.sony