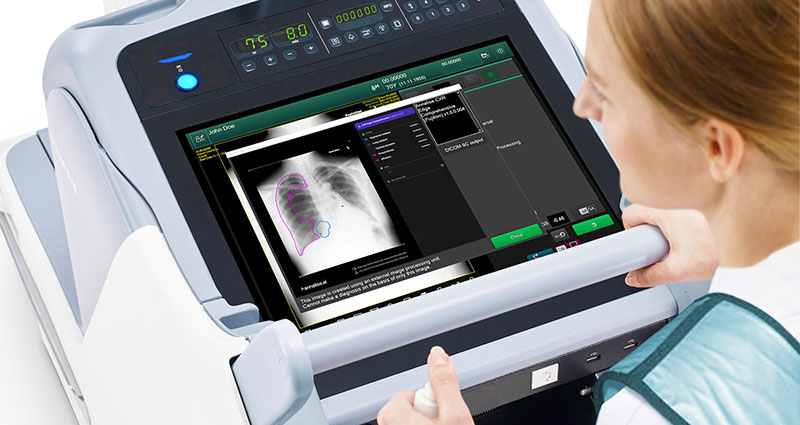 annalise CXR Edge (Fujifilm) AI software in use.
Over the past decades, FUJIFILM has undergone a transformation from photographic film manufacturer to a company contributing to technological development addressing a range of business fields and social issues. FUJIFILM has now expanded the scope of its AI systems into the healthcare industry – one of its core businesses – in partnership with medical imaging specialists annalise.ai in Australia. annalise.ai are developers of CXR Edge, an AI-based chest X-ray decision-support system for mobile and fixed X-ray devices.
Ryuichi Matoba, CEO of FUJIFILM Australia said, "FUJIFILM has been supplying X-ray film to the healthcare industry since 1936, shortly after the foundation of FUJIFILM in Japan. Since then, Fujifilm has expanded its Medical Systems business with some significant milestones along the way, such as developing Fuji Computed Radiography, a pioneering method for digitising X-ray images. In other words, FUJIFILM wants to create a society where people can live healthy lives for longer. The company's AI development and our new partnership with annalise.ai both play a major role in supporting those goals."
Chest X-ray Interpretation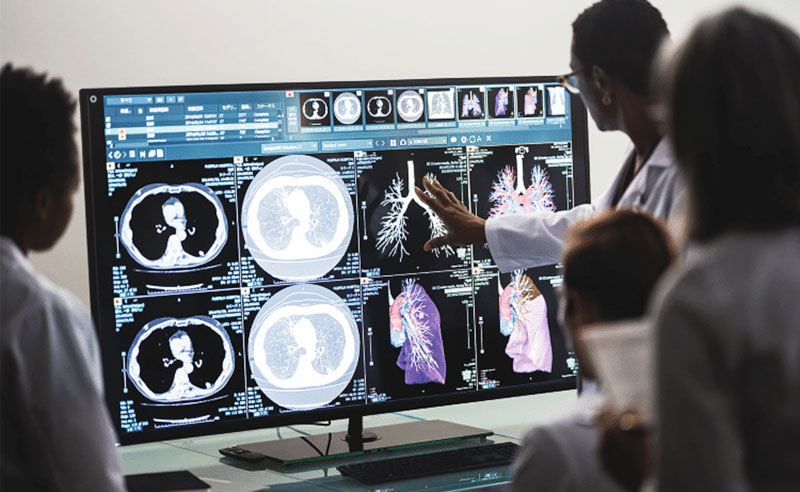 FUJIFILM's Medical informatics system, using image recognition techniques.
annalise CXR Edge is software designed for portable and stationary X-ray devices, intended to assist point-of-care clinicians and radiologists with the interpretation of chest X-rays. The AI algorithm within the software is trained to identify the presence of radiological findings, and delivers a notification of any suspected findings in under 10 seconds.
Detecting up to 95 clinical findings, CXR Edge is a comprehensive AI decision-support system for chest X-rays, currently available for mobile and fixed X-ray devices. annalise.ai has also developed a specific version of its product for use with FUJIFILM x-ray systems. The annalise CXR Edge (FUJIFILM version) is available with FUJIFILM's X-ray devices in Australia, and within selected equipment models in other countries around the world.
The use of portable devices for chest X-rays is increasing and now plays an important role in radiology imaging departments and wards, where the numbers of patients are growing. A greater patient volume puts clinicians under pressure to make quicker decisions. So far, FUJIFILM has sent two mobile X-ray devices equipped with Annalise CXR Edge to Tonga and Palau as part of a humanitarian response during the pandemic.

Fuji Computed Radiography
Next Steps
FUJIFILM Corporation, Japan, initially created its own open, vendor-neutral platform named REiLI to achieve new types of diagnostic imaging workflows hosting third parties' AI systems as well as the company's own systems. As a result, REiLI not only enabled the collaboration with annalise.ai but made it the logical progression on this journey.
Simultaneously, FUJIFILM has pursued and developed image processing over the last 80 years. Systems resulting from this work have now been developed for and applied in the healthcare, medical and other fields and support the diagnostic imaging workflows of many medical institutions in Australia and around the world.
Today FUJIFILM supplies over 70 image recognition systems across industries, and continues development in this area. Through the introduction of medical products and services deploying artificial intelligence, the company aims to improve medical accessibility in all regions by 2030, and expects its Medical Systems business to make up a significant portion of its global sales, targeting JPY700 billion (AUD7.7 billion) by 2026. www.fujifilm.com