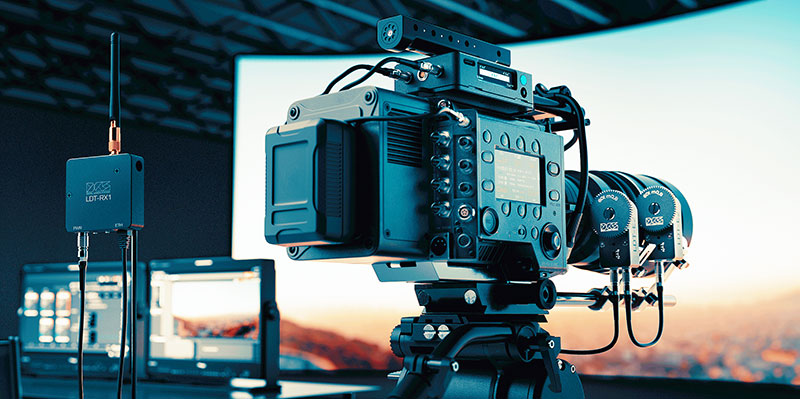 The new DCS (Digital Camera Systems) LDT-V2, a lens encoder with wireless capabilities, follows the company's hard-wired lens encoder LDT-V1. The LDT-V2 is built with the same functions as its predecessor but also has wireless functionality, which streams lens data directly to the media player without cabling, allowing freedom of movement for camera operators.
DSC' LDT (Lens Data Translator) system takes raw motor information from a lens control system [Preston MDR, ARRI LCUBE or DXL CMotion FIZ module], from a smart lens or from DCS' lens encoder LDT-E2. It reads the Focus, Iris and Zoom motor movements and translates this information into human readable lens data, and compatible data for the host camera. It is then written as metadata directly into the RAW camera files in real-time.
Because capturing lens data is a critical component of taking advantage of virtual production, DCS developed the LDT-V1 and V2 lens data streamers, which also live-stream this information into Unreal Engine, Stage Precision or Disguise software. Having positional lens data throughout a shot makes it possible to very accurately match physical and virtual cameras.
From Set to Game Engine
Virtual production studios can use the LDT-V2 to wirelessly deliver accurate lens information in real-time, from cameras capturing action on set to a game engine. Currently, the LDT-V2 is one of the few systems available that are capable of recording and streaming lens data simultaneously.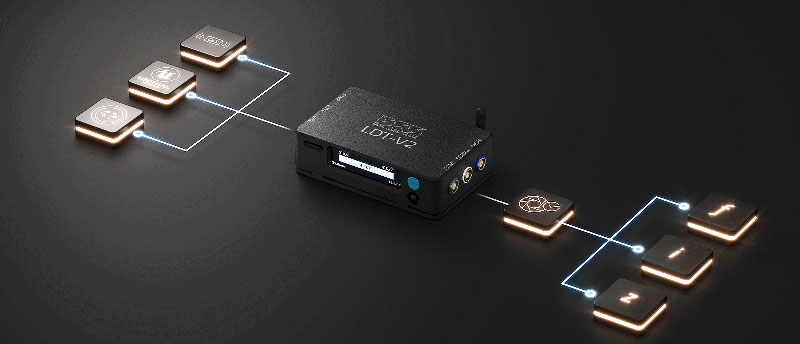 DCS' support team has worked for some time with Orca Studios, a VFX facility in Spain, to understand and accommodate their Virtual Production requirements. "With the Lens Data Translator (LDT) we stream data directly from the smart lenses to Unreal Engine, making real-time interaction possible with a simple, straightforward pipeline," said Albert Vidal, Virtual Production Technical Director at Orca.
DCS' Operations Manager Gary Keller said, "Now that the LDT-V1 has been adopted at virtual production studios, we wanted to go further by adding wireless capabilities that integrate it into a wider range of workflows. Camera operators using the LDT-V2 can work without physical limitations on set, while still ensuring VFX teams get the data they need in virtual production. "
Fitting into Virtual Production Workflows
The LDT-V2 lens encoder tracks and records positional lens data – focus, iris and zoom – and, with wide software support, users can stream this data directly into DCS' own Unreal Engine live link plugin, or into Disguise, Stage Precision or Aximmetry virtual production software.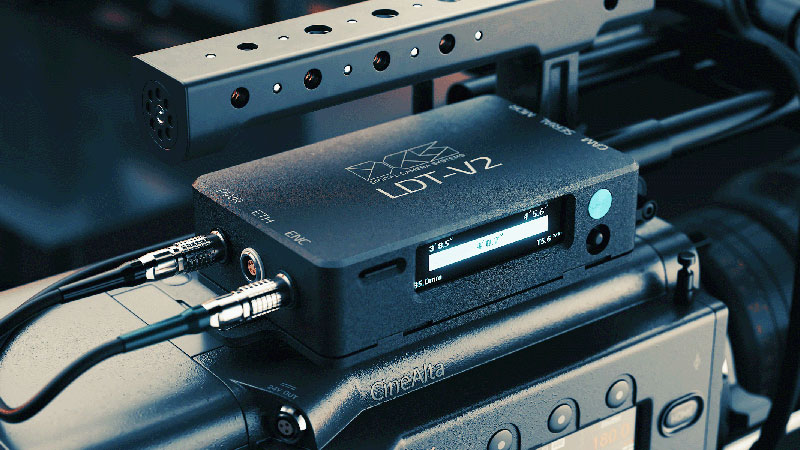 The device is lightweight at just 380g and compact, measuring L120 x D74 x H30mm, and its proprietary wireless data transmission makes it unnecessary to carry cables from camera to computer.
Data transfer options are versatile. The encoded data can be streamed wirelessly to the LDT-RX1 receiver at 2200-2500 MHz, which is below Wi-Fi frequencies to avoid the noise on set, or through a wired connection directly to a media player. Users can also record the data by writing it into camera the RAW files or as a sidecar file on the device itself.
Regardless of camera or lens, the LDT-V2 has many versatile features and options that work with existing workflows and equipment. The LDT-V2 can become part of most set-ups, and will be able to stream and record lens data from any lens.
The LDT-V2 real-time lens data streamer is available now. At the 2023 BCS Expo 24 to 25 February visitors can take a closer look at the LDT-V2 and DCS' virtual production workflow at the DCS booth. dcs.film