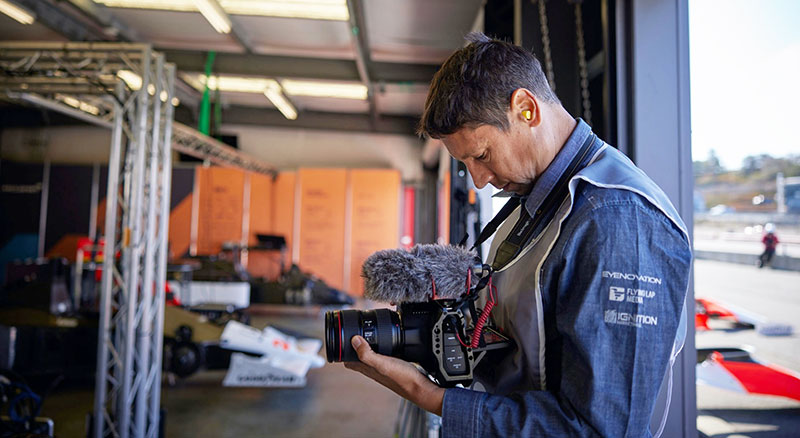 Cinematographer Chris Ortenburger's first love is racing, the sport that became the motivation behind his career in video. "I am a former race car driver myself and once had dreams of making it to the top levels of motorsport as a driver," he said.
"I knew that having professional-looking video of myself as a driver would give me a marketing advantage, and that meant learning the vocabulary and properties of video to describe the footage I needed more accurately."
Once he had mastered the basics of recording effective racing video, other drivers began asking him to shoot them in action as well, thus launching his career and his company Flying Lap Media.
Size and Flexibility
From those beginnings, Chris' work has progressed to the big leagues of racing, automotive and action sports. Now at the head of Flying Lap Media, he works with clients such as GT World Challenge America, Fanatec, BMW North America, CrowdStrike Racing and International Motor Sports Association (IMSA) among others. He recently shot footage at the Rolex 24 at Daytona and the season opener for the NTT IndyCar Series in St. Petersburg, Florida.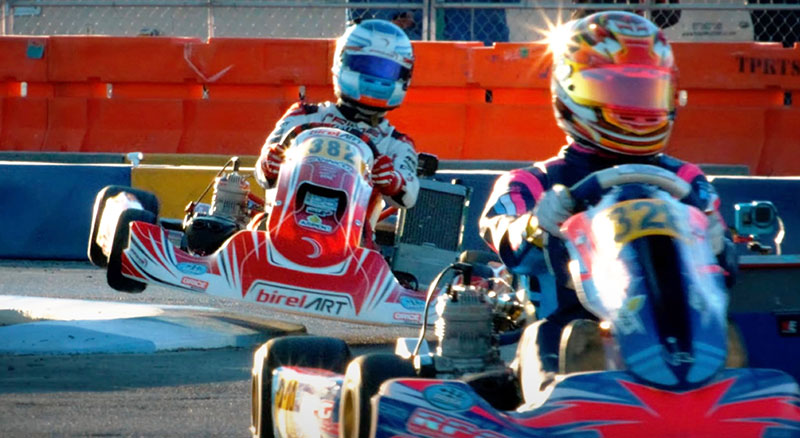 Chris discovered Blackmagic Design cameras early on. "My first Blackmagic camera was the Pocket Cinema Camera 4K. I was immediately won over by the concept of the Blackmagic RAW format. Being able to adjust image characteristics in post on a digital file felt like a cheat code in a video game," he said. "The small form factor and the price also attracted me. Giving it a try was my entry way into the entire Blackmagic system and, of course, included a copy of Resolve."
Now using the Blackmagic Pocket Cinema Camera 6K Pro digital film camera as his main camera, Chris likes its size and flexibility. "The bigger flip-out screen and handheld form factor of the Pocket 6K Pro and means I can capture multiple forms of content in a single shot," he said.
"For instance, following the new demand for vertical video is less of a challenge because it's quite easy to shoot horizontally, and then quickly rotate the camera to pick up some vertical footage as well. Adding the native Blackmagic RAW format and built-in neutral density filters to the package makes it very versatile and a top choice for run-and-gun shooters who need to be prepared to capture any kind of content."
New Options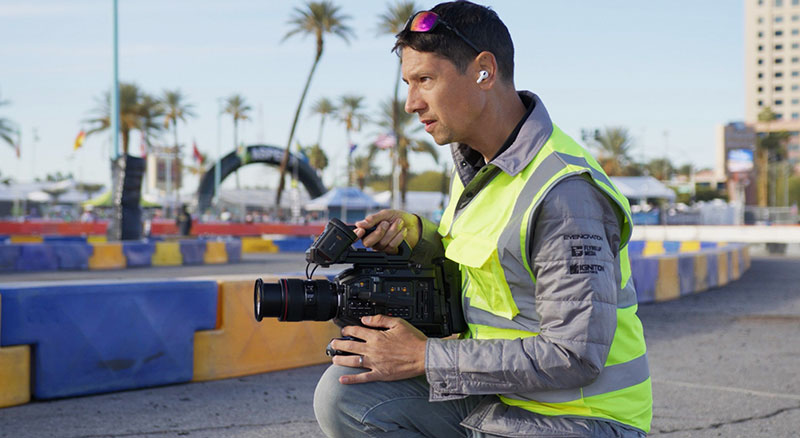 Always looking for new options, Chris recently tested the Blackmagic URSA Mini Pro 12K digital film camera and was extremely impressed. "It's a powerful camera that's under appreciated for its price. Just out of curiosity, I had to test the full resolution12K footage (12,288 x 6,480). It's astonishing to look at, and almost unbelievable that an image that large could be achievable at a price that's comparable to lower resolution cameras in the same market.
"The URSA Mini Pro 12K is also one of the few cameras that records at a frame rate of 240 fps. Slowing down cars that can move in excess of 180 miles per hour is a valuable storytelling tool."
Along with Blackmagic Design cameras, Chris migrated to DaVinci Resolve Studio as well, using it not only for colour correction but all aspects of post production – editing, grading, VFX and audio post. "Resolve was always an application that I knew existed but shied away from learning," he said.
Taking the Plunge
"Finally, after the editing application I had been using earlier on continued to crash at the worst times, I vowed to take the plunge and learn Resolve. I had always assumed that it was essentially a colour grading package that had some editing tools on the side, but soon learned that it is a very capable NLE with powerful audio and motion graphics tools as well. I've never looked back, and use Resolve every day."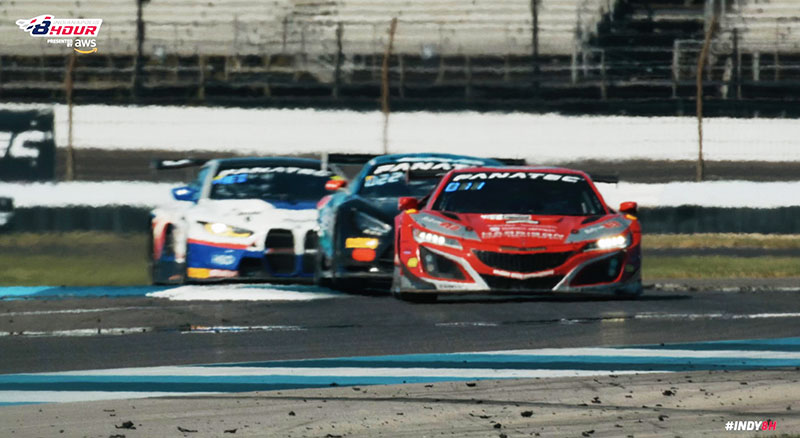 A critical factor for any kit that Chris adopts is portability. "My workflow includes travelling with my equipment, because I always carry it on the airplane. That habit forces me to be selective in what I bring to a shoot. I would never say gear doesn't matter, but for me it's simply an amplifier to the general thought or vision I am bringing to life.
"The real value in cameras like the Pocket 4K are hard to describe. Their combination of hardware and software has levelled the task of storytelling, and puts very robust tools in the hands of anyone who creates content." www.blackmagicdesign.com