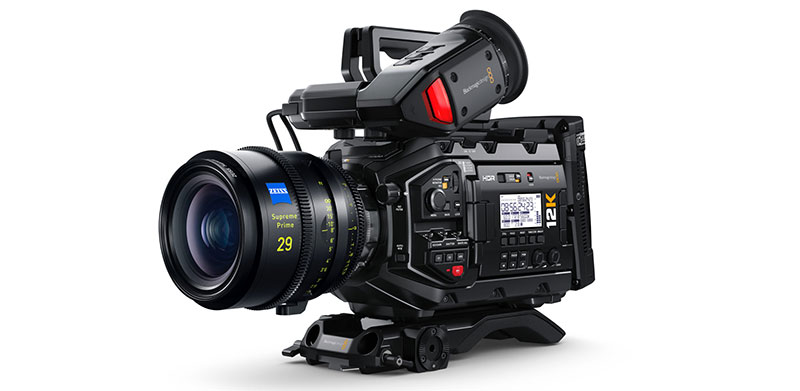 Blackmagic Design's new URSA model, the URSA Mini Pro 12K OLPF, adds a high performance optical low pass filter to the 12K Super 35 image sensor. The OLPF reduces artefacts in an image, such as moire and aliasing, and preserves the colour and detail of the scene.
The 12,288 x 6,480 12K Super 35 sensor has 80 megapixels per frame, combined with 14 stops of dynamic range, new colour science and Blackmagic RAW processing. Oversampling from 12K produces high quality 8K and 4K images with subtle skin tones and detail similar to still camera images. Users can shoot at 60 fps in 12K, 120 fps in 8K and up to 240 fps in 4K Super 16. The camera body is built with an interchangeable PL mount, built-in ND filters, dual CFast and UHS-II SD card recorders and a SuperSpeed USB-C expansion port.
OLPF and Virtual Production
When shooting in virtual production environments that use very sharp modern lenses with high resolution sensors, the high frequencies of the LED matrix in video walls can create interference patterns in the video output. Using an optical low pass filter minimises that interference, reducing moire and aliasing. URSA Mini Pro 12K's optical low pass filter is precisely matched to the 12K sensor.
The OLPF's updated IR filtering also improves the colour response of far-red light that occurs at the extreme red end of the visible spectrum, just ahead of infra-red light. When combined with Blackmagic RAW processing this update means the sensor can better preserve colour and critical image detail.

URSA Mini Pro 12K's extreme resolution extends far beyond traditional motion picture film. An essential factor in immersive productions and large formats like IMAX, the precise definition around objects makes the camera a good match for working with green screen and VFX including compositing and tracking of live action and CGI.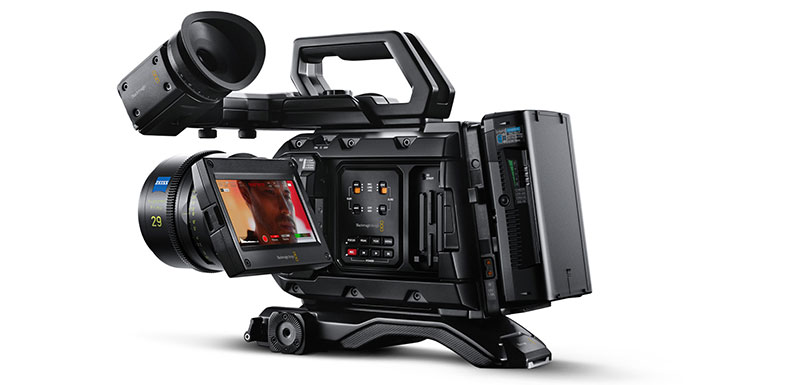 Other features of the URSA Mini Pro's 12K sensor include a native ISO of 800, and equal numbers of red, green and blue pixels. But its most important feature is the optimisation for images at multiple resolutions. A user can shoot 12K at 60 fps or use in-sensor scaling to allow 8K or 4K RAW at up to 120 fps without cropping or changing the field of view. The massive resolution means shots can be reframed in post for delivery in 8K and 4K, similar to undertaking a multi camera shoot with only one camera.
Shooting RAW in 12K
The URSA Mini Pro 12K sensor and Blackmagic RAW codec were designed together, to make 12-bit RAW workflows in 12K much more feasible. For instance, the Blackmagic RAW codec's extreme efficiency means users can shoot 12K and edit the video on a laptop, as well as produce good-looking vertical and square video for output to devices. The highly optimised video can take advantage of CPU multi‑threading, working across multiple CPU cores, and is also GPU accelerated to work with Apple Metal, CUDA and OpenCL. This characteristic means editors can always work with camera RAW files without making proxies.
The RAW / 12K workflow preserves deep control of detail, exposure and colour during post, and oversampling yields sharp 8K without harsh edges. In short, the design of the sensor and Blackmagic RAW allows a team to work in any resolution in post production immediately, without rendering, while retaining the full sensor's colour accuracy.
New Colour Science
Blackmagic Generation 5 Color Science adopts a new film curve designed to make full use of the huge amount of colour data from the new URSA Mini Pro 12K sensor. This update improves the colour response for more pleasing skin tones, and better rendering of highly saturated colours such as neon signs and car tail lights in high contrast scenes.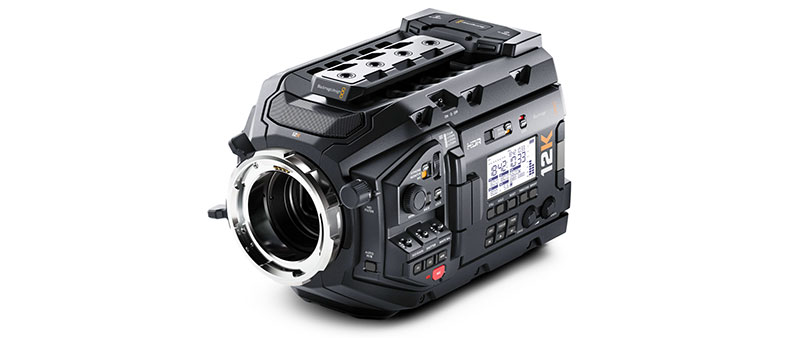 Generation 5 Color Science is also an element of the Blackmagic RAW image processing, in which the colour and dynamic range data from the sensor is preserved via metadata for use in post production. Generation 5 Color Science is also compatible with previously shot Blackmagic RAW files, so that producers can take advantage of the new film curve even with their existing work.

URSA Mini Pro's interchangeable lens mount supports many different vintage and modern cinema lenses, and allows quick, straightforward switching between large PL cinema lenses, and EF and F mount lenses on this new 12K model. On the URSA 4.6K G2 model, the mount also supports B4 broadcast lenses. This means users can work within the URSA family, with a very large range of professional lenses.
Blackmagic URSA Mini Pro 12K OLPF is available now. www.blackmagicdesign.com