JVC Brings GY-HM660 Camcorder's VOIP Streaming Up to Speed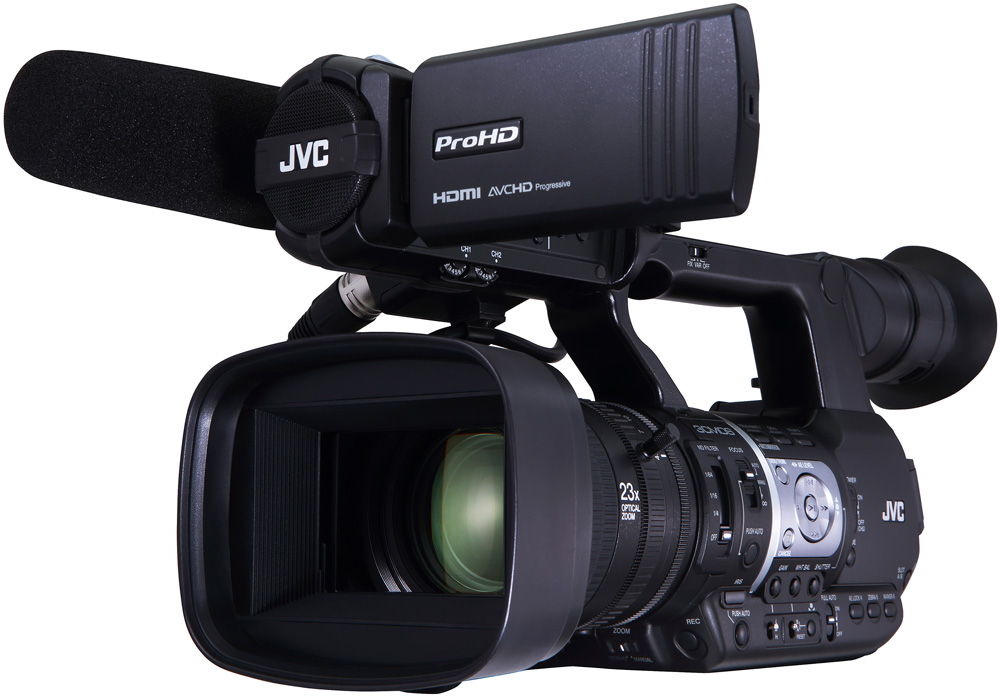 Two models in JVC's 600 Series of ProHD mobile news camcorders have now been upgraded with new CMOS image sensors for greater sensitivity, a brighter LCD display and other updates. First is the GY-HM660, replacing the current GY-HM650, one of the industry's first streaming camcorders with an integrated interruptible foldback, IFB, return audio channel. JVC will demonstrate the GY-HM660 and the second camera, the GY-HM620 replacing the GY-HM600, during the 2016 NAB Show 18-21 April in Las Vegas.
When used from a 4G LTE modem or hotspot, the GY-HM660's built-in video-over-IP system streams video at selectable resolutions, bit rates and formats without needing a backpack transmission system or external encoder. To improve streaming reliability, users can work with SMPTE 2022 or Zixi forward error correction (FEC), automatic repeat request (ARQ) and adaptive bit rate control. The camera also supports Real Time Messaging Protocol, RTMP, which allows a direct connection to the familiar CDNs including Ustream and YouTube.
As mentioned, both of the cameras have three new 12-bit CMOS sensors with improved F12, or 60Hz, sensitivity for low-light performance. They include an upgraded 3.5-inch LCD display, which can be swivelled to use as a talent monitor, and a 1.22 MP LCOS colour viewfinder. The integrated lens is a Fujinon 23x auto focus zoom with a wide focal range of 29-667mm (35mm equivalent) and three ND filters, plus manual zoom, focus and iris rings.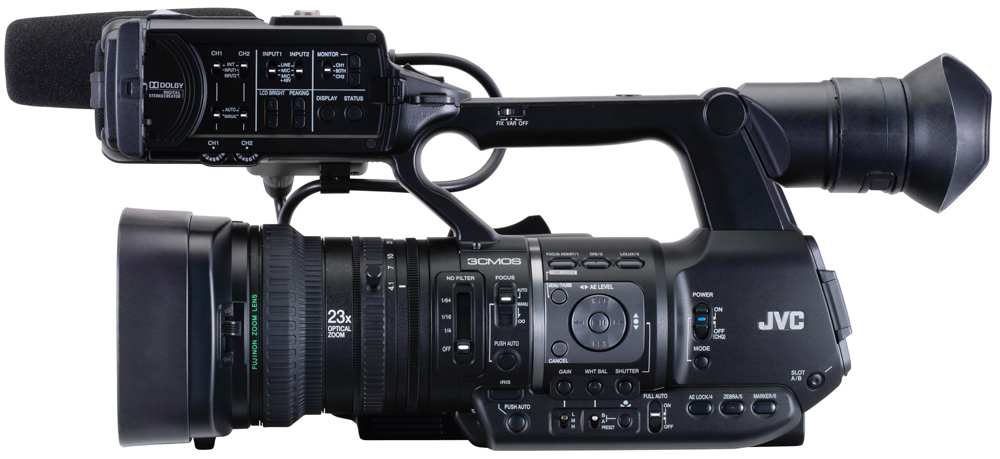 Designed for news, sports and independent production, the cameras record HD and SD footage in file formats including 1080p/60 and XHQ with virtually lossless 50 Mbps H.264 (.MOV) – to SDHC or SDXC media cards. Their dual card slots either work in relay mode for uninterrupted recording, or simultaneously record to both cards for backups and client copies. Pre Rec functionality can be set to continuously record and store up to 15 seconds of footage in cache memory.
The GY-HM660 can also record full-HD on a memory card while simultaneously streaming footage for live broadcast.
A LANC-based remote interface allows either camera to be controlled remotely for jib or crane shots, or attached to the JVC DT-X71H ProHD 7-inch portable monitor to use in a simple studio system. The cameras use a built-in stereo microphone for capturing natural sound, as well as two XLR inputs with phantom power, an extra 3.5mm input for a wireless mic receiver, headphone jack and shotgun mic holder. Other connectivity includes HD-SDI and HDMI outputs, and a time-code synchronization input.
The GY-HM660 will be available in April 2016, and the GY-HM620 is expected to ship in June 2016. pro.jvc.com/prof