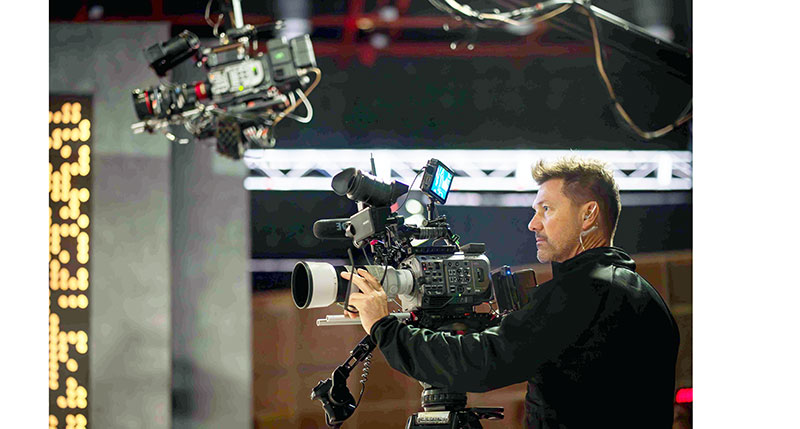 'Shark Tank' was an Australian reality TV series and competition that ran from 2015 to 2018 on Network Ten. The contestants were aspiring entrepreneur-contestants who the audience watched as they made business presentations to a panel of investors, called 'Sharks'. After a five year break, the show will soon return to Network 10 free-to-air programming, 10 Play catch-up portal and Paramount ANZ.
The DoP for the new series, Tim Hawkins, has developed a distinctive look and workflow by shooting with 16 full-frame Sony PXW-FX9, ILME-FX6V and new ILME-FR7 cameras – all fitted with Sony lenses.
He described shooting the series as a learning experience as well as a challenge, starting with numerous full-frame challenges in pre-production. "Because the production was also enthusiastic about a full frame look for the series, I've received huge support from our EP Jemma Carlton, Line Producer Jo Cadman and Director Peter Lawler. Using the Sony FX9, FX6 and FR7 cameras has made our efforts worthwhile."
The Full Frame vs PTZ Challenge
With 30 years of experience as a cameraman, Tim began to specialise in documentary and current affairs films about four years ago. Shark Tank Australia is his first large format series. Throughout his career he has used and owned Sony cameras and was an early adopter of the FX series cameras, admiring their versatility and functionality.
He said, "As a DoP, the fact that until now there hasn't been a Pan Tilt Zoom (PTZ) camera that uses a full frame sensor has caused some problems. Sometimes, the only practical option on a TV series is to use PTZ cameras, particularly when capturing content in awkward locations. But doing this creates the further challenge of matching the PTZ footage with the large sensor FF footage from my main cameras.
"At times, we've actually had to lower the quality of the main cameras to get a better match with the PTZs and avoid a harsh contrast when cutting between them. The announcement of the Sony FR7 gave me hope that we could shoot a large, multi-camera TV series entirely on full frame cameras. It has worked out well for Shark Tank Australia."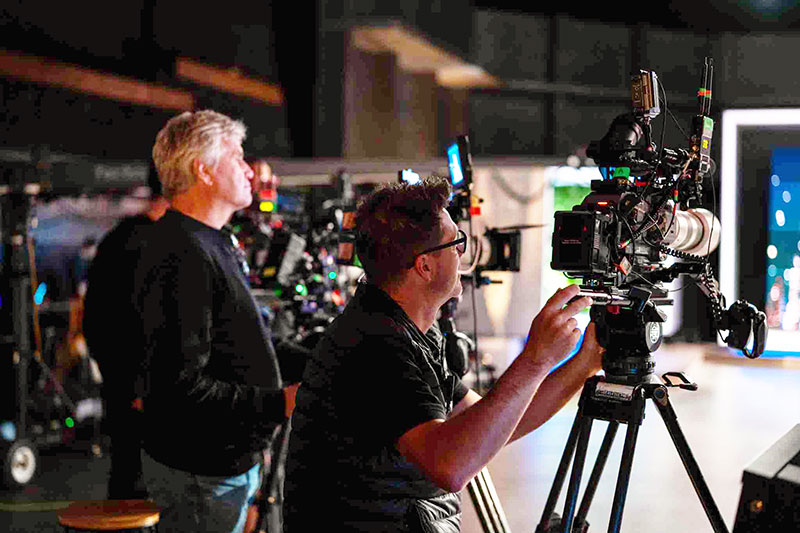 Tim's Cameras
Once the show was green lit, Tim and his crew took some brand new FR7 cameras and began configuring them with his FX9 and FX6s on the Shark Tank Australia set at Disney Studios in Sydney. "Normally, I wouldn't have chosen to work with three different cameras on set at the same time – a single camera model makes life simple. But for me, the FX9 and FX6 are two different cameras," he said.
The FX9 is a full-frame 6K sensor camera with fast Hybrid AF and dual base ISO and S-Cinetone colour science. The FX6 is one of Sony's Cinema Line cameras, with a full-frame high sensitivity 4K sensor with built-in electronic Variable ND Filter and preset cinematic looks. Both cameras have the same colour science with S-Cinetone.
"I own and like working with both of them, equally, and interchange them on set all the time. I was very confident not only that, if I played my cards right, I could have their images looking the same, but also that having both FX9s and FX6s together would benefit the series."
Lens Decisions
Tim used a full Sony G Master lens package, after a hectic pre production while everyone was aiming to make the most of those FF sensors as well as giving the coverage the production asked for.
The show was shot on a massive studio set. The series' director, Pete Lawler, wanted close-ups from some of the floor cameras while a Techno Jib and steadicam were as set up to capture wide shots, on the fly.
Tim said, "This meant our floor cameras had to be positioned right at the back of the studio. I tested several long zoom lenses but wasn't satisfied with their looks at the long end. Some were slow and others didn't look cinematic enough, while others could not physically be zoomed manually on-air and had to be ruled out.
"So, for the fixed cameras, I ended up with the familiar Sony 70-200mm GM2s with a 1.4 times teleconverter behind the lens. I placed the FX6s in the positions that required the tightest shots and set them up to use Clear Image Zoom when required. I reckon using that combination gave us close to and extra 400mm on the FX6s and and extra 300mm on the FX9s in S35."
About the types of zoom – with standard digital zoom, pictures are enlarged using digital signal processing. Therefore, as the magnification level increases, signals to be estimated also increase, which can reduce the image quality. However when using Clear Image Zoom, images are captured close to the original quality achieved when shooting a still picture. The camera first zooms to the maximum optical magnification, then uses the Clear Image Zoom function to enlarge an extra 2x, producing sharper images despite the increased zoom ratio.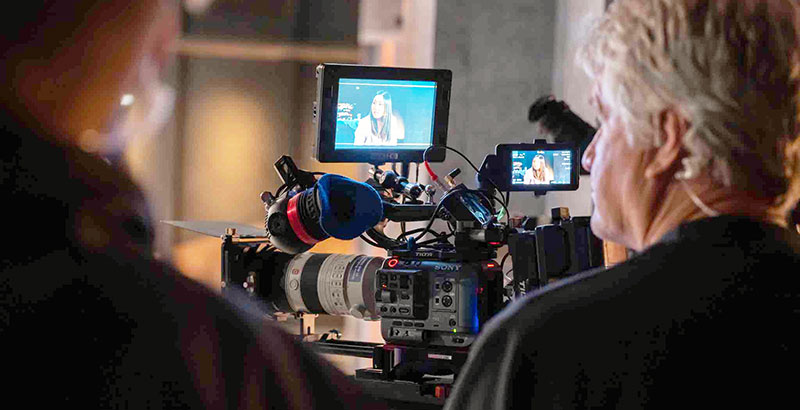 The teleconverter used here is a special, lightweight lens added behind the main lens that preserves optical quality and operability and multiplies the focal length by 1.4x with only a 1-stop light loss.
Multi-Cam Configurations
'Shark Tank Australia' is essentially a static show. The panel of Sharks is seated while the entrepreneur typically stands in front and delivers the pitch. The floor cameras capture the main content, while the Techno Jib, steadicam and 6m cine slider bring movement to the coverage. To add further movement, Tim organised the back of stage shots – before and after the pitch – to be shot handheld.
Tim positioned eight FX9 and FX6 fixed cameras on tripods, placed an FX6 on the steadicam and an FX9 on the Techno Jib. The FR7 PTZ cameras were then installed around the set to capture shots in areas the fixed cameras couldn't reach. On three of the FR7s, a Sony 28-135mm lens was used. A fourth FR7 had a Sony FE 16-35mm T3.1 G and another ran a 14mm prime. All had Clear Image Zoom engaged, resulting in a cinematic look but keeping the ability to remotely pan, tilt and zoom the lenses.
The Techno Jib FX9 had a 17-120mm Canon CN-E cinema Prime lens and the staedicam FX6 used a combination of Fujinon Cabrio 19-90mm, Sigma 50mm and Sony 85mm and 50mm lenses.
A Look to Love
Tim said, "I solved one of our biggest workflow issues by adopting S-Cinetone for the base look of all cameras, a look I love and use often. Shark Tank Australia is a completely controlled studio show in terms of lights and on-set conditions, but shooting in S-Cinetone allowed me to control the look coming from the cameras."
The S-Cinetone picture profile was built to resemble the Sony VENICE's cinematic look, skin tones and film-like colour. To extend that look and those colours to some of their other cameras, Sony developed the S-Cinetone profile to produce richer content directly from the camera, without having to wait for the colour grade.
"Usually S-Log 3 is the look I choose for Sony cameras, but needs to be manipulated in post to arrive at the look you're aiming for," said Tim. "In this situation I used S-Cinetone to solve some of our pre-production challenges in-camera. I could decide in-studio not only the look of the show but also the base-ISO, noise levels and ISO levels.
We were able to fine tune the colour of the cameras as well, and exactly match the colour balance and exposure, which would have been impossible if we had chosen a Log option. Our EP and director also appreciated saving the time and having more control in the studio."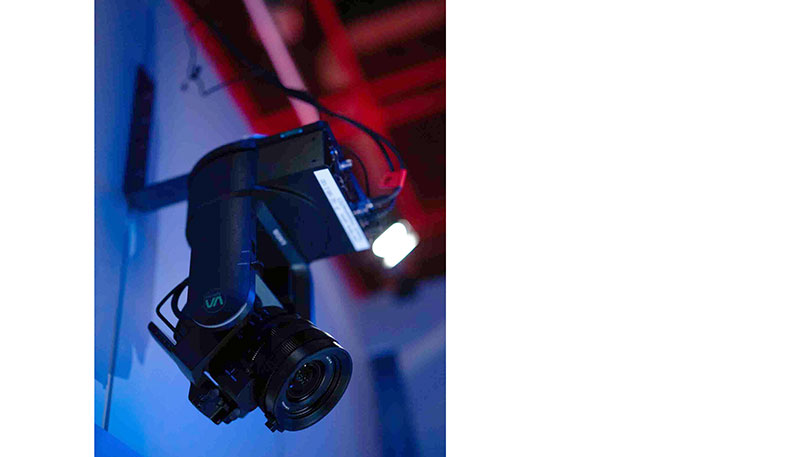 Managing ISOs and Noise Ratios
Other challenges arose relating to the fact that all three cameras have different base ISOs and different noise ratios in their base ISOs. For Tim, it was essential to shoot with his lenses wide open at all times on all cameras. Ultimately, achieving this required internal and external ND filters, with various ISO changes and lighting set-ups.
He said, "We lit the studio to suit a value close to F2.8. I had some F4 lenses on some cameras, some F2.8 lenses and one variable aperture zoom lens. The light was fairly low, so I needed to push the sensitivity of the sensors without introducing too much noise. I knew the FX6 had noise in its high base ISO while the FX9 records very clean at the same setting. I had no idea about the Sony FR7 noise levels, or any reference points, as they were brand new into the country."
Tim said he values the Sony FX series cameras most for their versatility. Especially now with support from the FR7, he feels able to deliver different looking content with the same cameras for various clients on any given day. "Being able to integrate Sony full frame PTZ cameras into a full frame studio show is still very new," he said. "But one thing is already certain. The FR7s gave us a great edge and an ideal look." pro.sony