Three filmmakers talk about using drones, helicopters and the AERIGON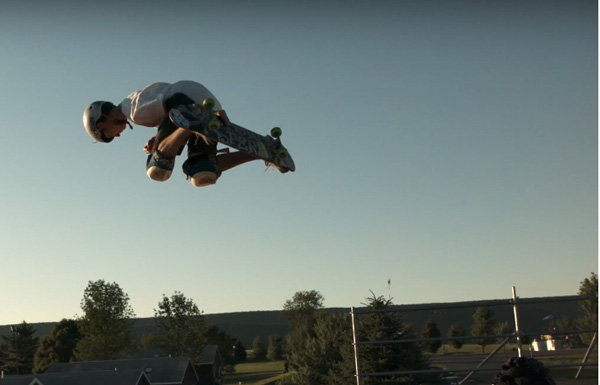 UAV for specialised aerial footage in projects from skateboard shorts
to feature films to wildlife documentaries.
---
AERIGON UAV Takes Filmmakers Higher for Cinema & Action Films
Three very different kinds of filmmakers talk about using drones, helicopters and, specifically, the AERIGON UAV for specialised aerial footage used in projects ranging from skateboarding short films to mainstream movies to wildlife documentaries.
'We Are Blood' and Brain Farm Cinema
'We Are Blood'is a film directed byTy Evansthat profiles professional skateboarder Paul Rodriquez and his wide circle of skateboarding friends. Filmed on locations around the world, the movie uses dynamic action shots, captured at different angles and perspectives, to involve the audience in the experience of skateboarding. The project was produced byBrain Farm Cinema, which specialise in action, adventure and lifestyle productions, and Mountain Dew Green Label Films.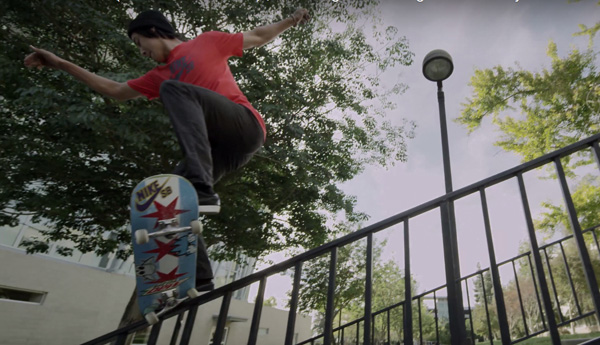 Ty Evans filmed from the ground, on a skateboard and in the air with helicopters and drones. He filmed at 5K and 6K, mastering in 4K for the UltraHD movie. The AERIGON was used with both RED Epic and RED Dragon cameras, including a Canon Cinema Prime lens. He was able to follow the skateboarding action with these full sized, high resolution cameras using anAERIGONaerial remote camera head manufactured byIntuitive Aerial.
"For the type of filmmaking I want to do, it's important for me to get heavy camera equipment in the air and know it will be safe," said Ty. Acting as a stable aerial platform, using the AERIGON UAV meant he could work with enough precision and maneuverability to capture the shots he wanted. They find the AERIGON is easier to set up than many remote control helicopters. They can typically have it up and flying in a few minutes. Ty is also confident that it's going to function each time, and hasn't found this level of reliability in UAVs before, especially with heavy cameras.
Landing Tricks
The filmmakers used the AERIGON on the first day of production to follow a skateboarder in a concrete drainage ditch, climbing its sides and doing board slides. The AERIGON followed him, wrapping around to see his movement from different vantage points. The pilot that day wasOscar Ohlsonfrom Intuitive Aerial, while Ty operated the AERIGON gimbal. "It turned out to be the most challenging shot we did and one of the most rewarding shots of the film," Ty said. "At the premiere people were cheering."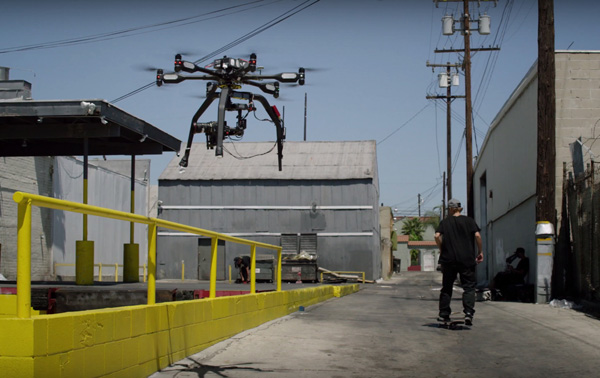 Robert Mcintoshwas the pilot for most of the rest of the aerial footage that appears in the film, and he and Ty worked together whenever their AERIGON was in the air. They discussed each shot beforehand and, since they would be flying close to the skateboarders, always started with a safety meeting prior to the shoot. "We'd get to a spot, look around, and figure out the options with the skaters. We'd put the AERIGON in the air and move it from point A to point B. The skaters would try to land their tricks. If we had to, we'd repeat the flight from point to point until they landed it," Ty said.
"During filming, Robert and I stand next to each other. It takes practice. In some cases we'd have the AERIGON up in the air for hours at a time, aside from landing for battery swaps. Luckily for us, skaters are patient, and the drone is stable and consistent. For some of the more dynamic shots, involving up to five skateboarders, we'd practice the flight, the skaters would warm up to their tricks, and then we'd yell 'action', and film the shot."
Long Flight Times
"This is a more intense, focused version of flying," Robert said. "You never know when you're going to get your shot and the skaters have to repeat their trick over and over till they get it right. Fortunately, the AERIGON is capable of very long flight times." Robert has been RC piloting for eight years and is able to build up his own rigs to fly cameras for his film projects. "Because the AERIGON is such a heavy lifter, I don't need a home-built UAV," he said. "It gives you a lot more shot options. It is also safe and reliable enough that I see it as a camera platform you could use on the closed set of a motion picture."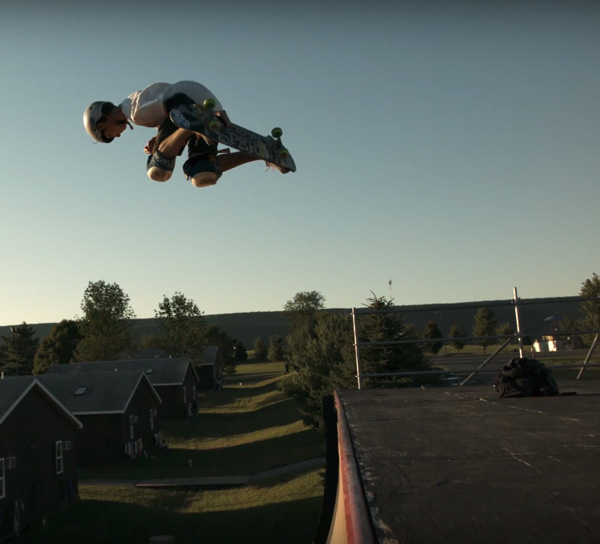 Ty is self-taught and began making skateboard films over 20 years ago, starting out on 16mm and 35mm motion picture cameras before switching to digital cinema. Since then, he has also directed commercial work where he learned to handle bigger camera systems and larger production shoots.
He and Robert met during the filming of his previous movie,'Pretty Sweet'. "I took what I learned on those large commercial productions and brought it back to what I'm passionate about, which is skateboarding," Ty said. "Having a tool like the AERIGON really adds to the type of visual storytelling I'm interested in."
Drone Market
"The current drone market includes many consumer drones with fixed cameras on them, but now there is the AERIGON, which allows us to use whatever camera and lens system we want, including ones with focus, iris and zoom controls. This is a huge change for filmmaking. I've used multiple drones in my filmmaking career and on 'We Are Blood'. In fact, for my last film, 'Pretty Sweet', we used a homebrew drone that Robert built, but it moved around a lot and we had to stabilize the footage in post."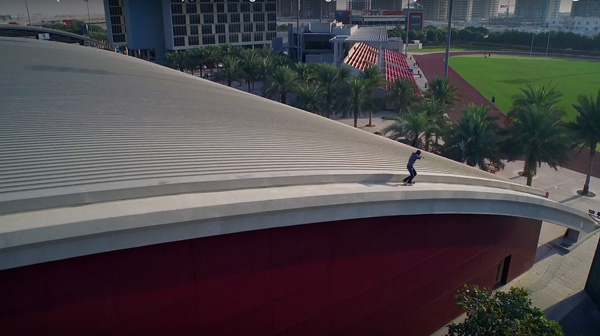 The AERIGON's qualities have also been valuable for shooting at high resolutions and high frame rates, which you can see in the 4K UltraHD footage that Brain Farm shot from theAERIGON with a Phantom Flex 4K. "For 'We Are Blood', we shot at high resolution, mainly in real time 24 fps, and also slow motion at 96 fps. I'm a huge fan of real time for this type of movie because it gives a real sense of the dynamic action. Slow motion sequences shot on a drone can look like they were shot on a jib arm. [].
"We used the RED Epic shooting at 5K and RED Dragon at 6K, with Canon 14mm, 24 mm, and 35 mm Cinema Primes. These are professional grade lenses that you can attach FIZ control to. We didn't need to worry about the weight limit because the AERIGON can carry these heavier payloads. Before we used the AERIGON we had to use the traditional, lighter Canon 16-35mm lens, which is manufactured for still photography, not cinema. The Cinema Primes are beautiful lenses and being able to use them has changed everything about aerial cinematography."
Montoring and Control
The AERIGON has a manufacturer-approved payload capacity of 35 lbs, which allows for about 20 lbs of camera equipment, including lenses, along with the AERIGON gimbal and a proprietary advanced stabilization system. The aircraft has 12 counter-rotating brushless motors. After shooting, it lands on detachable legs, which form a protective cage for the camera and lens.

To monitor the flight on the ground, they used aTeradek Bolt Prowith a 1080p HD signal, which has a very long reach. A critical ability of the AERIGON for Ty is that he could throw an HD signal through the gimbal and down-convert it to SD, suitable for monitoring. "As a result, you have the option to transmit HD or SD when necessary. This can be helpful because SD signals can travel further. On the ground, I have aSmall HDDP7-Pro monitor on the Intuitive Aerial DOMINION controller."
The DOMINION controllers allow full camera control including focus, iris, zoom [FIZ], and communicate wirelessly with the remote-operated gimbal and camera system from up to 3,000ft and have a high-resolution focus wheel, zoom rocker, start/stop button and customizable buttons and switches. Various programmable user profiles can be stored on an SD card. The display shows camera and lens data, with gimbal telemetry for monitoring performance and image stability.
When asked to describe a couple of shots that show how the AERIGON has changed filmmaking for him, Ty mentioned two in which the AERIGON stayed close to and wrapped around the skater. Not only did Robert and Ty have the feeling of following and flying along with the skaters, but the skater also liked having the drone follow along.They are a type of shot that that he has had in his head for some time but, as Ty said, would have been impossible without the AERIGON.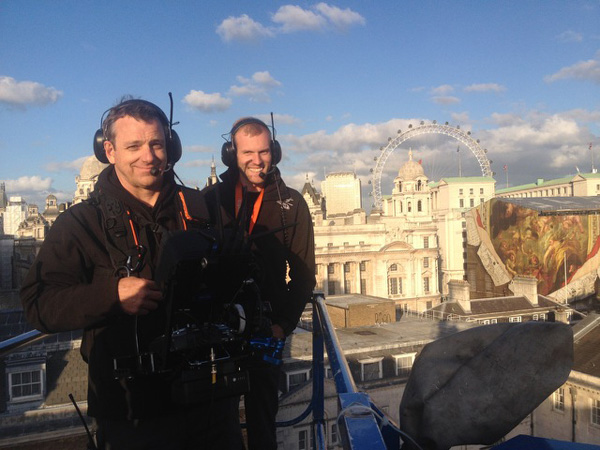 'Spectre' and Helicopter Film Services
Helicopter Film Servicesoperates as an international supplier of aerial cinematography drones, remote camera systems and tracking vehicles for motion picture applications across Europe from their headquarters in the UK, where they launched in 1993. www.helicopterfilm.tv
The company has used Intuitive Aerial's AERIGON UAV on feature films including 'Captain America', 'Into the Woods' and 'Avengers: Age of Ultron' and more recently on a key action scene in the new James Bond film 'Spectre'. Helicopter Film Services, HFS, flew their AERIGON just above the rooftops near Trafalgar Square in London as Bond races up a fire escape. The AERIGON had enough power to lift a 6K RED Dragon and Zeiss Master Prime lens, and allowed them the precision required for very high resolution capture of the dramatic sequence.
Jeremy Braben, aerial DP on the project and founder of HFS, feels this shot could only have been filmed with similar results from the AERIGON. "It allowed us to get close to the action, at night, in a restricted part of the city," he said. The sequence required camera work just above the rooftops, too low for a helicopter to operate safely, and stable enough to capture the shot quickly. HFS had to receive special permission from the Civil Aviation Authority to fly because the scene was filmed at night in the congested area of central London.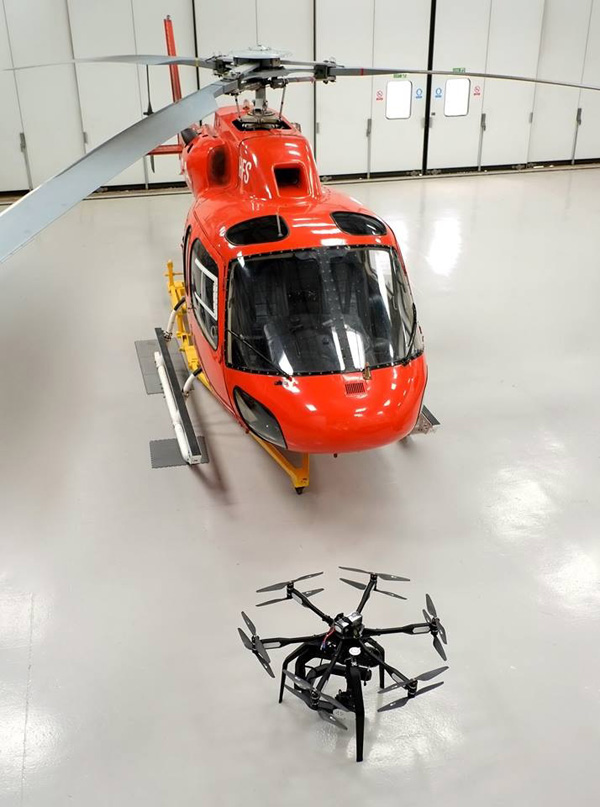 Jeremy said, "The performance and the payload capabilities of the Aerigon allow us to concentrate on assembling the camera and lenses packages that the customer wants to use, and gives us the ability to shoot stable high-res images for VFX. Like any commercially available unmanned aircraft system, payload weight is critical. The Aerigon's airframe and gimbal performance mean we can fly with the Red Dragon and Weapon. The camera of choice at the moment is the ARRI Alexa Mini, which we match with the Angenieux Optima 3:1 zoom or Zeiss Master Anamorphic primes."
Skill, Experience, Planning
Using the RTMotion and ARRI WRCU4 lens remote systems, HFS has been able to fully control the camera run and lens functions at 400ft away. They have two types of HD downlinks for monitoring. The standard kit is theAmimon SkyLinkHDSDI link and two receivers, which is generally robust enough for normal operations up to about 300ft. Where a completely robust signal is required we use either aVislink L1700orCobham Nano- both of these are broadcast standard systems using licensed frequencies.
Jeremy feels that the smooth, controlled and interesting camera moves achieved in the films they have worked on come down mainly to the skill and experience of their pilots and operators. "Some shots are not straight forward and take a great deal of planning and skill. Similar to flying helicopters, this doesn't happen overnight," he said. "We use crews of a minimum of two people, the pilot and an aerial camera operator, often backed up by an aerial assistant or spotter. In our view, the single operator outfits should be avoided on safety grounds, if nothing else.
"Planning is crucial. If a production is considering using a UAV, our teams need to be involved in the creative meetings early on. They can advise, for example, on shots that a director would like to have, but in reality can't be realised either for safety or operational reasons. In some cases a full size helicopter is what is required. There are many reasons besides the safety aspects that can affect a UAV shoot, such as winds, RF interference, wires and the inability to maintain line-of-sight."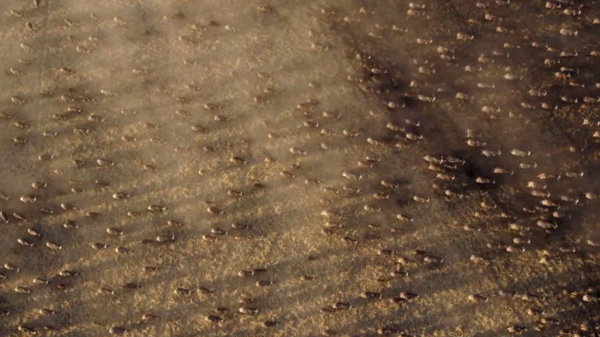 'Africa's Lion Kings' and the NHFU
TheNatural History Film Unit, NHFU, based in Botswana, used the AERIGON UAV to capture aerial images of predators and prey for a documentary made for BBC Natural World,'The Return of the Giant Killers – Africa's Lion Kings'. The drone gave the filmmakers a chance to capture overhead angles and perspectives with precision and less environmental impact than usual, resulting in 4K footage of lions as they track their buffalo prey in the wild.
Brad Bestelink, Director and Producer at NHFU, said, "We chose it because it was the first to reliably fly a 4K camera, which is our main acquisition format." The NHFU used RED Dragon cameras on the project. Reliability and efficiency are crucial for shooting in a natural environment where the crew needs to be ready at any moment to respond and move with the animals. "The lions aren't waiting for us to assemble our equipment," Brad said. "The action happens only once and there's no time to sit and adjust the gear. The AERIGON works for us because it's essentially plug and play."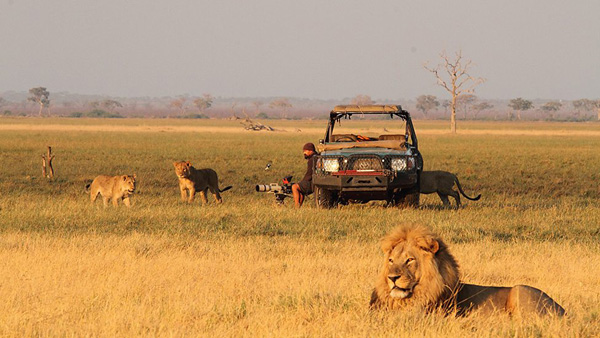 Brad and his crew could move through the bush with the individual AERIGON gimbal and helicopter components already assembled. This allowed the team to get their cameras into the air and ready to shoot in short order. The company's specialty is filming only wild animals in their natural habitat. By shooting in 4K, 5K and even 6K, the team is able to capture behaviour that has never been filmed before, including high-speed footage of large predators at 2K and 225 fps.
Observation-Based Storytelling
The AERIGON has now become a basic tool for their observation-based style of storytelling with certain advantages over other aircraft such as helicopters. It is much less obtrusive, capturing animal behaviour with fewer distractions or total disruptions such as downdraft. It is also able to fly where helicopters cannot, is faster to deploy, requires fewer personnel, and is much more economical to operate.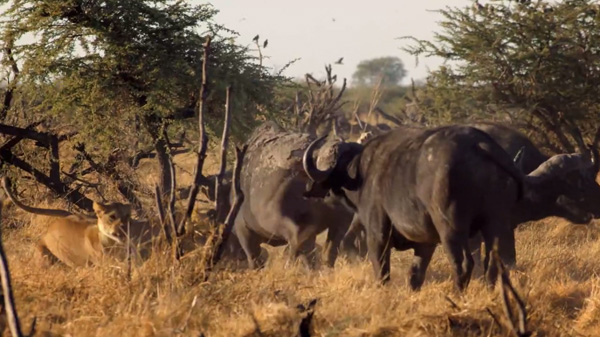 "We use the AERIGON to film where animals are interacting," Brad said. "I don't like to use aerials for the sake of aerials. They have to serve a purpose and function in the telling of a story. Most of the time, our aerials are matched and complement what we're shooting simultaneously from ground positions, resulting in a more meaningful audience experience and a much better understanding of animal behaviour."
In one sequence, the team caught the moment when a new leader of the pride is established during a confrontation with a herd of buffalo as a young female lion takes the place of her mother. Only from the air can viewers see the threat she is facing - not just a line of buffalo, but a massive herd of thousands. Likewise, while the audience may understand that the Savute Marsh is difficult for the lions to cross, the true measure of the journey can only be seen from the air.
'Return of Africa's Giant Killers' was released on 19 August 2015 for the BBC. It will be distributed in the US on America Animal Planet in early 2016. www.intuitiveaerial.com