Canon's handheld XA35 and XA30 are super compact HD cameras with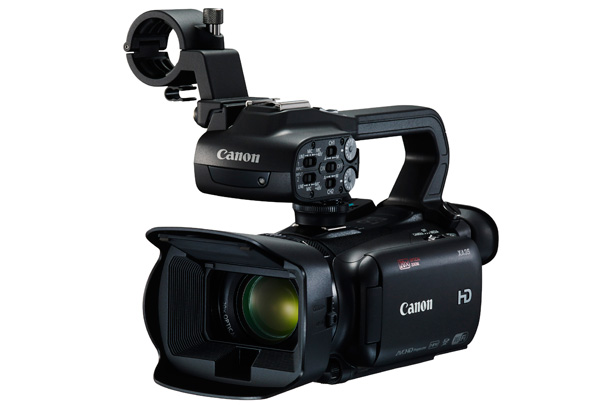 modes for news, documentary and videogaphy. The new portable zoom
supports 4K 2/3-inch broadcast cameras.
---
Canon Launches Handheld HD Broadcast Cameras & Portable 4K Zoom
TheCanon XA35andXA30are new handheld video cameras in the company's X-series - very compact, lightweight and built with a high sensitivity HD CMOS Pro sensor developed for low-light performance. Both cameras have new wide dynamic range and highlight priority settings that make them suitable for shooting news and documentaries, to weddings and corporate films.

The1/2.84-type 2.91 megapixel HD CMOS Prosensor gains sensitivity through its high signal-to-noise ratio, which improves clarity in low-light environments. Low-light shooting is extended by extra infrared performance, useful for nocturnal wildlife photography or night-time documentaries.

The20x zoom wide-angle lenshas a 26.8-576mm, 35mm equivalent, focal range and employs the Canon intelligent 5-axis Optical Image Stabilization System with Dynamic IS. The lens also has an 8-blade circular aperture for a stronger bokeh effect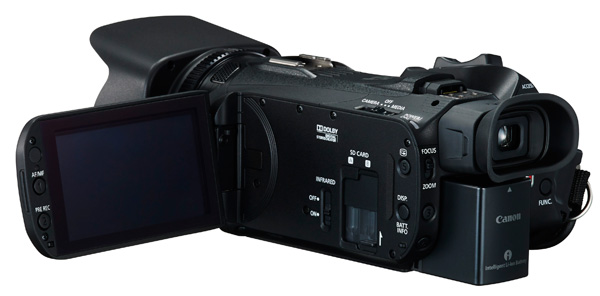 Special Recording Modes
The cameras' two special settings, Wide DR and Highlight Priority, are also new. InWide DR mode, the cameras can achieve 600% dynamic range, resulting in bright, high contrast images that retain detail in the highlight and shadow areas, without further work in post production. Using theHigh Prioritysettings, footage can be produced with more natural tones and richer colours, particularly in areas of high brightness, good for scenes with bright skies and reflective surfaces.

Both models also haveslow and fast recordingmodes, with options forinterval recordingup to a maximum of 1200x normal speed for time lapse video.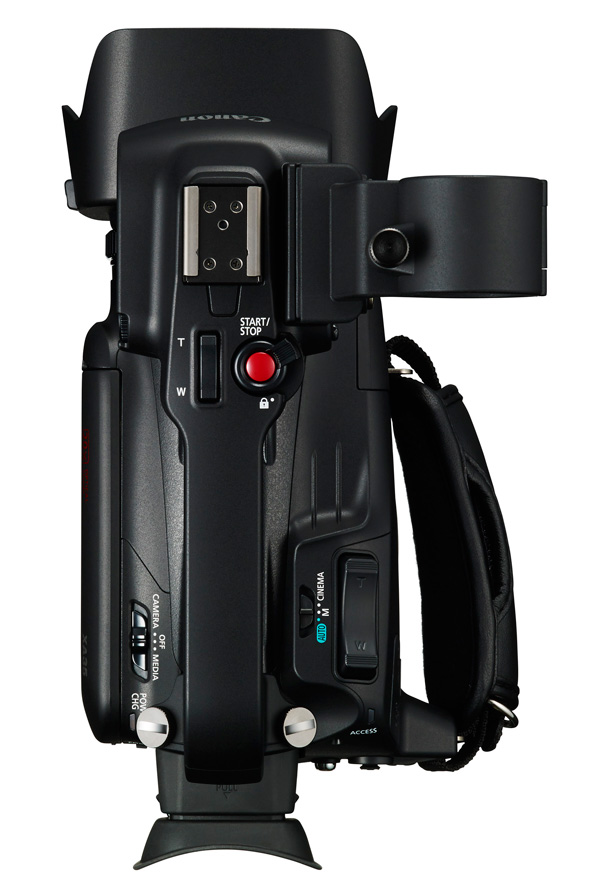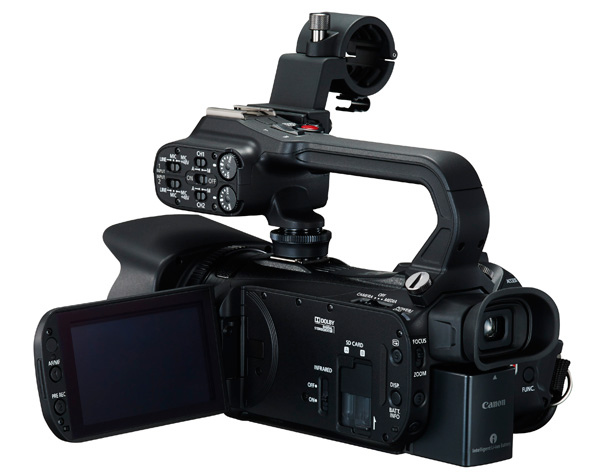 The cameras' compact size and light weight make them useful for journalists who travel and need to record unnoticed. Because the cameras are very easy to use with a lot of automatic functions, they also work well in corporate and education environments. The handle, with professionalaudio XLR terminals, can be removed or re-attached to suit different shooting situations.
Integration and Connectivity
Via aHD/SD-SDI terminal, theXA35will integrate with existing equipment for onward transfer or transmission, and includes embedded audio and timecode signals. Because the user can export uncompressed high resolution digital video in real time and complement footage from other broadcast cameras on-set, it it can be used as acompact secondary camerafor live TV and news gathering.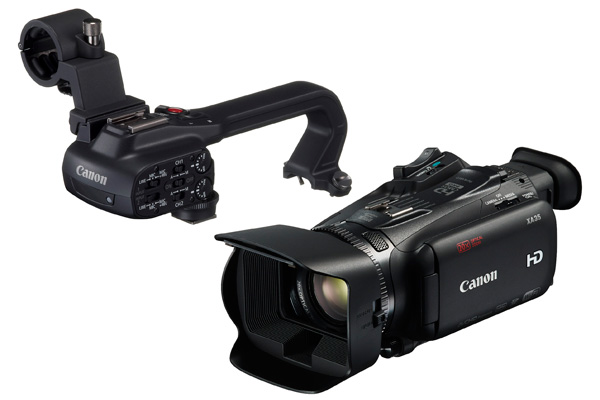 The cameras also supportAVCHD up to 28MbpsandMP4 up to 35Mbps, and include dual SD card slots to set up either simultaneous back-up recording or relay recording at longer events.

Both the XA35 and XA30 aredual-band Wi-Fi enabled, allowing remote control of the camera, wireless file transfer/upload and browser preview, through the use of a smartphone, tablet or computer. The cameras are also compatible with Canon'sGP-E2 GPS receiver, which journalists and documentary crew can use to embed GPS location data in the metadata of their video. The XA35 and XA30 will be available fromDecember 2015.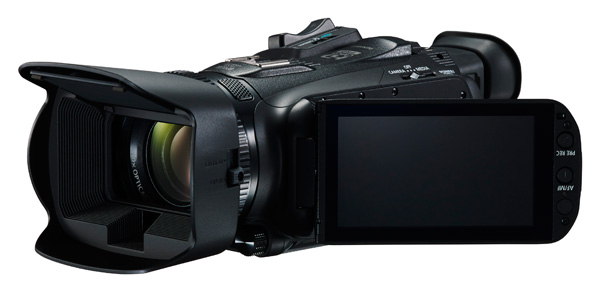 Canon CJ20ex7.8B Portable Zoom for 4K Broadcast
Canon is continuing to expand its 4K broadcast lens lineup as well, and has launched a newCJ20ex7.8B portable-type broadcast zoomlens with a20x zoom ratioand a focal-length range from 7.8 mm to 156 mm. These specs, plus the lens' accurate colour reproduction, support use with 4K broadcast cameras built with 2/3-inch sensors. Through optimization of the lens positioning and component assembly, the CJ20ex7.8B achieves a uniform quality 4K-resolution from the centre to the edges of the image field.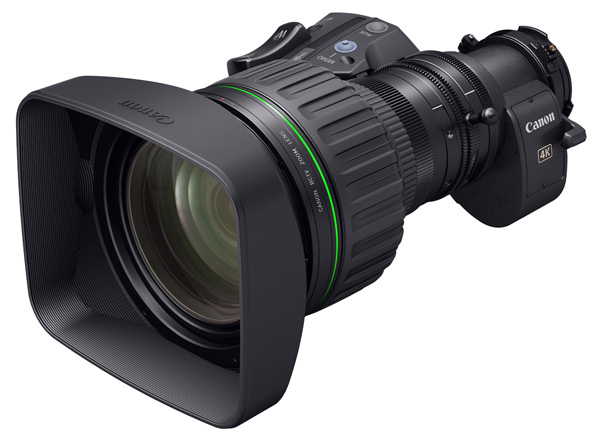 The new CJ20ex7.8B incorporates an internal focusing motor and a built-in2x extender, which doubles the lens focal range. Even when shooting at the 312 mm telephoto-end focal length, the optical performance will support use with 4K broadcast cameras.
Compact and lightweight, the lens suits indoor and outdoor applications ranging from sporting events and news coverage, to TV drama and documentaries. Its design also facilitates shoulder-mounted shooting and fast transport and set-up. The CJ20ex7.8B will be available fromlate June 2016. www.canon.com.au