Sony PXW-X400 Upgrades XDCAM HD 422 Network Connectivity
The newSony PXW-X400camera for ENG is built with XAVC recording, corrected weight balance, and upgraded network functions and wireless connectivity that substantially extends its usefulness in field production.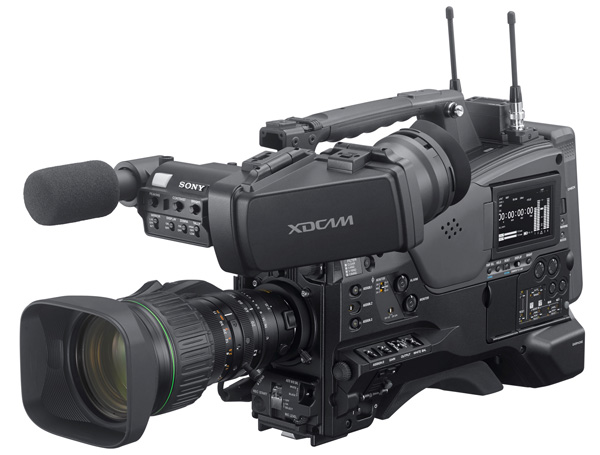 A new model in theSony PXWseries ofXDCAM HD 422 shoulder mountcamcorders, the PXW-X400 uses2/3" 3-chip CMOSimage sensors and supports HD and SD formats includingXAVC, with a low power consumption of22W. In the XAVC-Long format it can record50/60pvideo as well. Sold as a body-only camera unit without a lens or viewfinder, the camera has two lens options, the PXW-X400KC20x manual focusand PXW-X400KF16x auto focuslenses. The camera will also support the new HDVF-series full-HD OLED viewfinder.
When wireless LAN is unstable or unavailable, the camera's Ethernet interface, an RJ45 connector, connects directly to a network forfile transfer, live streamingandcontrol from a web browser. One-touch near-field communication,NFC, links the camcorder with a mobile device, and aContent Browser Mobileapplication can be used to remotely preview or control camcorder settings and menu functions.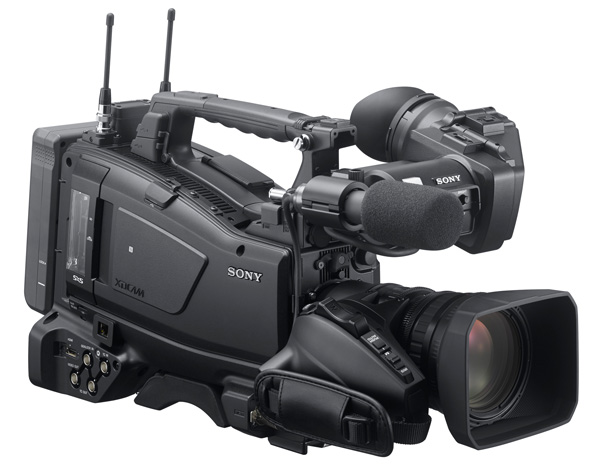 Using theHD/SD SDI pool feedfunction, a photographer can use the PXW-400 to record an external SDI signal onto an SxS card. Typically, this facility is used at a press conference where, for example, a company wants to distribute a pre-packaged clip. The company sends the clip out to multiple SDI feeds, from which journalists can record it onto media in their cameras. This function can also be used if video is coming from another location to the event, such as a live transmission to a global HQ. Using the pool feed, the video can be recorded directly instead of pointing the camera at a screen, which loses quality.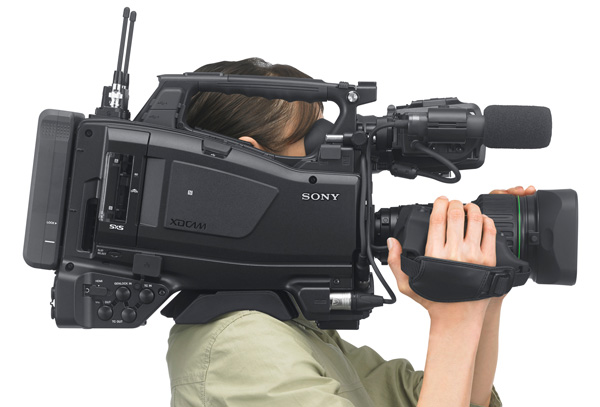 The PXW-X400'sONLINE buttonbypasses a mobile device or the camcorder's menu when users need to control certain streaming functions directly. The button gives the user on/off control of direct streaming transmission of AV signals from the PXW-X400 to assigned destinations, control over uploading of proxy files to cloud services and FTP servers, and on/off control over Sony's PWS-100RX1 network server while shooting.
Sony's redesign of the PXW-X400's inner body structure has improved the camera'sweight balanceand handling capabilities compared to earlier models. Combining the manual lens with the body resolves front-heavy issues and reduces the load on the right hand.
The PXW-X400 camcorder is scheduled for release in Australia and New Zealand fromFebruary 2016. The PXW-X400KF 16x auto focus lens is expected in May 2016.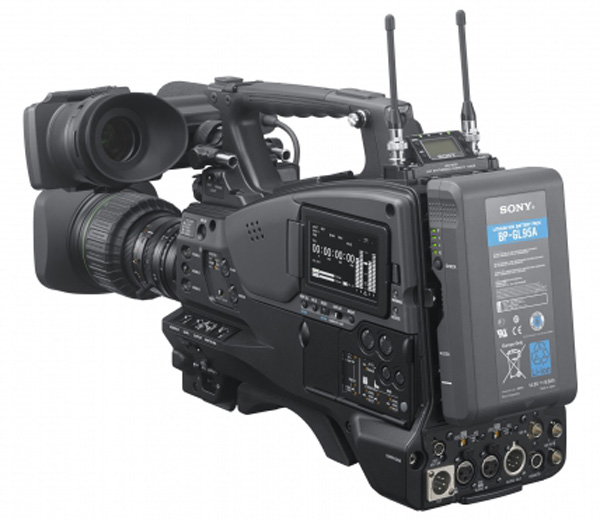 UWP-D 2-channel Slot-in Wireless Receiver & Bodypack Transmitter
At the2015 Content & Communications Worldevent in New York, 11-12 November, Sony has introduced a new 2-channel slot-in audio receiver, URX-S03D, and bodypack transmitter, UTX-B03HR, both designed to use with Sony's camcorders.  
TheURX-S03D 2-channel receiversystem can receive two different RF signals in one unit. Its two receiving antennas and separate RF circuits for each channel help it to maintain stable reception. RF signals from the two antennas are compared and the stronger signal is automatically selected for output, which reduces interruptions to the reception. Sony's Digital Audio Processing, which uses digital signal processing DSP for digital companding, contributes to the sound quality.
The URX-S03D fits into the slots of XDCAM HD camcorders with 2-channel digital audio connections, directly from the DSP. It can also fit an HDCAM camcorder with single channel audio connection which, in supported camcorders, monitors the AF/RF status of the URX-S03D via the viewfinder.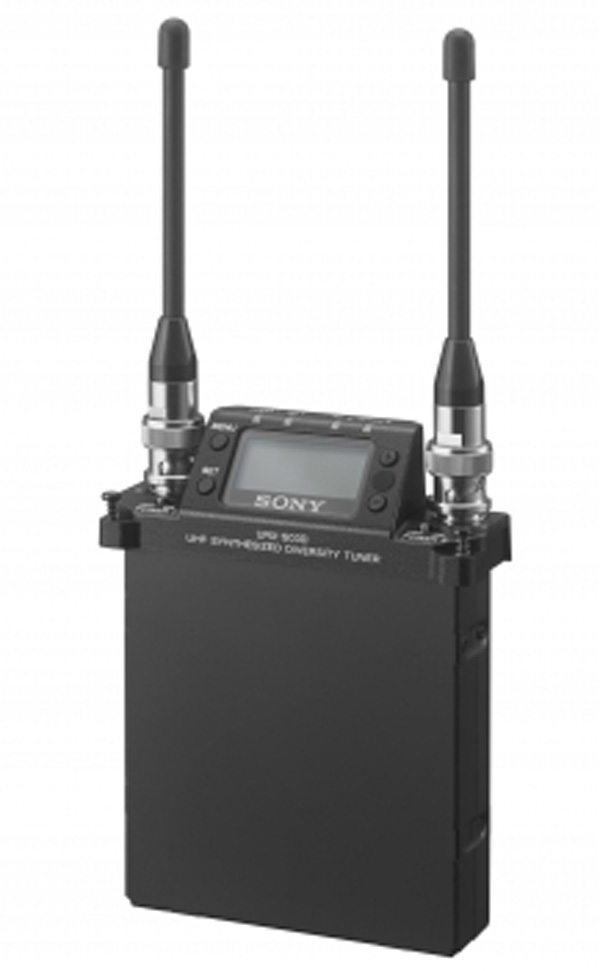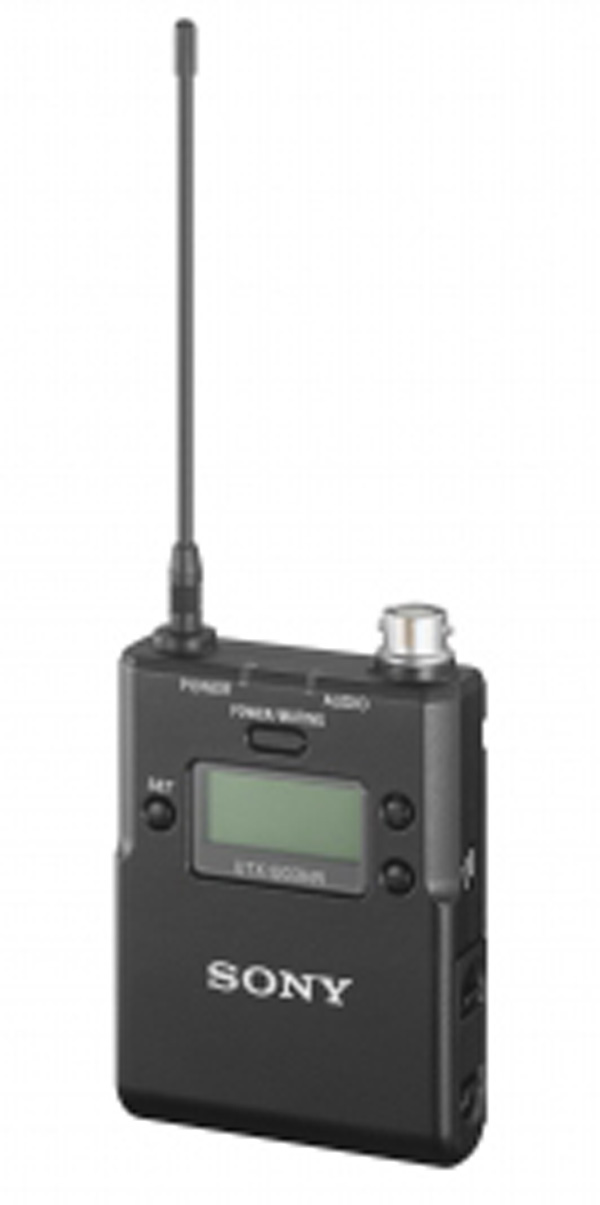 To operate, the receiver has a large display and straightforward menu. It scans and determines available channels and sends information to the transmitter to complete channel setting automatically. The clear channel scan, active channel scan and IR sync functions make the channels faster and safer to set up. The URX-S03D is compatible with Sony's UWP Series and WL-800 Series. Apart from the slot-in, V-mount and mixer bag operation are available using a wireless adapter such as DWA-01D or DWA-F01D.
The compact, lightweightUTX-B03HR body pack transmitterhas 4-pin microphone connector, robust enough for field shooting. A standard broadcast lavalier microphone ECM-77BC can be used with the connector, and it is also compatible with the UWP Series and WL-800 Series.  The body is built with a USB for power supply or charging batteries, switchable MIC/LINE input level and adjustable attenuator, 0 dB to 21 dB, 3-dB steps.
The URX-S03D and UTX-B03HR are scheduled for release in Australia and New Zealand inearly 2016. pro.sony.com.au