The new Apollo recorder/switcher is a portable HD multicamera device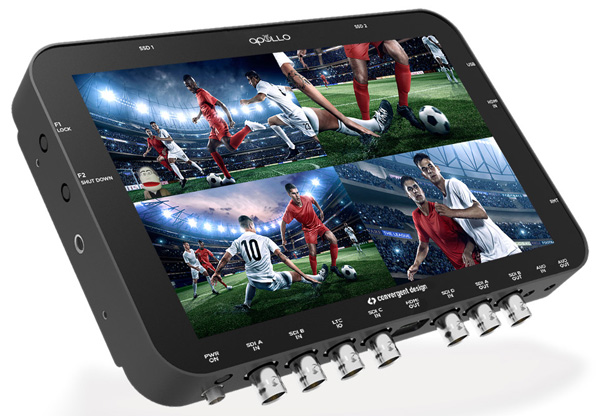 that simultaneously records four HD video signals, with a fifth channel
as a live-switch or a quad-split view.
---
Convergent Design Launches Portable Apollo Multicam Live Recorder/Switcher
Convergent Design's newApollo recorder/switcheris a portable HD multicamera device that can simultaneously record up to four HD video signals, and has a fifth channel to use as either a live-switch between the four or a quad-split reference view. Apollo can also function as a four-channel live switcher and simultaneously record the four isolated HD video signals. The size of a small tablet measuring 1" thick and able to run for several hours on a camcorder battery, Apollo is unusual in its ability to both record multiple HD camera feeds as well as live-switch between them, from inside a portable device.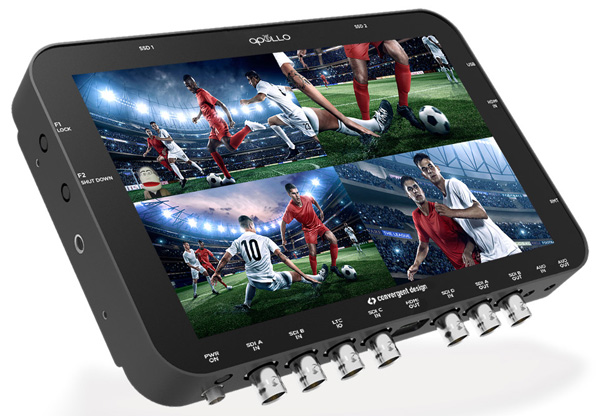 All cameras in a configuration are kept in sync with matching timecode. A single SSD contains all of the multicamera media, which reduces turnaround time for post. There are two SSD slots on Apollo, which you can use to double your record time or to mirror recording for backup. Apollo accepts standard 2.5" SSD media, either manufactured by Convergent Design or qualified 3rd party models.
Using theApollo Media Manager Appreleased for the device, recordings can be exported as separate Apple ProRes files or as a single multicamera QuickTime file that drops directly into asingle timeline. Supporting NLEs include Final Cut Pro X.
Production applications would include most kinds of location shoot, such as reality programs shot in cramped spaces. A concert performance can be captured by recording four camera ISOs plus a Line Cut that can also be sent to a large live display at the venue. Live-streamed events can be covered with four-camera switching without having to transport a full flypack.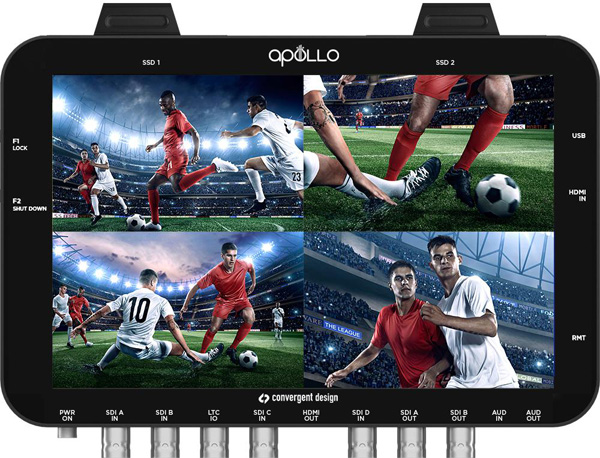 Apollo can also serve as asecondary recorder/monitor. For example, if using a battery and wireless video receiver bracket, the Apollo can be adapted as a handheld director's monitor. Its built-inimage analysistools can be used to match the cameras during setup.
Apollo is due for release inDecember 2015, and owners of the Convergent Design Odyssey7Q and Odyssey7Q+ will be able to purchase an Apollo Option as an upgrade.Further functionalityis planned for release in early 2016 via a free firmware update, includingtwo-channel 4K/UHDvideo recording,DNxHDrecording, and cascade interconnection between up to three Apollos, establishing up to 12 HD channel or six 4K/UHD channel simultaneous recording. Aremote keypad control unitwill be made available with a rack mount and other accessories. convergent-design.com