Teradek is launching a series of portable, cloud-based encoders with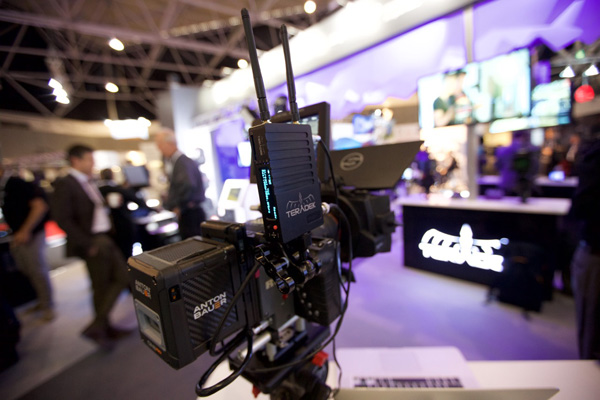 802.11ac Wi-Fi and built-in bonding of multiple Internet connections,
and new Bolt Sidekick zero-delay wireless receiver.
---
Teradek Connects Crew and Production with On-set Encoders & Receiver
Teradekmanufactures wireless video devices for remote video capture, live ENG backhaul connections, real-time monitoring, proxy recording and webcasting. For IP video systems, the company runs a cloud-based multi-pointrouting, DVR and remote device management and workflow platformcalledCore, from which users can operate Teradek encoders in real-time from wherever they are working.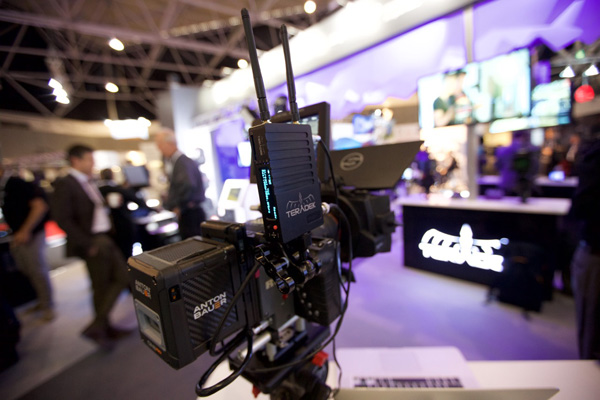 Teradek has just added a new series to their line ofCube encoders, which integrate Core as well. The newCube 605 and 655are based on the company's earlier series but have dualSDI and HDMIinputs, a dedicated embedded network processor to enable higher bitrates, the more effective802.11ac Wi-Fiwith extended range, and10/100/1000 GigEfor achieving greater bandwidth. The HDMI port will also ingest 4K resolution video signals and encode up to 1080p30. The Gigabit Ethernet support allows camera control and system integration.
The series also has built-in bonding withShareLink, functionality that Teradek developed to achieve maximum bandwidth and a more robust connection by bonding multiple Internet connections from different sources, depending on what is available at any given location. Suitable combinations of interfaces could includeEthernet, WiFior aUSB Modem. Up to fouriPhonecellular connections can also be contributed, in which case standard rates apply. Originally used successfully in Teradek's HD live streaming video device,VidiU Pro, ShareLink is now available in the Cube 600 series and is accessed as a subscription plan.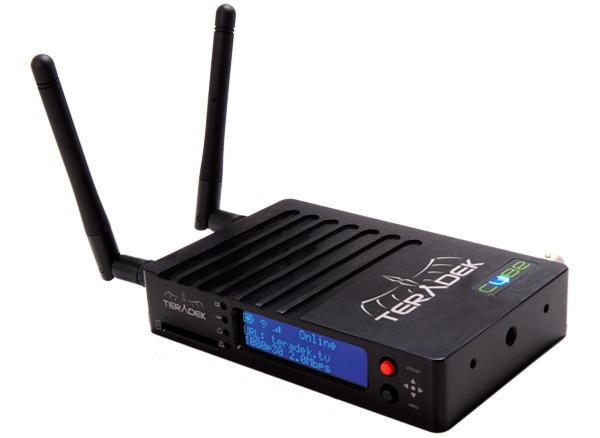 Because of this versatility and their connection to cloud resources, the Cube 600 devices are useful to content creators on set. They can, for example, distribute live HD video to iPads and iPhones for producers, clients and other people working on set. Supporting up to five iOS and/or Android devices with robust 802.11ac Wi-Fi, users can view the feed at considerable distance with the Cube 655.
As well as local playback, the series integratesFrame.io's cloud-based review and dailies workflow to support collaboration with a complete team, distributed around the world. The devices include 3D LUT colour management functions, SD card recording and archival, and bidirectional IFB communication.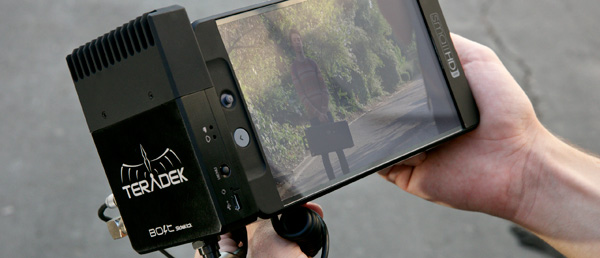 Bolt SideKick Receiver
TheBolt Sidekick receiverextends Teradek's zero-delay wireless line-up with a small footprint and straightforward operation. It has a lightweight aluminum chassis and universal connectivity to the Bolt Pro 300, 600 and 2000 transmitter systems. Built to be matched to any of the second generation Bolt Pro transmitters, it weighs only 9 ounces or 250gms, and works as a companion forhandheld monitorsused by 1st ACs and directors at up to 300ft or 91m from the transmitter.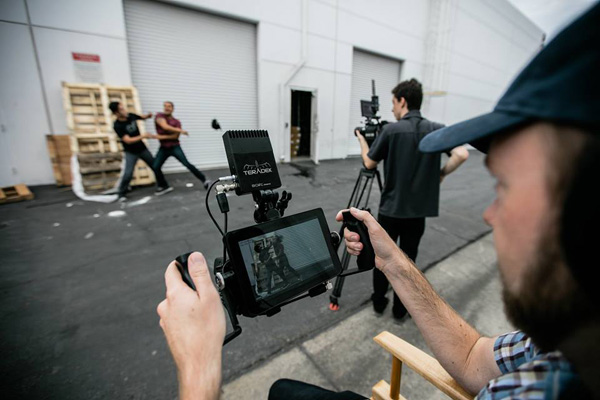 The Sidekick has a 7 to 17V range, 2-pin Lemo power input, LED status indicators, andHDMI/3G-SDIinputs. It also includes a threaded ¼ 20" point for varied mounting options. Bolt receivers now have integrated3D LUTsthat output custom graded video, useful for directors and producers who prefer to monitor footage with a colour palette closer to final grade instead of a flat RAW image. Custom LUTs can also be loaded.
Bolt Sidekick has just started shipping, and the Cube 600 series will ship before end of 2015. Sign up for updateshere.
Connected Set
Further to Bolt's wireless video and colour management integration, Teradek has expanded theirconnected setenvironment with two other new devices –LOKRandCOLR. LOKR is a turn-key digital media hub for all of the connected set equipment. LOKR manages CDL and 3D LUT colour by natively integratingPomfort LiveGradeand automatically records proxies stored locally on removable SSDs.
It also supports CRC copying over USB2/3 and synchronizes assets to the cloud using Frame.io. Video can be ingested wirelessly or over 3G-SDI, HDMI or Bolt's USB 3.0 GRAB engine, and monitored from SDI/HDMI outputs or streamed to iPads. Designed for on-set environments, LOKR has two hot swappable cine battery mounts and an optional 802.11ac Wi-Fi access point built-in.

COLRcombines an up/down/cross converter and an LUT box. Real-time colour correction is enabled on dual HDMI or 3G-SDI I/Os, with wireless control from LOKR or directly from Pomfort LiveGrade, and supports 33 point LUTs, CDLs and ACES inputs.
Theconnected setwas developed to wirelessly synchronize all Teradek devices for a single, continuous experience. Real-time wireless support fromPomfort LiveGradesoftware allows more accuracy and creative use of LUTs, but keeps the flexibility of shooting in RAW or LOG. Automatic proxy recording triggered by camera flags makes live monitoring and instant review on iPads possible, contributing to collaboration. Direct uploading to a cloud based platform like Frame.io extends creative collaboration to off-site team members.www.teradek.com