'Neighbours' Grows Up to Super35 Production and Post with Sony F55
The production on 'Neighbours', Australia's longest running TV series, is now recording with theSony PMW-F55. After 20 weeks in production, the camera crew and post team report favourably on both image quality and post workflow.
Steve Scoblehas worked as location DP for production companyFremantle Mediaon 'Neighbours' since 2006. He said, "The show's location unit had previously been using the Sony 2/3" PDW-700s, XDCAM cameras that were nearing the end of their lifecycle. A search began for a new camera that would support fast moving, tightly scheduled drama production, and satisfy the technical and creative demands our crew is facing now."

'Neighbours' production had decided to shoot with a larger Super35 sensor format and 30-300mm, 30-105mm and 15-47mm cine zoom lenses to cover all scenes, which narrowed their choices. Steve said, "The F55 is a third generation sensor. In our situation, the camera's main advantages are its Super35 4K sensor for improvedcontrast ratios, thevariable frame rateand theintegral ND filters."
Fast Turnaround Drama
The F55s have now been in production for 20 weeks with very good results. The 'Neighbours' crew uses two of the cameras on location, and carries one extra camera to add whenever required. Fremantle is shooting the series inXAVC HD 1920 x1080 at 25pinstead of 4K because of the pressure 4K video puts on their post-production storage, and also due to the need to match the studio's existing material. Nevertheless, among the improvements the crew noticed when using the F55 are in the contrast ratios and the ability of the sensor to handleextreme highlightscompared to the XDCAMs, an advantage for their crew's style of drama shooting.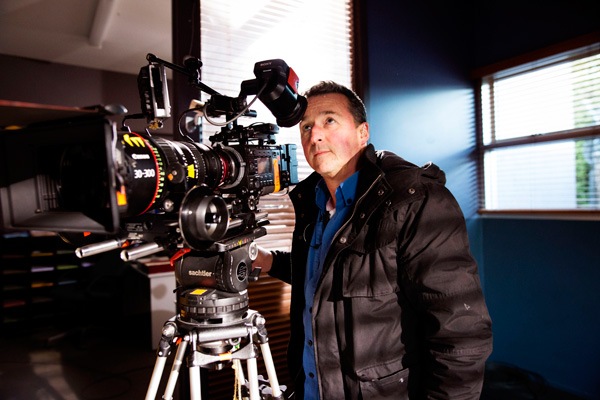 Previously, Steve worked with Sony cameras for many years on the long-running police series 'Blue Heelers', and was impressed by their reliability and image quality for fast turnaround drama. He said, "Those cameras were constantly in extreme conditions, running long hours with very few technical issues. Similarly, our cameras now are in use five days a week, with ten shooting hours per day.
"I have also spoken to other DPs who now own and use the F55. It has aglobal shutter, extra exposure latitudeand the ability to shoot 4K when required. Its high ASA rating means that, currently, it can shoot4000 ASA without noise. Regarding looks, the producers felt the F55 would have a positive impact on picture quality for local and overseas sales."
Super35 for Broadcast
Gary Scott, 1st Assistant Camera Location Unit, considered the F55 in terms of its design, engineering, build quality and reliability. He said, "We needed a durable, stable camera system that is resistant both to heavy use over prolonged periods and to Melbourne's environmental conditions, which can be extreme at exterior locations."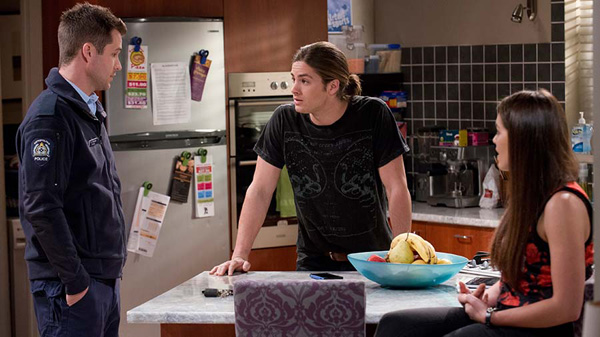 Reflecting that television imaging has recently seen rapid development in Super35 sensor camera systems, Gary noted that the newer single CMOS sensors have native resolution at or close to 4K, which can be recorded in various formats and resolutions, from conventional HDTV 1080 up to full 4K. Typically, the sensors are also built with increasedISO speed, colour resolutionanddynamic range, when compared to 3 CCD prism systems. He said, "With this in mind, both the increased speed and much wider dynamic range of 14 stops, as opposed to our previous 5 or 6, are major advantages when using the F55 in terms of technical and aesthetic results."
To improve the look and quality of the show, the 'Neighbours' production team had to make a technical and aestheticimaging matchbetween the studio and location units, and remain consistent with current dramatic and artistic practices. "Specific functionality in the F55 that helped us improve looks the most includes the integralrotating ND filterswe mentioned earlier," Gary said. "These are very useful in the variable lighting conditions we normally experience on 'Neighbours' locations. The familiarity and system compatibility of Sony cameras has also helped the crew make a smooth transition."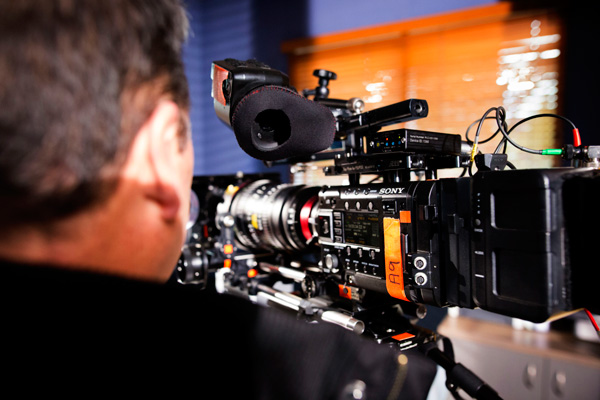 Sony to Avid Workflow
Once the operations move into post production, retrieving data from the Sony SxS pro memory card into Avid Media Composer has been much simpler than the previous year's workflow. Post supervisorCaroline Scottand 3rd assistant editorRebecca McPhersonhave successfully set up an Avid AMA link to transcode the footage for editing, rather than importing from XDCAM. This has saved considerable time.
Also, by using upgradedAmbient Recording ACL 204 Lockitboxes with a programmable offset, it is now possible to auto sync and multi-group audio and vision clips with asynchronised source time-code, as opposed to manually matching each slate. The ACL204 is a portable synchronizer that simultaneously merges real-time and file embedded metadata from a camera along with a global time code reference. The user can apply anoffsetto the timecode output to compensate for the processing delay that some HD cameras create. Its programmable FPGA architecture was part of a recent hardware upgrade. 
Rebecca McPherson said, "Whereas it once took an assistant editor about 3.5 hours per day to process and distribute rushes, we now manage to do it in 1.5 hours. Next year when theAvid DNxHD codechardware upgrade is available for the F55 camera, we aim to record in a native Avid codec, which we expect will improve on our ingest speeds."  pro.sony.com.au