Sony's PXW-FS5 Super35 Compact Camcorder Records 4K XAVC HD
Sony introduced the PXW-FS5 camcorder at IBC, very compact, versatile and portable, suited to many mobile applcations and able to complement from the PXW-FS7. It suits event videography, corporate and online video production and similar projects.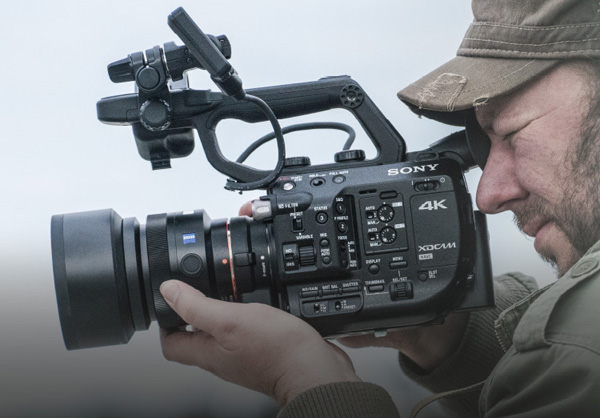 The PXW-FS5 has 0.8kg lightweight body with its weight balanced for handheld shooting in most locations, including airborne, mounted on a drone. It has a rotatable grip with all of the key controls accessible for flexibility and swapping between low or high angle shooting, and changing shooting parameters. The 3.5-inch type LCD panel can be attached to different positions on the handle or the compact camera body.
It records 4K XAVC long GoP HD through a Super35 Exmor CMOS sensor incorporating 11.6 million pixels and 8.3 million effective pixels, for a high level of detail. The high sensitivity and large size of the sensor supports background defocus, low-light capture and less image noise. it has High Frame Rate cache recording at 10-bit 4:2:2 full-HD, at rates of up to 240 fps in 8 second bursts, which makes 1/10 times Super Slow Motion possible without losing bit depth or image quality. The 14 stops of latitude in exposure deliver strong grayscale rendition without crushing shadows or blowing out light details.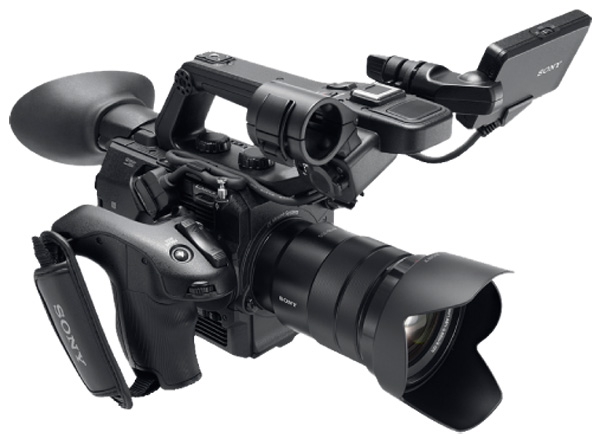 The PXW-FS5 is unusual for a Super35mm camcorder due to its built-in electronic variable ND filters, increasing the sensor's depth of field, supporting linear control from 1/4ND to 1/128ND, and enabling flexible exposure control. Because the compact power zoom  E lens PZ 18-105mm F4 G OSS (SELP18105G), fitted in the PXW-FS5K kit model, can be operated with one hand, users have  a good level of manual control.
The α Mount System also integrates with other camera lenses, and is compatible with Sony and third-party lenses. The PXW-FS5's E-mount can take almost any lenses, such as SLR lenses via an adaptor, as well as Sony's E-mount and A-mount lenses. Sony's α Mount System and its interfaces include 3G-SDI, 4K HDMI output, MI shoe, SD Dual card slots, Wi-Fi and wired LAN terminal, supporting various system configurations. The Clear Image Zoom allows users to zoom in at up to 2x, even with a fixed focal length lens.
Equipped with Wi-Fi and a Wired LAN terminal, the PXW-FS5 has network functions such as file transfer and streaming transmission. A future firmware update will add RAW output. http://pro.sony.com.au