Sony CineAlta Set to Accelerate 4K Production Workflows
The most recent versions of Sony's CineAlta products are updated to improve 4K RAW workflows that use large sensor cameras. Specifically, users will be able to handle large files more easily while maintaining the original image quality. The intention is to develop products that will support and fit into workflows that continuously evolve as production requirements change, and also to encourage photographers who want to shoot 4K 16-bit RAW and high dynamic range video, but are unsure of the best capture workflow.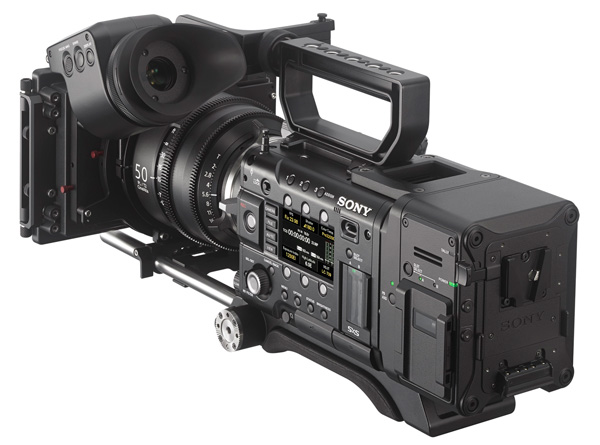 Among the new products is a NAB, for Sony's PMW-F55/F5 and higher-speed AXS memory cards, matched by the higher quality codec in the nextversion 8 firmware for the F55 and F5. When using the F55, the recorder doubles the speed of 4K RAW recording from 60fps up to 120 fps.
In standby mode, the AXS-R7 has a recording cache of up to about 30 seconds for both the F55 and F5. A RAW cache can assist documentary or wildlife production where capturing spontaneous action is required. For shooting at higher frame rates, the recorder captures 2K RAW up to 240 fps with the F55 and F5, allowing playback with 10x super slow motion.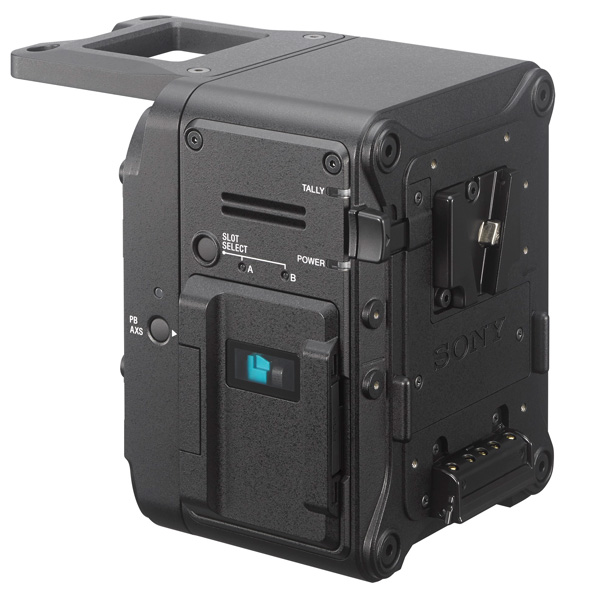 For field use, a metal filter separates and seals the ventilation shaft to exclude dust and water, and a large top bracket accepts four wide-spaced ¼-inch screws for attaching accessories.
New high-performance versions of Sony's AXS memory cards come in 1TB and 512 GB capacities with continuous read/write speeds of 4.8 Gbps.  The 1TB version will record 44 minutes at 59.94p or 22 minutes at 120 fps.  Although these cards are designed to support write speeds required for 4K RAW 120 fps recording when necessary, the AXS-R7's dual-slot system also accepts current A-series AXS media.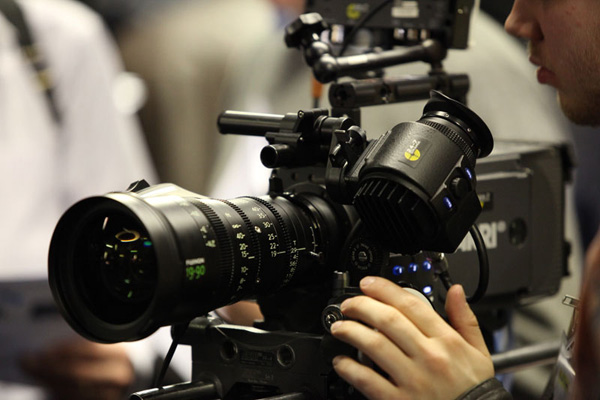 For PMW-F55 and F5 cameras that have the optional CBKZ-55FX upgrade license installed, the upcoming version 8 firmware update adds support for XAVC 4K Class 480 recording at 23.98p, 24.0p, 25.0p and 29.97p. XAVC 4K Class 480 is a higher quality codec than the existing XAVC 4K Class 300 codec - the class number represents the approximate bitrate value at 29.97p. Some third-party vendors already support Class 480 for users that need a higher data rate version of XAVC. All specifications can be checked in Sony's XAVC Profiles document, here.
The new products and upgrade will be available from mid-2016. Further details will be announced at NAB 2016 in Las Vegas from 16 to 21 April.  pro.sony.com.au