Imagine Communications Plans Content Schedules Across All Platforms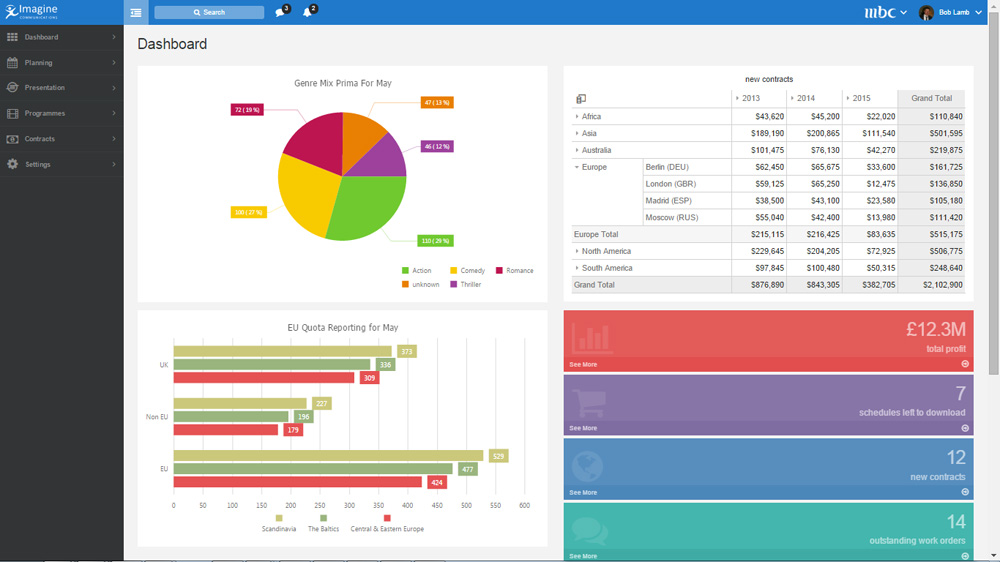 Imagine Communications' xG Schedule is a cloud-based scheduling and planning system for delivery of content assets across linear, on-demand and digital platforms, including mobile and streaming. In an effort to unify management across all linear and nonlinear platforms, the integrated nature of xG Schedule enables programming teams to plan schedules across multiple linear, nonlinear, web and mobile platforms with validation against content and usage rights, and an organization's own business rules.
For example, a media company can manage single or multichannel visual scheduling and nonlinear multiplatform content in a single application. It is also possible to manage packages and individual items across the year, month, week and day for on-demand, mobile and streaming environments.
You can use a single system for visibility across all platforms and forms of content usage, integrating rights information views within the xG Schedule windows to help ensure content licenses are valid across the multiplatform environment. Performance indicator dashboards can be customized to feature program planners' interests and draw focus to critical information. The xG Schedule software itself is compatible with desktop browsers, the main Android devices and all Apple devices.
xG Schedule is adaptable to the cloud, on-premises or hybrid deployment models. It incorporates search capabilities across content inventory with integrated media playback, giving the option to preview a single item or a complete break.
xG Schedule has also been designed for a global audience, dynamically adapting to all cultures and languages and supporting right-to-left orientations. Menus, dates and times, schedules and content information automatically adjust to the selected language. The system also has multicurrency capabilities so that broadcasters can support multiple regions and markets in a centralized or distributed environment.
As a major component of Imagine Communications' modular and open approach to ad management, xG Schedule is designed to integrate with existing and future Imagine Communications xG modules, as well as Landmark Sales, Rights & Scheduling and Broadcast Master, to create a workflow for nonlinear/linear scheduling.
xG Schedule will first be shown at the 2016 NAB Show in Las Vegas 18-21 April. www.imaginecommunications.com