Imagine Communications' Targeted Advertising Helps Monetise Content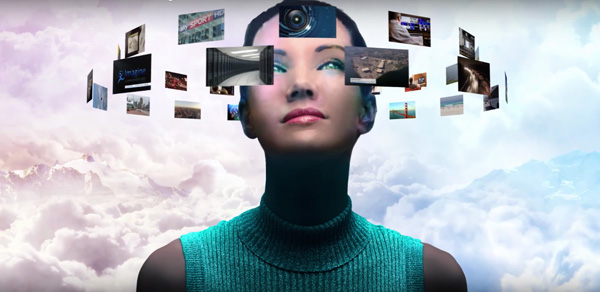 Imagine Communications has developed a Regional Advertising Distribution System with functionality that broadcast stations, MVPDs and cloud providers can use to control and strengthen ad-generated revenue through regional and localised targeting. The system combines OTT, cacheable content delivery with dynamic advertising insertion and transport streams compatible with familiar QAM-modulation encoding and transmission. The goal is to help advertisers create new monetisation opportunities cost-effectively, diversify campaigns and reach more relevant audience segments than they previously could.
National broadcasters and station groups have traditionally been limited to a central, generalised advertising model, in which each transmission site in their distribution network receives identical content and commercials over satellite or leased-circuit links. But as content providers migrate to new types of terrestrial distribution infrastructure, they have the chance to use ad targeting on a region-by-region or highly local basis. Cable operators formerly working under fixed, complicated ad splicing systems may also be able to switch to local ad insertion techniques.
Adopting Imagine Communications' Regional Advertising Distribution System [RADS] involves adding a single appliance to a network, allowing the broadcaster or cable operator to serve both OTT and traditional distribution from one workflow. RADS works by facilitating the creation of localised MPEG TS streams, which can be customised with unique ads before being directed to specific regions.
The ability to create multiple MPEG transport streams selectively makes it possible, for instance, for a national retailer to simultaneously show different ads to TV viewers in different segments of the broadcaster's distribution user-base. As another example, the same system can be used to distribute alternative programming to fulfil regional program blackout requirements. RADS enables both ads and alternative content to be inserted at the edge of the network, based on local requirements.
Products and Processing
The RADS set-up consists of products from Imagine Communications' distribution platform, which includes their Selenio Video Delivery Edge [VDE] and Dynamic Ad Insertion equipment. Selenio VDE is an HTTP-to-UDP gateway that converts ABR-based content into transport stream-formatted signals that are delivered to subscribers through set-top boxes. It consolidates both legacy and modern networks into a unified operation that video service providers can use to modernize their ad insertion operations.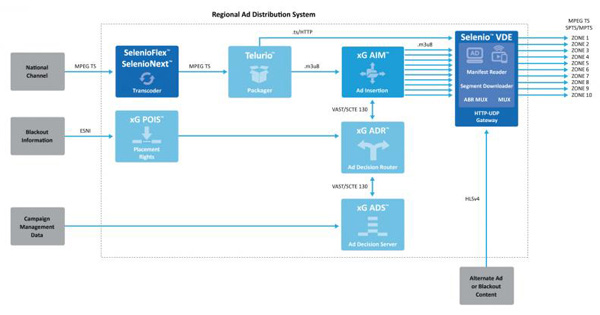 As part of the RADS process, Selenio VDE converts HTTP-based signals carrying regionally-targeted ads back to MPEG transport streams, which are then forwarded on to regional ad zones. The system scales from tens to thousands of streams.
Localisation of advertising and content is carried out by the OTT Dynamic Ad Insertion system, which includes the xG AIM dynamic ad insertion manifest manipulator, xG POIS, xG ADS, xG ADR and the Telurio Packager, which formats video streams for an array of connected devices. These elements are what make up the standards-based reference architecture for Imagine's unified distribution platform, supporting SCTE-130, IAB VAST, MPEG-DASH, HLS and other protocols supporting a scalable, interoperable infrastructure.
All RADS components are software based and execute on commercial off-the-shelf equipment that can be managed within a small hardware footprint. RADS not only helps simplify delivery networks by removing the need for multicast – the extra topology improvements mean broadcasters can access markets not previously served.
Applications and Estimating Results
RADS use cases encompass large station groups, which could deploy RADS by concentrating ad operations into a single location, with distributed insertion points. It also supports multiple business models. Broadcast and cable networks may choose to build and maintain their own unified distribution installations or contract with a technology partner that operates a shared service.
Imagine Communications says potential revenue gains related to RADS and its ability to increase the value of ad spots through regional targeting are difficult to estimate and will vary among content providers. But even a 10 percent increase in advertising can improve revenue for broadcasters, MVPDs and cloud providers. RADS may also make national broadcast channels more attractive to regional brands, which are typically limited to local content distributors.
RADS also makes it possible to use robust HTTP and CDNs, as well as COTS equipment. Beyond easing the transition from satellite to terrestrial distribution, RADS can make it easier to adopt OTT systems or expand distribution through streaming content directly to Internet-connected devices. www.imaginecommunications.com