EVS DYVI Switcher Delivers Live Cinema Production for Coppola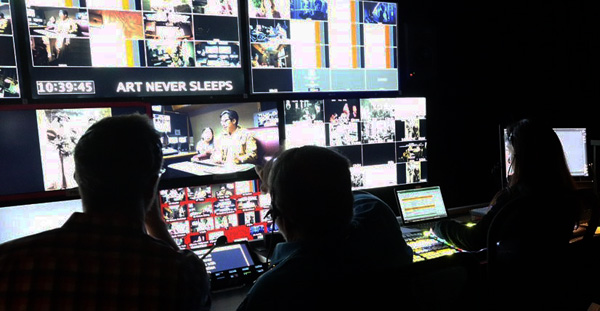 When Francis Ford Coppola produced and broadcast his Live Cinema project, 'Distant Vision' from UCLA in July 2016, his crew were using the EVS DYVI IT-based switcher, normally used in a television broadcast environment, to cut together feeds from the more than 40 cameras that captured the production.
A hybrid of live theatre, film and TV performed and viewed in real time, 'Distant Vision' is a traditionally scripted story that is rehearsed and blocked before being performed live and broadcast in real-time to online audiences. Created by Coppola's Zoetrope film studio, the first part of the project was captured at UCLA, resulting in a 25-minute production of a portion of the film's 500-page script that was broadcast by students for viewing in a selected group of screening rooms around the world.
The broadcast followed a 5-week workshop at UCLA's School of Theater, Film and Television with a team of 75 students and faculty serving as crew. 'Distant Vision', a 19th century term for television, is about three generations of an Italian-American family whose story crosses the development of television.
The Live Cinema concept envisions the director live-switching feeds from numerous cameras, instant replay servers and other sources with modern broadcast equipment. The audience views the output in real time. The expectation is that the look and feel will be more cinematic than what is usually seen in live drama broadcasts and have the dynamism of a live event, though the result still depends to a large degree on a script and rehearsals. Meanwhile the viewers have a choice of where and what viewing medium they use. Live Cinema can simultaneously be delivered in several cinema theatres, configured auditoriums, on network or cable TV, or Internet streaming to households or personal devices.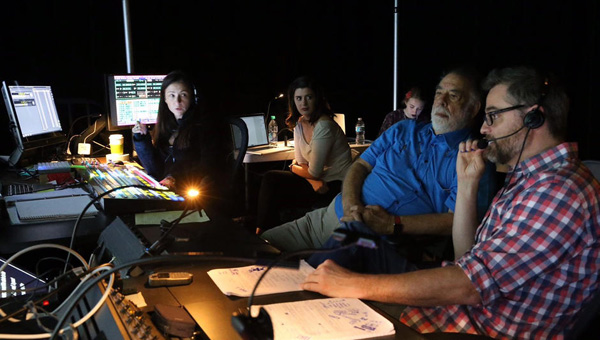 The DYVI switcher was integrated into the Live Cinema workflow by the production's technical director Teri Rozic. Because the film's 17 scenes each had their own multiple-camera requirements, the inputs and sources for each scene were pre-set in DYVI, reducing set-up times and simplifying production processes overall.
Mr Coppola said this approach to filmmaking had grown from his own experiments into "the methodology of live cinema, which is a hybrid of theatre, film and television. The shot is the basic element, as in film; the live performance is from theatre; and the television equipment to enable it is borrowed from TV sports."
As each scene was captured, its pre-set inputs and sources were displayed on one of the three multiviewer screens in UCLA's control room while the next scene's set up was displayed on another. These multiviewer scene displays were generated internally by the DYVI system and the live scene was highlighted by a red background – a virtual, on-air recording light configured for the Distant Vision production.
This multiviewer installation meant that the traditional broadcast setup - having all available cameras displayed at once - could be replaced by this more logical, pre-set configuration that suits the Live Cinema project's production. Having to look at 40 cameras at once would, in itself, have caused a bottleneck.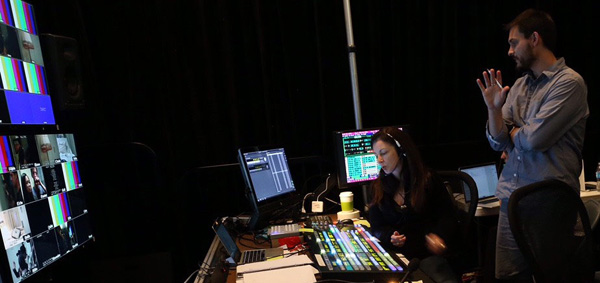 "I think the dynamic multiviewer and control panel assignment are the two most important elements from the point of view of the director," Francis Ford Coppola said of the implementation of DYVI in the project. "In the system our displayed sources could be dynamically rearranged at any time during the production. I only had to focus only on the sources needed at a certain point of the production, and our technical director could do the switching more quickly and directly. I think the way we could set up and use DYVI would have been impossible on a conventional board."
"The way in which this project utilized the DYVI switcher is exactly how we saw it being used when we first developed the system," said Jürgen Obstfelder, software designer of the DYVI switcher and EVS' senior product specialist. "Over the past few years, the focus for many switcher developers has mainly been finding ways to add more inputs. The way we designed DYVI with IT software means it can be configured for an unlimited amount of setups – or in this case, scenes. Operators or technical directors can then change between those scene configurations by pressing a single button without having to implement a shift-key function to access the production's inputs."
An EVS XT3 live production server was also used within the technical workflow. All 17 scenes of the production were cut and recorded on a 12-channel XT3 server during rehearsals. If something were to go wrong live on stage during transmission, the TD Teri Rozic could immediately cut to the XT3 channel of pre-recorded content, avoiding mistakes being delivered to the audience watching live at home. www.evs.com