E! UK Oscars Party Streams Live with Blackmagic Web Presenter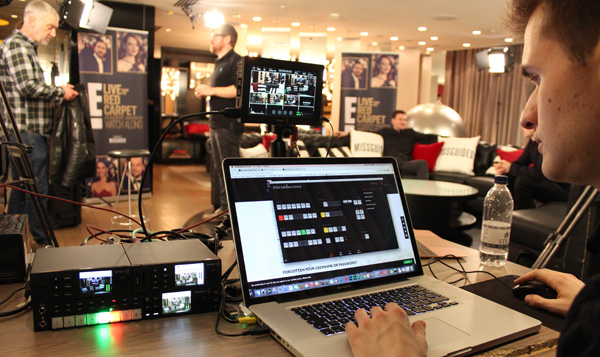 Web broadcaster Alex Pettitt delivered a Facebook Live Stream for E! UK channel's Oscars Watch Along Party using a compact live production workflow consisting of the Blackmagic ATEM Television Studio HD live production switcher, HyperDeck Studio Mini recorder/playback device and Web Presenter for online streaming. As well as streaming, Alex used the ATEM/Hyperdeck combination as a hub to use the video in other ways.

E! hosts Watch Along parties for many high profile award ceremonies, in which celebrities are invited to a luxury hotel to give their instant reactions to all of the red carpet action. The contents are then streamed out live to the broadcaster's social media feeds, to interact with fans and encourage them to join the conversation.

Alex's brief for the Oscars was to deliver a slick, entertaining live web broadcast that would help drive viewers to the channel's regular linear coverage of the event and continue watching. Given the hotel suite location, E! UK made it clear to him that work space would be at a premium. At the same time, Alex was expected to avoid compromising on production quality.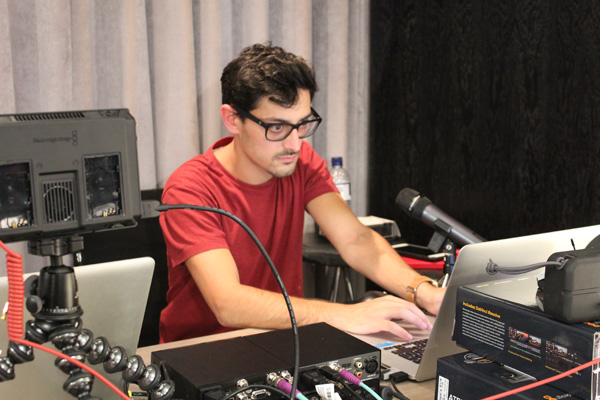 "The production area was just big enough to squeeze in a trestle table for myself and a colleague to work from, so I decided that Blackmagic's new web broadcasting kit would be a good set-up," said Alex. "At first, I think the E! team worried when they saw me arrive with just a small suitcase, which not only had the live streaming kit inside but also my clothes for the next day. But they were reassured and surprised once everything was unpacked and ready to go in just a few minutes. Seeing the quality that the kit delivered also gave them more confidence."

Three camera sources were fed into the ATEM Television Studio HD, which was controlled both by software intalled on a laptop and from its front panel buttons. To save more space, Alex made use of the 7" Blackmagic Video Assist 4K as his multiview monitor during the production. "It was the perfect size to see all of the inputs and the preview/program screens, monitor and control the settings and, as a bonus, we fed the audio from the unit into a mini speaker so the production team could hear the live studio audio." The Video Assist audio has a level of quality that is often higher than what is natively available on cameras.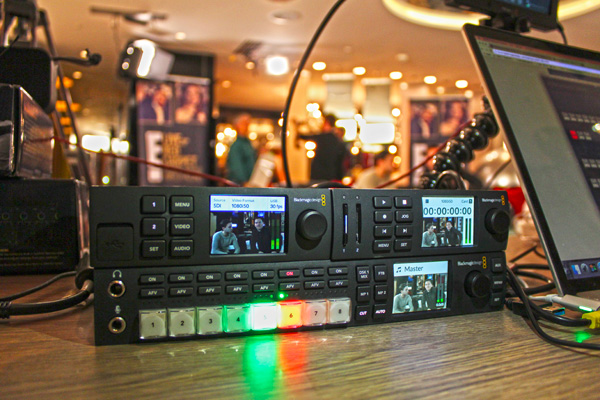 The ATEM's program out was fed into a Blackmagic Web Presenter to convert the live broadcast to 720p, where it was output over USB to a Mac running Open Broadcaster Software for distribution via E!'s Facebook page. A clean camera feed from the AUX out was also recorded in ProRes to SD cards using the HyperDeck Studio Mini. From this material, Alex produced separate clips and teasers to suit social media outlets – one of his specialties - as the night unfolded.

"The HyperDeck Studio Mini and Web Presenter proved very straightforward to set up and operate," Alex said. "The ATEM Television Studio HD is a great piece of equipment for this type of job and performed without any problems during the web broadcast. Having full control via the front panel and source buttons means you can do everything on the switcher itself, so even if you couldn't carry an additional laptop to control it via the software, you could still deliver a professional multi-camera broadcast." www.blackmagicdesign.com