Image Matters Opens Options for the Transition to Cloud-IP from SDI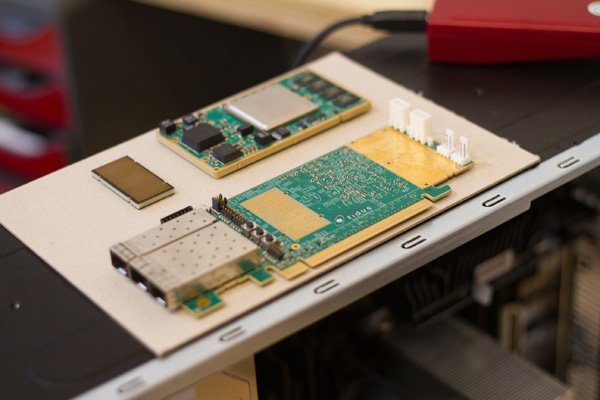 Image Matters B21 Carrier Board, launching at NAB 2017, has been developed for OEM Broadcast and Pro-AV applications. The B21 is a low profile, high performance PCIe board made to handle high resolution video with extreme connectivity, made to combine with the B20 ORIGAMI module.

The B20 ORIGAMI's compact form factor, low power and 20nm Xilinx configurable gate array (FPGA) make it a platform suited to hosting modern video codecs. The B20's Z-Ray high density connector exposes the gate array's core functionality, which simplifies development so that system architects can design their own carrier boards for use in high speed video applications. In other words, integrators and system designers can focus on AV product development, without having to build high-resolution video processing hardware from scratch.

Sub-frame latency multiple channels of different codecs can be achieved in a tiny, ready to ship module. Up to 8K120p can be achieved on a single B20 with TICO compression, or up to 4K60p with HEVC or JPEG2000. To set up broadcast and pro-AV media connectivity, the B21 carrier board is populated with three SFP+ cages – for compact, hot-pluggable transceivers up to 16Gb/s - for flexible I/Os. HD-3G-6G-12G SDI, HDMI or 10G Ethernet are available on SFP inserts for any of these cages.

OEM manufacturers have more potential to price their products competitively, due to the agility and connectivity of the B21 and B20 combination. The B21 establishes immediate connectivity for 10G Ethernet, HDMI and SDI.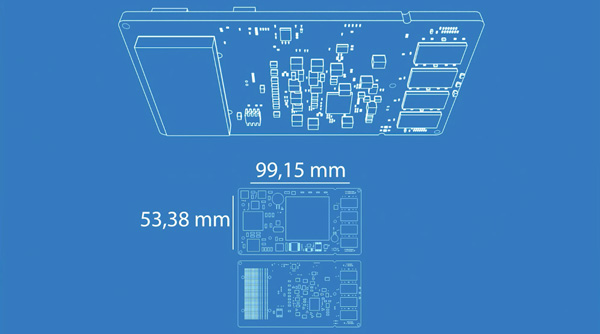 Jean-François Nivart, Image Matters CEO, says that the transition to cloud-IP from SDI continues to adapt now that HDMI has been added to the pro-AV environment. He notes that his company's modular products aim to support OEMs by helping broadcasters and AV facilities make the most of whatever formats and processes eventually define the industry.

The B20's Xilinx Kintex Ultrascale 060 FPGA handles high speed transcoding and processing of codecs up to 8K-UHD-2 uncompressed and TICO formats, as well as 4K-UHD-1 uncompressed, TICO, JPEG2000, HEVC IP, AVC and MPEG2 formats.

Consuming about 25W of power with customizable heat dissipation, low power systems can be produced, and the B21 and B20 combination can constitute a stand-alone product that is used in most environments and in locations with limited space.

Image Matters believes that future proofing is now important for OEMs and clients. Because the industry continues to change and new directions are emerging, broadcasters and AV facilities are looking for reliable upgrade paths, and OEM's need to account for development time and costs. For example, new IP-cores will be designed to address formats that haven't yet been developed. Image Matters' modular approach will help future-proof systems, as new emerging IP-cores and more demanding applications are expected to be able to run on the B20's Xilinx Kintex Ultrascale 060 FPGA for some time.


The B20 module and B21 carrier board are interconnected through the Z-Ray Z2-50 interposer, which forms a high-density connection with a high bandwidth of 26 Gb/s per pin. The Z2-50 includes 32 serial connections and 160 discrete digital connections. The Z-Ray allows connection of any carrier board like the B21 and any custom OEM designed carrier boards.
The intention is to accommodate most applications with these specialized boards, and leave the complexity of a new design to the processing module. The system designer only needs to define the form factor and I/Os of the carrier board, and route the tracks.

An application example is streaming to the cloud. Image Matters says that, combined with the B20, the B21 has made this task simpler and more viable. Although traditionally serving high end servers and workstations, Image Matters now supplies the resources for receiving, transcoding and delivering video signals over networks.

Where data analytics deliver information required for remote monitoring, the combination of the B21 and a big Xilinx Kintex FPGA may be applied to broadcast and Pro-AV applications. A combined ARM processor and FPGA fabric system also works as a platform to interface with third party monitoring applications through centralized management control. Such a system could allow one AV technician to manage an entire fleet of equipment from one room - improving integration and operability of systems. image.matters.pro