Harmonic Pushes the Limits of OTT Quality of Experience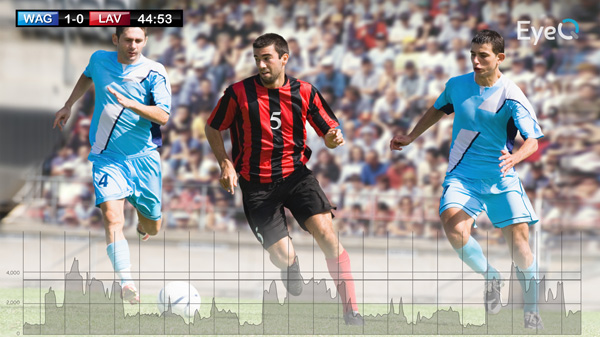 Harmonic EyeQ real-time video compression optimization.
At the 2017 NAB Show, Harmonic is demonstrating new systems for OTT delivery that help broadcasters and service providers drive growth in OTT video consumption with improved quality of experience for users. Their innovations include OTT bandwidth, latency and packaging optimization, aiming to deliver high quality SD, HD and Ultra HD video at low bit rates for a variety of services, including live streaming, VOD and time-shift TV. They are also incorporating new software options, cloud services and VR experiences.
Noting that more households are now paying for multiple OTT services, Harmonic is also developing ways for operators to monetize the opportunities available in the OTT environment. For example, OTT operators can separate themselves from the competition with lower latency, reduced buffering, better video quality and increased bandwidth efficiency through the use of software appliances or cloud-native applications.
Lower latency when streaming live events is a primary goal for OTT operators. Live television broadcasters generally delay live content for approximately seven seconds, but delays for live OTT streaming are more likely to be in the range of 30-60 seconds. "Low latency for OTT is extremely important, especially for the delivery of live sporting events," said Darryl Jefferson, VP of Post Production Operations at NBC Sports Group. "Any lag time that exists between what's happening in real time and being viewed on screen is truly unacceptable to viewers nowadays."
The real-time streaming workflow that Harmonic is showing at NAB comes close to matching the latency of live broadcast, made possible by a combination of packaging content in the new Common Media Application Format (CMAF) and HTTP chunked transfer encoding. An emerging media standard for OTT delivery, CMAF aims to make video streaming using different protocols easier by using common underlying processes, reducing duplicate efforts when it comes to encoding, packaging, storage and digital rights management DRM.
Thus, CMAF reduces the need to package content separately for HLS and MPEG-DASH devices. The use of the new format in Harmonic multiscreen packaging and origin solutions may not only improve the OTT viewing experience by reducing latency in live streaming, it also helps simplify OTT distribution workflows.
Harmonic is also showing a new means of improving video quality delivered over zero-rated mobile and xDSL networks, based on the company's recent work on their EyeQ packaging system expressly designed for constrained networks. Employing this new version of EyeQ, operators can deliver improved HD video quality more consistently to set-top boxes connected to low-bandwidth DSL lines, as well as to mobile devices connected to 3G/4G networks, without exceeding the 1.5 Mbps bandwidth limitation of zero-rated mobile connections.
EyeQ takes advantage of the Human Visual System model typically used to help design new image and video processing methods, to reduce OTT video bit rate requirements without impacting video quality. Operators can employ this capability to deliver higher-resolution video streams that can be enjoyed on most devices with much reduced buffering — even over constrained OTT/ABR networks.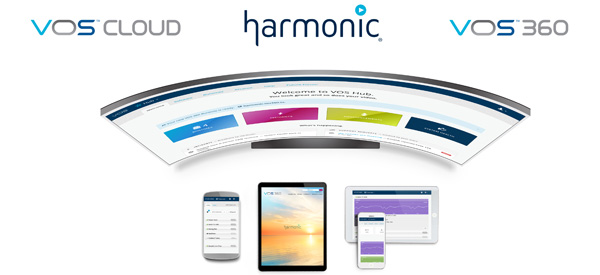 Harmonic VOS Cloud media processing platform and VOS 360 cloud media processing SaaS.
Moving Playout to VOS Cloud and VOS 360 Software & Services
Further to Harmonic's efforts to increase their customers' options to use software appliances or cloud-native applications, the company is bringing the broadcast playout capabilities from its hardware Spectrum media server to Harmonic's VOS Cloud media processing platform and VOS 360 cloud media processing software-as-a-service (SaaS). The new functionality in both VOS products includes support for graphics, branding and digital video effects for both file-based and live workflows.
Bart Spriester, senior VP of video products at Harmonic, sees video content and service providers considering the cloud for video preparation and delivery due to factos such as efficiency, scalability and agility. He said, "Bringing the playout capabilities in the Spectrum media servers to VOS Cloud and VOS 360 makes certain cost savings available to operators by speeding up their operations and enabling newer types of monetization, such as brand reinforcement, pop-up channels, rapid platform deployment and expansion, and graphics."
VOS Cloud makes it possible for content and service providers to manage the video production and delivery workflow for broadcast and OTT on public or private cloud infrastructure. By handling playout functionality in the cloud, operators can perform channel origination and playout themselves using simpler workflows. For example, VOS Cloud handles various channel origination tasks, from accessing external storage to retrieve files and normalizing them as needed, adding secondary events like graphics and triggers and making sure that the content is delivered in formats appropriate for OTT and broadcast. Operators can also support orchestrated VOD and live-to-VOD playout, and acquisition of file-based assets.
These playout capabilities are also available for the VOS 360 SaaS, which is hosted in the public cloud and maintained and monitored by Harmonic. As part of this service, Harmonic includes 24hr DevOps coverage - collaboration and communication of software developers and IT staff to automate the process of software and infrastructure iteration – aiming to result in better quality of experience for end users.
Harmonic's open architecture strategy supports integration with partners to deliver true and complete OTT video cloud services for broadcast. The VOS solutions have been successfully deployed in different environments and usage models. These include live OTT services in an OpenStack private cloud environment in conjunction with Mirantis cloud computing services, and are currently in use in several on-air service trials around the world.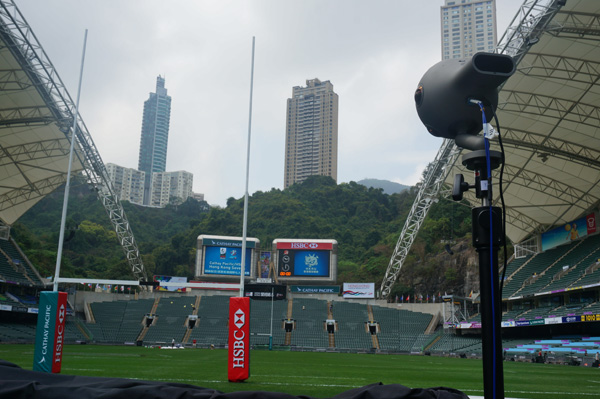 PCCW Global delivers immersive 360 degree, VR sports experience with Harmonic.
PCCW Global Delivers an Immersive VR Sports Experience
Harmonic is also contributing to the goal of delivering high quality UHD VR live content to PCs, smartphones and Samsung Gear VR headsets.
PCCW Global, the international operating division of HKT, Hong Kong's telecommunications service provider, used the Electra VS video system to deliver immersive, 360-degree virtual reality experiences live during the 2017 Cathay Pacific/HSBC Hong Kong Sevens rugby tournament in early April 2017. Broadcast systems integrator Ideal Systems assisted with the provision of 360-degree VR multicamera live sports production as part of an integrated VR workflow that included Nokia OZO cameras. The Harmonic Electra VS compression platform enabled PCCW Global to distribute UHD VR content to consumers on varied devices including PCs, smartphones and Samsung Gear VR head-mounted devices.
The 360-degree VR workflow also involved integrating the OZO cameras with Adobe Premiere Pro for post production, the Electra VS for UHD compression, and Ideal Live 360, a specialist system co-developed by Ideal Systems that includes a VR application for Gear VR headsets and a cloud-based VR analytic backend service. Using the Electra VS system, PCCW Global was able to encode live video into multiple profiles and formats, including DASH UHD ABR, AVC and HEVC. As a result, viewers of the Hong Kong Sevens tournament could watch high quality, 360-degree VR visuals on multiple devices. www.harmonicinc.com