EVS S-CORE Master Brings Control and Visibility to Live IP Networks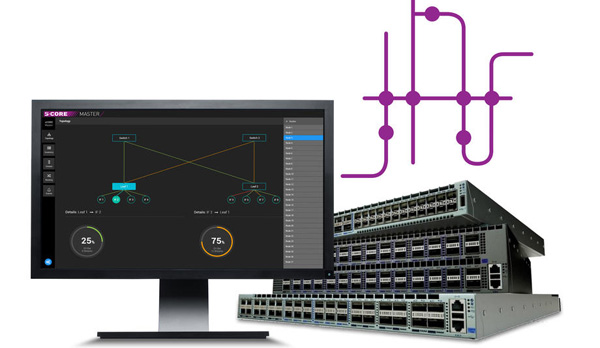 EVS' new broadcast control application S-CORE Master helps facilities operating and building routing networks within an IP infrastructure to orchestrate live IP flows. The new system gives engineers visibility of all end points within an IP-connected network and acts as its central orchestrator, establishing the delivery of media requiring bandwidth throughout the infrastructure.
The system's use of software-defined networking (SDN) control methods makes it easier to manage latency-sensitive, live media, and allows engineers to communicate with the whole IP infrastructures at once. This approach is more efficient and makes deploying new systems less prone to operational obstacles. For example, should IP involve further deployment of virtualized services, S-CORE Master can be used to set up live flows wherever they are needed within a network.
Aspects of SDN that make it an effective approach to IP network management include establishing deterministic network paths with real-time bandwidth awareness and per-flow routing. The resulting scalable network can be secured with network resilience, hitless support – without causing loss of service or limiting traffic - and can be built on a spine and leaf topology to lower latency and allow future scalability.
To make IP endpoints intelligent, active parts of the system, the configuration of flows in the S-CORE MASTER network is simple and flexible, supporting NMOS and other APIs for integration of infrastructure and inventory management at the network core.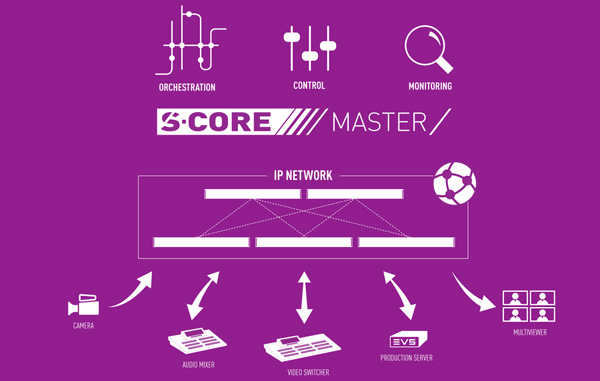 Although it is interoperable with third-party systems, S-CORE Master will initially be made available to operators on a standard EVS backend app server. This enables the simplest integration into live IP workflows and enables users to control the system via a web browser-based application.
As well as managing live IP flows, operators can also use S-CORE Master to monitor complete IP-enabled networks and service aspects of the facility to maintain its ability to ensure fast, efficient delivery of live content around the live production infrastructure. With visual patching and probing of flows, monitoring in between the fabric and endpoints becomes simpler.
S-CORE Master has already been deployed within the live production workflow for Cisco TV, the company's television studio and production service used during Cisco Live 2017. The system allowed Cisco enough control, organisation and monitoring across the network to achieve reliable, high-quality live TV throughout the event.
IBC TV's live production workflow, as it becomes an all-IP production for 2017, will also use S-CORE Master. The system will be installed in the workflow's media data centre on the EVS stand and will play a role in the workflow by allowing engineers to orchestrate IP flows and guaranteeing bandwidth for live routing across IBC TV's network, which is split across three locations – the conference halls, master control room and the data centre. www.evs.com