Mediacorp Adopts Aspera Hybrid Cloud for Distribution Upgrade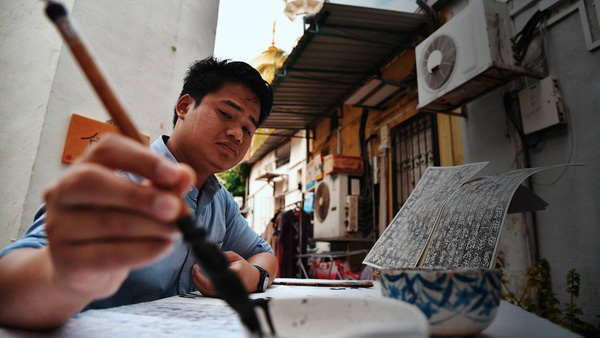 Mediacorp, among Singapore's largest media companies, has completed a digital upgrade of its broadcast operations as part of the move to a new office building in Singapore's one-north district. The change means that their broadcast operations team can deliver video and audio content more efficiently to consumers across different platforms, including new mobile apps, interactive TVs and other connected devices.
The new production system uses IBM Aspera Orchestrator, part of the new workflow platform, to manage video and audio for its 35 brands, including seven television and 11 radio stations as well as newer OTT distribution channels that deliver content via internet. Mediacorp previously used separate systems to handle video from about 20 different internal and external vendor systems.
Orchestrator collects, manages and distributes video across all of Mediacorp's systems, including on-premises systems and public clouds. Orchestrator helps manage over 200 workflows, some of them automated to help reduce manual tasks and speed delivery. Aspera Faspex and Aspera Shares form another part of the platform, transferring files between internal sources, global sites and external vendors.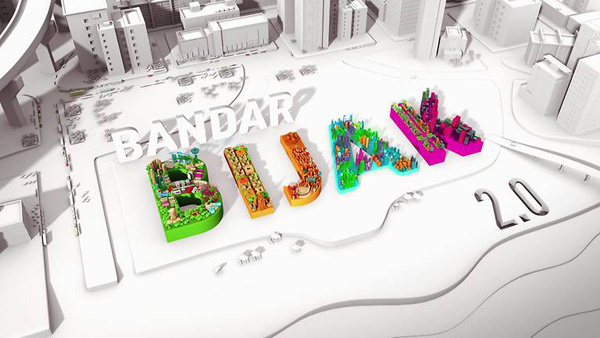 Aspera Orchestrator is a web-based application and SDK platform that organizations use to build precise, custom controls over Aspera's file transfer environment, for use in file processing pipelines that connect internal and external teams. With Orchestrator, files can be directed, processed and redirected with rules based on existing workflows, using regular IT infrastructure. Aspera automation integrates with third-party tools, and monitors accuracy and performance.
Orchestrator's functionality is mainly concerned with high-volume processing and transformation, high-speed ingest and securing contribution and distribution. It has interfaces for defining and monitoring complex workflows, and an engine for logical, conditional execution, and is integrated with Aspera fasp for high data transfer speeds. Consquently, users can design workflows for automated or interactive processing, checking and validating metadata, for ingest, QC, transcoding and distribution.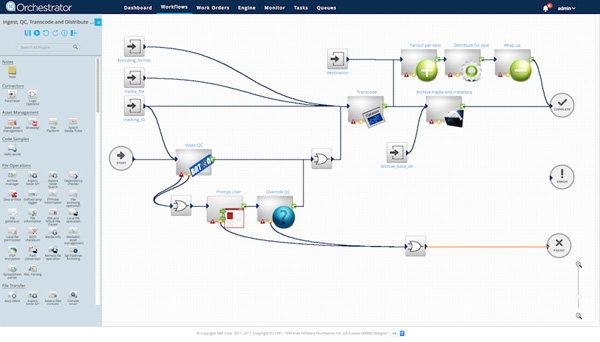 Aspera's workflow for ingest, QC, transcoding and distribution.
For example, during production situations arise when a video master file needs to be made into a more compact version, or transoded to a different codec or format for simple review by all team members. An automated workflow, shown above, can be built using Orchestrator that detects file upload to a sharing location, immediately initiates a quality check on the video file, then transcodes and distributes the file to all team members. Other possible Orchestrator workflows relate to cloud integration and enterprise data loss prevention.
Aspera Shares, based on FASP transport, is used to ingest or share large files and directories of content in several locations, or multiple servers in the same location, within one organization or with external clients and partners. Users view and browse their shared content through a single web interface, accessible from most standard Web browsers. For security, a single management point combines authorization, user management, and access control.
Users have the option to run Shares in the cloud and connect to on-premise or in-cloud Aspera transfer server instances, making hybrid storage clouds possible by tying together public and private storage.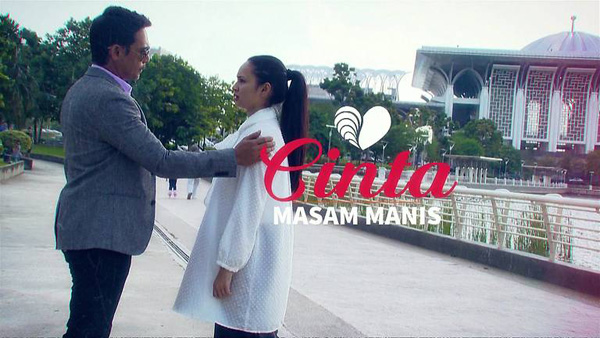 Previously, Mediacorp was using IBM Aspera Connect Server file transfer to collect and distribute video and audio files. But this new platform now handles the entire video production process for video as described above, and also helps manage the workflow sequencing, queuing and load balancing. Meanwhile it displays a complete view and control point for different processes, users and subsystems.
Norraine Yusof, senior vice president for campus technology at Mediacorp, said, "By simplifying production and reducing the need for repetitive manual tasks, the IBM Aspera platform helps us deliver timely or live news and entertainment content to audiences in the way and format they prefer - viewers are interested in accessing video and audio content through more devices and at more times of day." asperasoft.com