OTT Video Monitoring Plus Analytics Add Up to Better QoE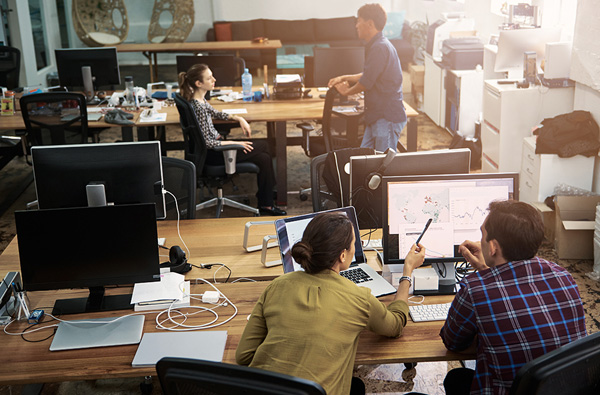 Network operators running IPTV, cable network and multiscreen service provider applications have traditionally used local or monitoring systems designed and built in-house. Businesses functioned in silos, which meant individual facilities had to take responsibility for an isolated video delivery problem, instead of addressing wider service issues. Incompatible monitoring equipment also created many delivery correlation issues.
In response to that situation, IneoQuest began developing video monitoring that was able to span the end to end delivery of cable and IPTV services as a single workflow. Now as part of Telestream, IneoQuest products display a network view - end-to-end, channel-by-channel and service-by-service for traditional IPTV and cable as well as adaptive video streaming services.
Video delivery is continuing to evolve quickly in many directions. In particular, Telestream sees interest growing in migrating toward virtualization, network functions virtualization (NFV) and cloud-based architectures. Operators are building hybrid headends for simultaneous multicast and adaptive delivery.
Adaptive protocols such as HLS and DASH are still evolving, as as well as approaches to digital rights management. UHD/4K formats, HEVC compression and HDR increase processing and delivery complexity, and as consumers start consuming more video over wireless infrastructures, video is being delivered over many more access networks.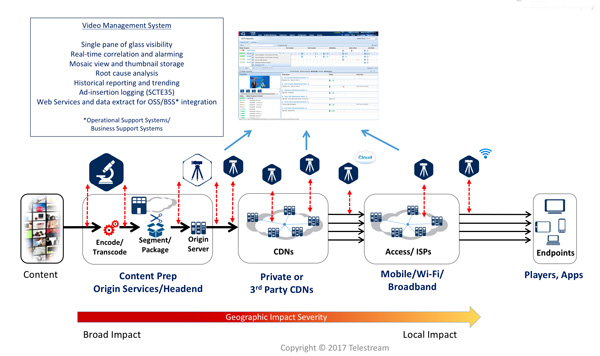 IneoQuest operational video intelligence.
Cloud, Virtualization and Customer Experience
To accommodate cloud, virtualized and on-premises activity, monitoring systems need to be portable and scalable to work in each type of environment. The traditional method of sending an engineer out to fault-find on proprietary hardware doesn't apply in a cloud environment or to virtualized data centre architecture, so monitoring must be designed as a fundamental function of the original design.
Telestream now has scalable, portable IneoQuest systems for virtualization, cloud and NFV, and also new systems for monitoring video content after it leaves the CDN for adaptive video delivery validation. Moving to a cloud-based architecture does add challenges for service monitoring. Therefore, alongside this migration is a need within the industry to approach management of the customer experience in a more comprehensive way.
Consequently, a major goal for many video service providers is the ability to combine client analytics with their existing system for operational management. Some operators find that the required amount of manual work involved in working across silos is too costly, or demands too much change for staff to cope with. Some find that data becomes irrelevant before they can correlate it with events, but perhaps the most concerning is when network operators are obliged to compensate customers purely because they have no means of proving the source of delivery errors.
To resolve this, the IneoQuest team has worked with Conviva to integrate IneoQuest's monitoring alongside Conviva's analytics platform to produce impact and root cause analysis in a timely manner. The combination of IneoQuest and Conviva aims to give the operator a way to follow an individual channel and see viewership trends revealed by mapping video-impacting events to network elements.
Visualising the Distribution Chain
Using this system, if there is a major outage at a video headend you can see exactly how many people were affected – in some cases all the viewing audience. In other cases, this new system can identify errors which may manifest as a glitch on the viewer device preventing anyone from viewing the content. The key aspect is knowing whether an issue had an effect on viewership – something the industry has been largely lacking up until now.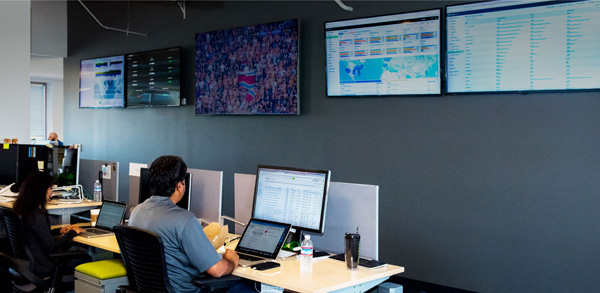 The IneoQuest monitoring platform, called FoQus, is built on multiple data acquisition elements targeted at specific critical points in the video distribution chain—from content preparation, through network delivery, to device playback. This data is then aggregated, correlated and processed through IneoQuest's iQ Engines, to provide a view into the performance of - and demand for - your video content and services.
Because every video business is different, the platform includes a set of targeted FoQus applications that address specific needs according to your demands – as a broadcaster, content owner, network operator or service provider - and type of content.
Users interested in SaaS-based services or hosted systems can use IneoQuest's managed platform. Alternatively, you can build your own customized FoQus Platform from combinations of the acquisition elements and iQ Engine processing elements. These compnents are scalable.
Recognising that at this stage, organisations are looking for quality intelligence in different formats, IneoQuest's apps are completely software based and run on typical, modern servers, or can be virtualised for NFV network architectures. Customisation helps when users do not have physical access to all of the measurement points required for a comprehensive view, for example, have their own server preferences and only need licensable software. Others are planning to migrate to a NFV, software defined networking infrastructure, as mentioned above, or only want a browser or app-based dashboard view into what viewers are watching at what quality, and how the infrastructure is performing .
Analytics in Real Time – Conviva
At IBC, Telestream showed Conviva analytics linked to IneoQuest operational data in real time - another major challenge for organisations trying to correlate data before it is too late. Telestream and Conviva are encountering strong interest from content providers, broadcasters and video service providers across the industry for this capability.
Conviva's client analytics can show affected viewers' root cause and help manage customer experience.
Conviva's video analytics use artificial intelligence techniques powered by real-time OTT viewer data, aiming to generate intelligence on network infrastructure issues affecting the viewer experience. The company notes that the nature of OTT can leave pay TV operators with little control or visibility over streaming video quality. visibility and control over delivery – which is itself becoming more complex and competitive - is central to controlling the viewer experience.
Conviva's Video AI Platform and data allows pay TV service providers to continually measure viewer experience and engagement and detect and diagnose the issues that cause playback problems. Specifically, because the internet was not made for TV, matching the performance of satellite and cable generally means maintaining a constant bitrate, making sure streaming videos start quickly and minimizing rebuffering. Moreover, the wide variation in video players not only causes software integration problem but also leads to inconsisteny and possible inaccuracy when measuring results.
Mapping the Network
The Conviva platform processes billions of subscriber streams collected from many different video applications and players from around the world. The data trains Conviva's AI models and results in a Video Graph capturing the relationships between entities within a publisher's catalogue of content and the infrastructure used to deliver it. This graph is what enables the intelligence behind the system's real-time diagnosis of root causes.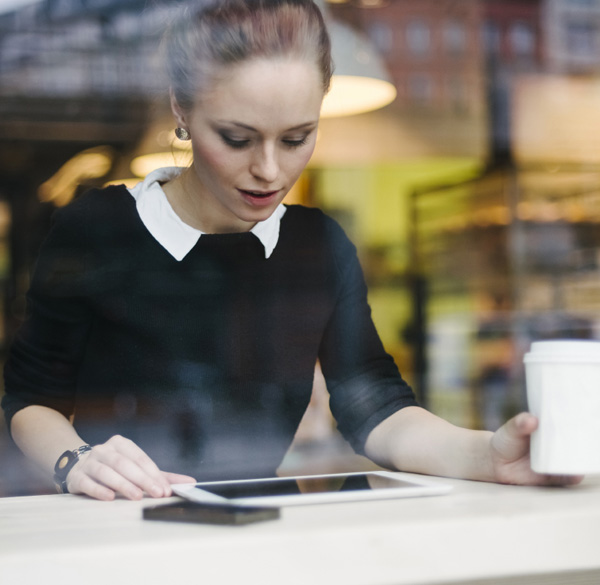 To analyse data for Conviva users, the platform collects and processes a customer's viewer experience data at the video player level. A network topology mapping system tags each stream with element metadata from the pay TV service provider's access network infrastructure. Mapping correlates common viewer experience problems with specific network elements, which helps prevent the need to guess about the causes. The provider can then identify and sometimes predict the anomalies that cause interruptions.
The platform also has APIs allowing it to integrate with a company's existing tools and dashboards, and access quality of experience data and intelligence directly from their network operations centre or preferred monitoring system. www.ineoquest.com