CEO Paul Shen tells why IP-based operation has become essential for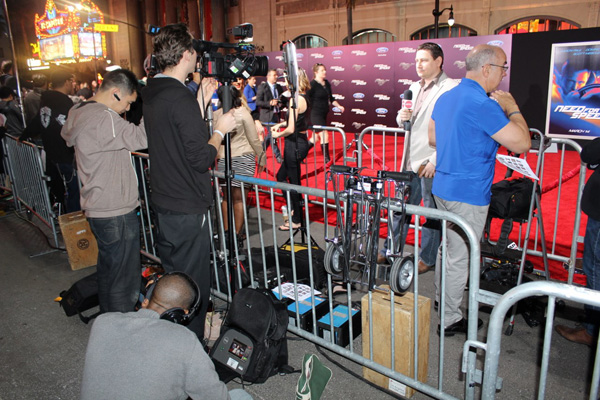 recorded and live content, to not only reduce physical cost, but more
importantly to enable automation of the workflow.
---
TVU Networks' Paul Shen Maps the Road to IP for Broadcast
Digital Media World first metPaul Shen, CEO ofTVU Networks, at IBC 2015, where he talked about the potential of using IP networks for broadcast – in particular the advantages of automated, software-defined workflows for content delivery. We contacted him again recently to find out more about his ideas and his company's ongoing work in this field.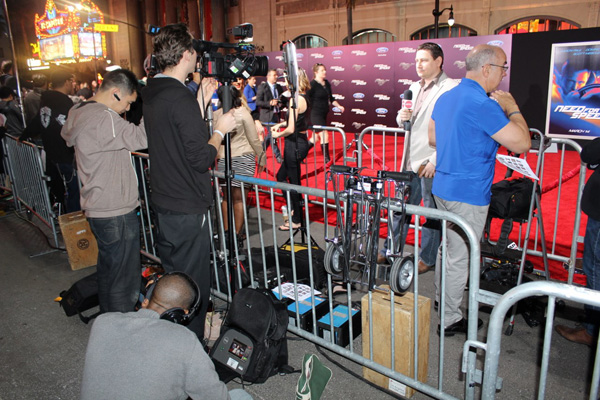 thestream.tv uses the TVUPack travels to stream live HD video of the website's reporters interviewing the cast of the Starz series 'Outlander'.

In 2005, TVU Networks was founded upon the idea of combining IP and video as the basis for infrastructure for all TV and video operations. Paul now feels that the broadcast industry is at a crossroads. TV viewership is declining and so is the corresponding advertising revenue, while more video content is consumed by consumers using other means of accessing content such as smart devices.
Manufacturing Content
Paul said, "A TV station is no different from a manufacturer - raw video footage is its building material, the finished goods are its TV programmes, and its distribution channel is terrestrial broadcasting or cable channels. With SDI-centric TV operations, the entire workflow is little different to a traditional assembly line. A human has to be involved at every stage of the workflow.

"A broadcaster going through this challenging time has to convert itself into an efficient media company, demanding significantly lower production and operation costs that an assembly line-like SDI operation can't deliver."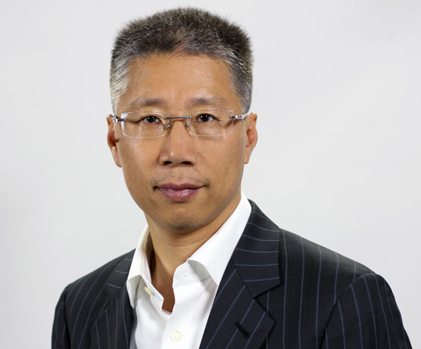 IP-based operation is essential, for recorded and live content. IP-based operation does not only reduce the physical cable cost, but more importantly it enables the automation of the workflow. "Since IP-based systems - including TVUPack and TVU Grid - embed metadata into all files and transmissions, video is capable of moving itself in the plant," Paul said. "The real impact of changing from SDI to IP is moving from a hardwired workflow to a software-defined workflow. Because now, humans only need to manage the exceptions within the workflow, content can remain what differentiates broadcasters - not the process itself."
IP Infrastructure
Paul talked through how such an infrastructure and associated workflows can function using the developments at TVU as an example. "One of the advantages of TVU is that our system is designed to work over the internet, not a dedicated or private IP network. "Other IP systems may require a relatively expensive, high bandwidth connection, whereas TVU can run on simple, pubic IP connections.
"In the case of the MLink or TVUPack, multiple IP connections – for example, multiple cellular networks or a combination of ethernet, WiFi and cellular - can be aggregated together to provide adequate bandwidth. TVU Grid for IP routing, distribution or switching, operates at latencies as 1 second transcontinental, delivering high quality video with standard network connections."

Another advantage is that TVU has a very simple to use, web based interface to control IP video routing, distribution and switching, just using a mouse. There is no complex setup required to route sources or distribute content from and to virtually anywhere.
Lowering Costs
Paul noted that initially, the installation of coaxial cabling infrastructure represents one of the greatest costs of SDI operation. He said, "It is also not very flexible and limited to relatively short cable lengths, usually limited to within a facility itself. The majority of SDI equipment is also based on custom, dedicated hardware that can be expensive to purchase. SDI is also a limited interface - an SDI input or output is limited to a single direction and a single point-to-point connection. So, a lot of the expense of SDI is actually based on inflexibility."
In contrast, network cabling is cheap and virtually every building is already prewired. High speed network connections are also readily available and inexpensive. IP, by its nature, is also not limited to a point-to-point connection or a single direction, in or out. An IP connection to the internet can connect to virtually anywhere in the world. Also, robust software based encoder/decoders using off-the-shelf computer hardware in order to process the video streams means relying on lower-cost, replaceable devices compared to expensive, dedicated hardware.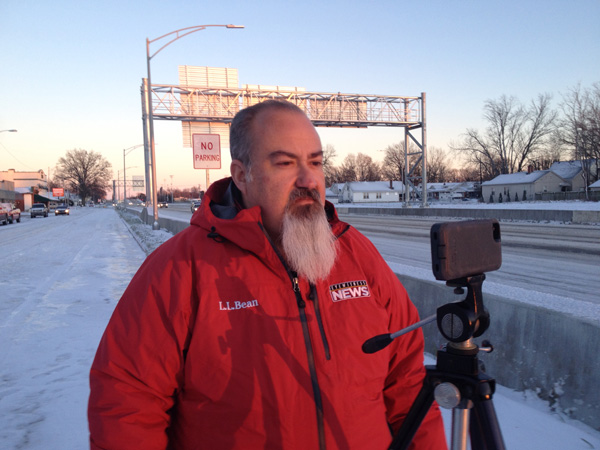 WEHT-TV's chief photographer John Simpson, of WEHT-TV in Evansville, Indiana using his iPhone with the TVU Anywhere app to send live video back to his station.
Automation & Metadata
Automation, enabled through metadata, is a particular benefit of employing an IP network. Paul mentioned some typical tasks that make good candidates for automation, including switching between IP video sources with a seamless switch, or setting up IP routes for distribution of content to multiple locations using a standard scheduling system. But more generally, automation allows less margin for error, even across more complex workflows. Therefore, wider coverage and access to more content worldwide can be achieved.

"Automation can open new opportunities," he said. "For instance, IP-based routing, distribution and switching make it possible to fully automate and control video sources from an automated scheduling system. Routing SDI sources sometimes requires a physical connection to be routed as well, whereas an IP source can be easily routed via a software web GUI."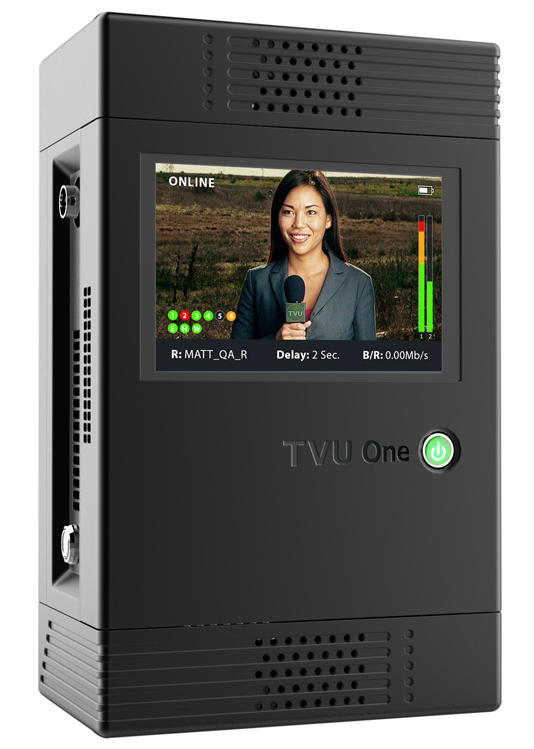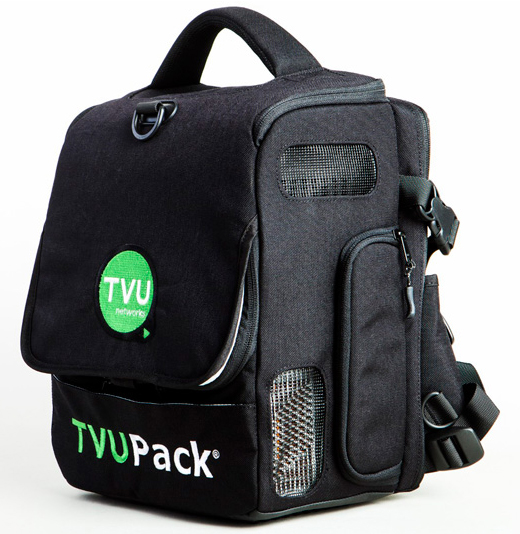 "Regarding metadata, TVUPack and TVU Grid embed basic video information into the stream, such as video format, timecode, geolocation and closed caption data," said Paul. "However, it is possible to collect highlycustomised metadatawithin the IP stream. For instance, TVU worked on an integration with Sony a few years back in which user-specific XDCAM XMPilot metadata accompanies the IP video stream for use at a remote location.
"In this way, in an integrated workflow, any video content transmitted back from the field should contain all the necessary metadata, and be automatically stored in the right location. However, the system will create an exception alert for any transmitted video not containing metadata, only then requiring a human to step in and inspect the content so that it can be stored in the right location. Whilecontentis what creates differentiation for a broadcaster, and not the process itself,exceptionsmerely indicate that some content will cost more to ensure it is handled properly."
As a basic IP infrastructure is established, the move towards software-defined broadcast workflows can be deployed in stages. For example, Paul commented that some TVU customers have started with the TVUPack File Transfer capability, which not only enables them to transfer files from the field at over 75Mbps but also allows the files to be stored in the right location and notifies the right personnel while the rest of the workflow is maintained.
Paul is encouraged to see that more broadcasters are looking to make the move to IP. "The advantages are hard to ignore particularly when compared to traditional SDI operations," he said. "To remain competitive, making the transition to IP in the broadcast world needs to be considered."www.tvunetworks.com