Matrox Monarch Streams Universities' Content to Students and Social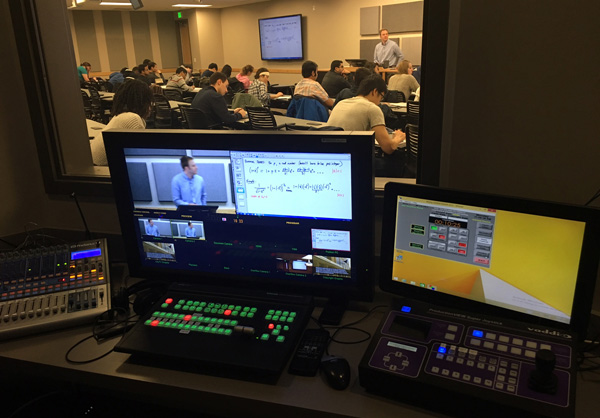 Monitored from the operator's room, classroom lecture capture is in progress.
Two universities in the US are using Matrox Monarch encoders, with multiple-channel and simultaneous stream/record options, to live stream and record events and lectures to their students, social media platforms and campus websites. They have been able to take on these new capabilities with the same production staff numbers, in fewer hours, and increase their audiences.
Oklahoma State University (OSU) operates a video portal called OStateTV that captures and live streams events ranging from graduation ceremonies, performances and sports, to various speakers and seminars hosted on campus. The portal has produced over 1,000 videos and delivers about 100 live streams in a year.
While OStateTV functions as a central video resource, the university also wanted to widen its audience through social media platforms like Facebook Live and YouTube. Their existing equipment - a content management system (CMS) and turnkey video production units - did not allow them the flexibility to live stream to multiple platforms in parallel.
Social Streaming
Knowing they would need dual-encoding hardware, and also aware of their limited staff and budget, they looked for a single, straightforward device that wouldn't add steps to their live-stream workflow, and was affordable and portable. Because they had already been using Matrox products in earlier workflows, the university first checked out the Monarch HDX dual-channel H.264 hardware encoder, and stayed with it.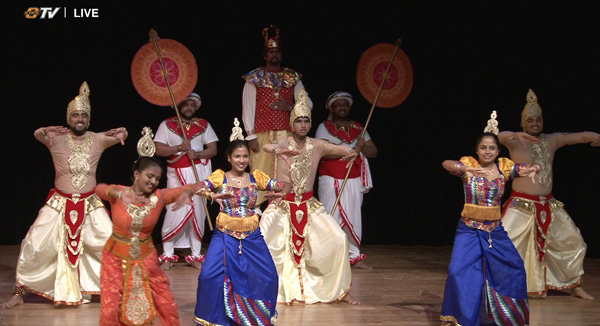 OSU can stream cultural performances live on Facebook.
The university owns several Sony cameras and camcorders and a variety of portable video production switchers, resulting in both HDMI and SDI inputs to the encoder depending on the event the OStateTV team is covering. A single speaker might only output a basic one-camera stream, but pageants and assemblies involve a multi-camera live stream. The Monarch HDX encoders can be used in all types of production including outside broadcast trucks for live streaming of college sports.
At the university, the Monarch HDX is connected to a Gigabit Ethernet switch and the LAN. Taking inputs from the video production switcher, the Monarch HDX is the principal encoder that enables simultaneous streaming to different platforms such as Facebook Live and YouTube, as well as their own video portal at 720p resolution, and at bitrates from 1 to 5 Mbps.
The stream settings are configured within the unit itself, making the encoding simpler to manage. The encoding settings - for example, the Facebook Live unique stream key for every live stream - are modified as required through the Monarch HDX's Command Centre GUI.
More Options, Wider Reach
"The Monarch HDX encoder appliance has several options when it comes to streaming," said Andy Wallace, associate director of OStateTV. "We can take advantage of social media platfoms to webcast our content. Or, for events where we just want to take a camera, laptop and microphone and do a simple stream, the process has become much easier."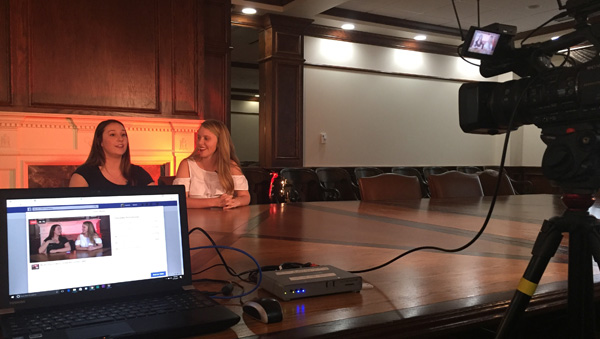 A recruitment Q&A session goes live on social media.
Alternatively, through the university's own video distribution platforms, they reach current and future students, their parents, faculty and staff, donors and alumni members, no matter where they are. Parents of international students for example, are able to watch their children participate in a variety of cultural, social and sporting events, which are highly satisfying experiences for the families and the university.
The result of their efforts to become more accessible is that Oklahoma State University now streams to two extra viewing locations beyond their own site. They can accomplish this with the same number of employees, taking just half the man hours that were required prior to using the Monarch HDX. This means not only a quicker turnaround, but also increases the number and scope of events they can stream during the school year, which attracts new audiences. They are now planning to ramp up production with further Monarch HDX units.
Purdue University
Recently ranked number 5 in the top ten post-graduate degree programs at US News and World Report, Purdue University's online Masters in Engineering program is designed to allow working professional engineers enough flexibility to complete their studies.
The university, located near Indianapolis, Indiana, captures every engineering lecture held in its classrooms, Monday through Friday, between 8am and 5pm, aiming to give distance students a genuine on-campus experience. Distance students receive the same challenging curriculum and exams as in-class students, but lack the advantage of joining a real lecture environment with a lecturer and colleagues. The timely, good quality streamed and recorded digital lectures help overcome the barrier of completely passive learning.
The video is either delivered as a live stream, which students can watch in real time, or supplied as digital lectures via video-on-demand or for download in high- or low-resolution video formats within 20 minutes after the class ends.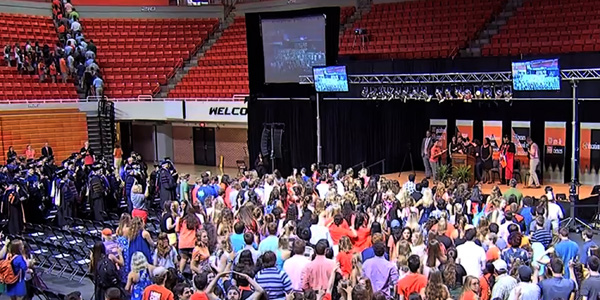 This graduation assembly can be streamed to several platforms.
Lecture Production
In order to give students these different options, Purdue University's multimedia production manager Carl Black researched hardware encoders capable of live streaming lectures from their new engineering distance learning facility. He was trying to find an easy way to stream live video but also needed a scheduling mechanism, and hoped a single, standalone appliance would meet the requirements without having to add another computer and configure the hardware and software. While researching, he came across the Matrox Monarch HD H.264 hardware encoder, which met all these demands and also came at an affordable price.
Multimedia production involves equipping each engineering classroom with two pan-tilt-zoom (PTZ) cameras that feed audio and video signals via SDI to a video switcher located in an operator room. Alongside the two camera feeds is video from one document camera, and two laptops and a computer outputting graphic presentation material. A production engineer working at the switcher mixes the audio and six video sources to create the complete lecture capture.
The resulting output from the switcher serves as the input for the Monarch HD encoder. Because each lecture is unique, it is captured and streamed at different resolutions and bitrates, to suit the the distance students' requirements for their courses.
Dual Stream/Recording Bitrates
From there, the Monarch HD sends a 1280 x 720, full frame rate, RTMP stream to a Wowza Media Server and simultaneously records the same material at a higher 1920 x 1080 resolution to a network mapped drive. Because Monarch HD can record MP4 or MOV files to a locally attached SD card or USB drive, or to a network mapped drive, the recording bitrate is not tied to the streaming bandwidth limitation and can be set much higher.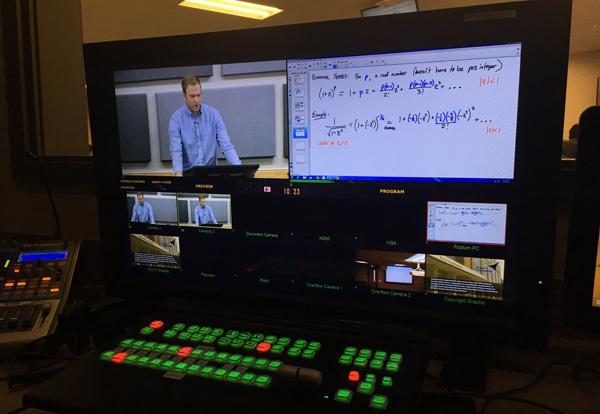 Purdue University live streams and records engineering lectures simultaneously on the Monarch HD.
For instance, when streaming at 2 Mbps, the recording bitrate can be set considerably above that, up to 28 Mbps. Consequently, the Monarch-encoded files don't need transcoding and are immediately ready to be transferred to the appropriate watch folder/server to supply digital lectures at higher resolutions than the stream and archives.
With the support of Monarch HD's API, Purdue University developed Monarch HD Dev Tools, an automation scheduler application that controls the streaming and recording operations for scheduled events. For one-off unplanned recordings, a separate third-party controller device starts and stops the operations by making API calls to the Monarch HD encoders.
Ready-to-Go Streaming and Archive
The university's online streaming and VOD lecture platform has created new opportunities for students and strengthened its position as an educational resource through a wider network of global applicants. Working professionals can learn at their convenience, resulting in better retention and, potentially, a lower learning curve.
Purdue is in the process of investigating the Monarch LCS, an H.264 encoding appliance that Matrox designed specifically for classroom lecture capture. With two inputs supporting SDI and HDMI, a built-in scheduler and various layout options, the LCS appliance can allow more flexibility as the university's distance learning initiatives change over time. www.matrox.com