Discovery Pushes US Network Playout to Public Cloud with Evertz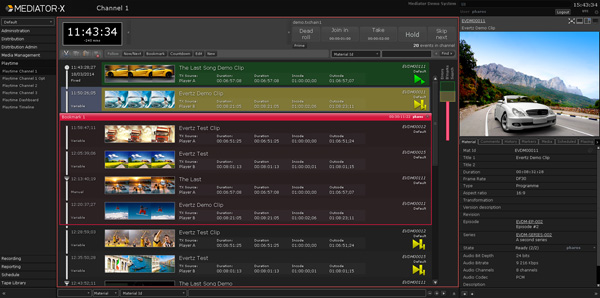 Overture-RT LIVE playout engine
Discovery Communications has completed the transition of its US networks, including Discovery Channel, TLC (The Learning Channel) and Investigation Discovery, to public cloud-based origination using a virtualised MAM system running within the Amazon Web Services' public cloud.
When Discovery built the infrastructure for the transition, the goal was highly resilient, reliable, fully virtualized and scalable linear transmission and media asset management. The cloud playout system comprises Evertz Mediator-X asset management and automation, Overture-RT LIVE playout engine and Render-X transcoders, and the software defined video networking uses IPX Switch Fabrics, network address translators (NAT) and encoding/decoding products, all also from Evertz.
Because these products form the foundation of Discovery Communications' playout and video networking, the company worked in partnership with Evertz. The cloud playout system is deployed natively on Amazon Web Services' (AWS) public-cloud computing platform, specialised for on-demand compute and storage.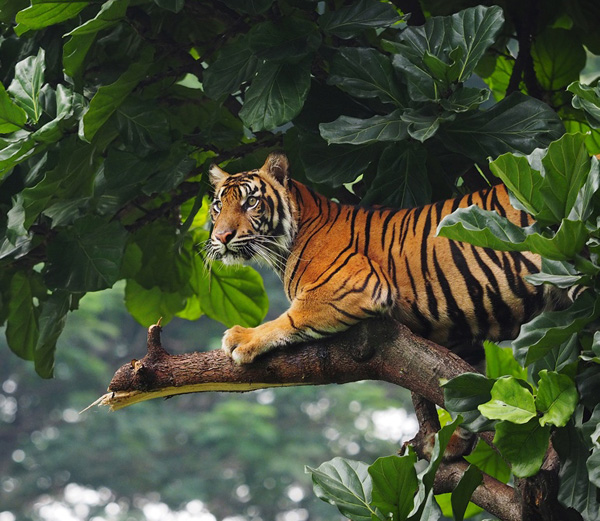 Discovery Project C A T
Mediator-X, Overture-RT LIVE and Render-X are hosted across six data centres diversely distributed between two separated geographic regions including Virginia in the US and Ireland. The system includes support requirements for live events, the first of which went to air between 19 and 21 October when Discovery aired over 40 hours of live program content on their Velocity channel.
Both Discovery Communications and Evertz consider the success of the extended live broadcasts as positive indications of the viability of their cloud-native master control and playout applications. Discovery was aiming to increase the scalability, flexibility and agility of their operations to help them handle more rapid business and technical change. Evertz say the broadcasts demonstrate that file based playout and live events are practical and feasible within these architectures.
Mediator-X is the infrastructure platform that runs Discovery's media asset management, transmission playout and non-linear delivery applications and is used to drive file flows and playout automation across most functions. For example, Mediator-X prioritizes and automates all file transfer operations to and from Amazon's S3 storage platform.
Its non-linear playout is based on a metadata schema, holding a set of all information types that directs delivery to multiple platforms. Automation is managed through templates that drive the integrated Mediator-X channel branding engine. This engine accesses the MAM and dynamically populates on-air graphics elements via metadata fields.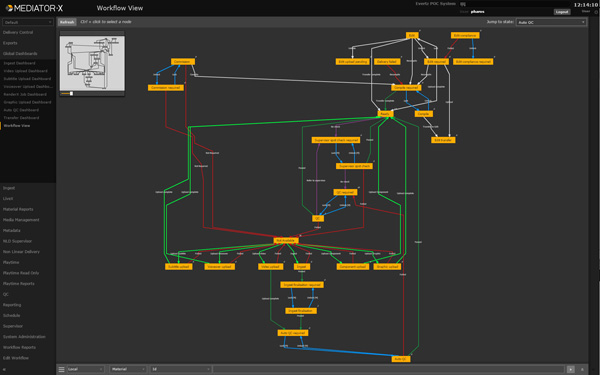 Mediator-X workflow orchestration
Overture-RT LIVE is Discovery's internal pipeline, a software Modular Playout Engine that handles a series of complex secondary events such as logo/graphics insertion, rich SCTE metadata messaging, audio loudness correction and Nielsen watermarking and Dolby D encoding. Working with the data, video and audio processing, Overture-RT Live has several HDR I/O options and multiple frame rate support. It can be used for realtime playout from simultaneous playlist records, or delayed playout with a user configurable delay.
The system also gives the ability to scale up and recover playout instances using automated orchestration, giving Discovery the agility and flexibility to scale their operations dynamically over time. www.evertz.com