Grabyo and Singular Stream Live Graphics to Social for Pre-Match Show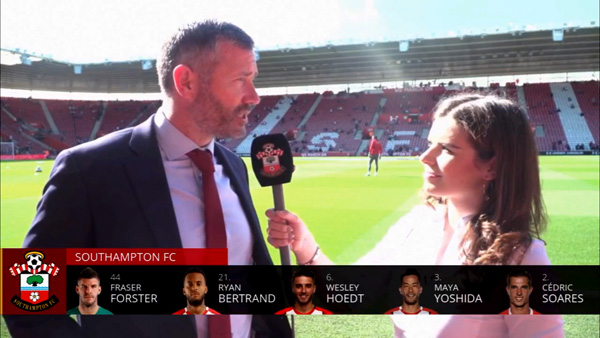 Singular received the DMW Award 2017 - Cloud Solutions - Graphics Award for Playout because In an increasingly cloud and software-based broadcast environment, Singular.Live helps distributors and broadcasters keep as much of their production in the cloud and keep control over future investment in new hardware and software.
Grabyo and Singular Stream Live Graphics to Social for Pre-Match Show
For soccer club branding, an up to date digital strategy has become an important extension to the talents and personalities of the team members themselves. Fan engagement is a major factor in brand value, so international soccer teams spend time exploring new ways to connect with fans. With the proliferation of OTT and advances in mobile distribution, the job is becoming more challenging as clubs need to reach fans across new distribution systems, viewing platforms and social channels.
Southampton FC is a team with one of the more progressive digital strategies in the league, ranging from its website to interactive live streams, and earned a BT Sport 2017 Cutting Edge Sports Award nomination.
Start to Finish in the Cloud
Ahead of its intensely anticipated clash against Manchester United FC in September 2017, Southampton launched a pre-match show for fans on Facebook and Periscope. To keep the production quick and straightforward, the entire production started and finished in the cloud.
The team used a specialist cloud-based video production, editing and distribution platform called Grabyo, which has been a major component in their workflow for streaming to social media for about two years. Grabyo's specialty is combining recorded and archived content with interactive fan comments and Q&As for several different social streams, making it a good match for the debut event.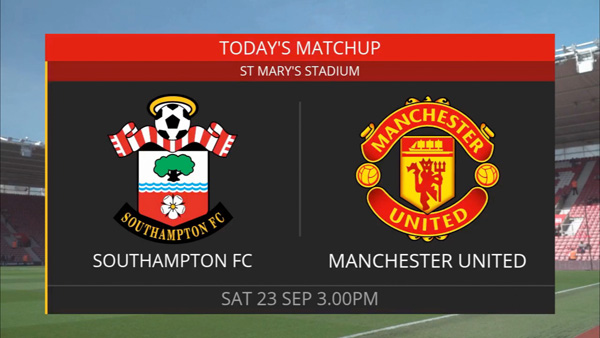 The workflow included three cameras that captured live footage from chosen vantage points including the pitch, entry tunnel and locker room and fed into Grabyo's cloud-based interface. Taking advantage of Grabyo's ability to interface any content, rendered as a URL, with live video, Southampton's media team populated the live feed with graphics created by Reality Check Systems (RCS) that were rendered out of the Singular.Live graphics production platform.
The way Grabyo, as a distributor, has made use of Singular.Live's online graphics production platform is interesting, especially because of its suitability for a particular highlight of the show for fans - the starting lineup reveal.
Match Day Reveal
As part of the league's charter, clubs cannot announce player names and positions until one hour before the game on match day, and are only given 15 minutes to prepare the information for live distribution. Creating and changing high quality graphics for the player names and positions within such a short time frame proved difficult in the past. However, by working on the Singular platform, Grabyo was able to take better control of the graphics and bring them closer to completion in advance.
Singular.Live is an online platform of graphics production software tools that are used to deliver video and graphics content for audiences. With these tools, users create graphics templates and, from there, control and play out their content. The platform and all of its software are entirely cloud-based and accessed through a web browser, making it scalable and unnecessary to install any products locally.
In Composer, the authoring environment, a user first creates the graphic elements they need from their own content within a composition for their templates, maps in any data they want to display and defines interactivity - without any custom coding. From the user's templates, Singular.Live automatically creates dynamic web pages that can be controlled remotely using a UI that users create themselves.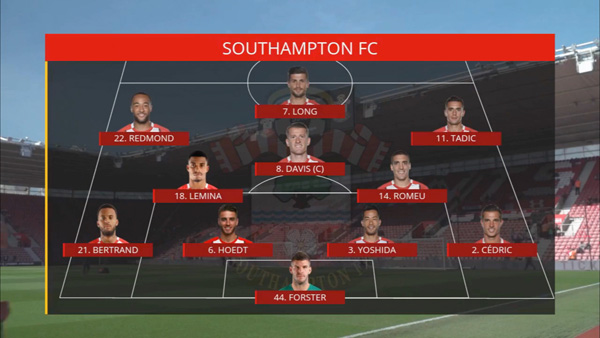 The necessary composition widgets – small pieces of code that display certain types of content in consistent, recognisable ways - are supplied to users online, and once the composition is created, Singular automatically generates the html code. A URL is then made available where users can view and automatically control their pages in a web browser with Singular's control applications.
Live Titling
"Integrating Singular with Grabyo made it possible for Southampton to display live broadcast-quality titling to fans, which is a challenge for most clubs using typical broadcast graphics systems," said Grabyo Head of Marketing Aaron Duckmanton. "The quality at which the graphics were rendered out of Singular is also impressive, and furthermore the online software is extremely fast and easy to use.""
Before the show's debut, Reality Check Systems used Singular to create a series of templates that include an animated ticker with a placeholder for each player's name, image, number and position; a full screen CG pitch view graphic with a placeholder for player names and formations; and a full screen squad list. Using these graphics elements and Singular's tools, Southampton's production team populated the graphics as the presenter read off the starting lineup.
"Further enhancing and differentiating social video is a huge focus for us. Our intention is for clients to be able to create bespoke and engaging pieces of content, and Singular can help drive this, making it easy to render high-end graphics in the cloud," Aaron said.
Socially Different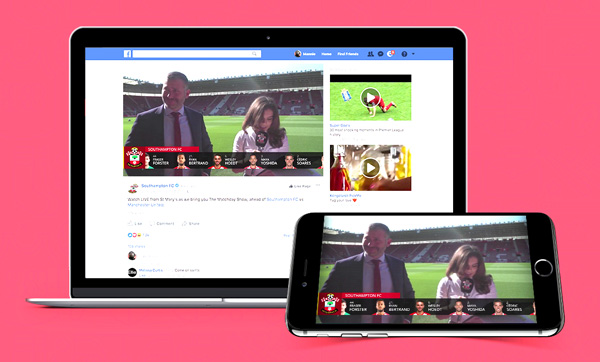 Typically in pre, post or live match social streaming, clubs will use static PNG or existing broadcast graphics, but the visuals are not optimized for mobile viewing. In contrast, Grabyo and Singular combined are able to translate the complete broadcast viewing experience for mobile and social. This differentiation happens in compositing, at render time.
Singular can render in a conventional way by inserting graphics locally on the production side – for example, on a web-channel, real time graphics overlays are composited into the video as an overlay within a streaming application. Alternatively, it can decode the video source in the cloud and compile real time graphic overlays into the video faster than real time, outputting an RTMP or video stream for publishing. However, in this case for Southampton FC, the graphics are rendered in real time on the viewer's device in a web browser or video player. Interactive graphics are triggered from the control app web interface so that each viewer engages with the graphics, triggers optional layers and so on, only on his device.
"Creating a different viewing experience for social is becoming increasingly more important and fans are demanding new ways to consume content. Grabyo and Singular built a live experience that was dynamic, high quality and built for a mobile, social audience," said Aaron.
Grabyo has several international football clubs as clients and anticipates further collaboration with Singular to bring clients new graphics and data visualisation capabilities for their live productions. Aaron commented, "We're working with major sports leagues and broadcasters, and digital publishing outfits like BuzzFeed, to continue making high-end live content more accessible on social and digital platforms. Working with Singular and RCS opens up new potential to do more to build on the fan experience.""