Comprimato Takes on Compression, Encoding and IP Contribution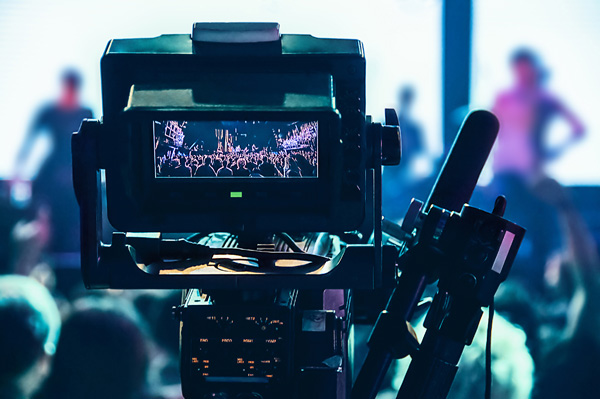 Discussion about IP infrastructures often centres on live production and interoperability between systems. CEO at Comprimato Jiri Matela agrees that these are critical aspects of building and using IP networks, but identifies another application for IP that will bring far-reaching change.
"Traditionally, to move content from a remote location back to the broadcast centre, you needed to book a contribution circuit, known as backhaul in the US. This was usually just a single circuit, so whether you were covering a major event, an interview or breaking news, you only had the one feed from the OB truck back to the studio," Jiri said.
"The major venues would consequently install permanent broadcast circuits. Because the circuits relied on video cables that couldn't be used for any other purpose, the local telecommunications operator or other provider had to charge considerable fees to cover installation and provision costs each time."
Looking for Bandwidth
Where no video circuits were available, productions could resort to radio systems including line-of-sight microwave links, which were limited in range and location, or satellite uplinks. Like fixed links, both options were expensive, lacked the resilience needed to overcome network failures and, in the case of satellite links, added noticeable latency.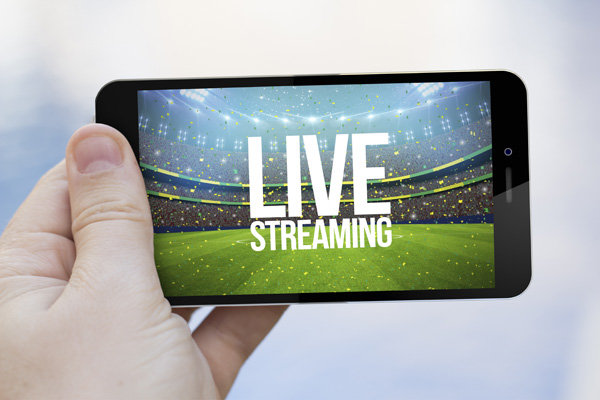 When real-time connectivity for professional audio and video was achieved, the situation began to change. Content owners saw advantages in converting their data feed to IP, which would not need a specialised link and could be carried as data over any bearer with enough available bandwidth. At the same time, more telecom operators were installing optical fibre networks. The main cost of such networks comes with routing construction, installation and connection, not the cabling itself, so many operators install extra cabling to prepare for future growth, and in the meantime make their unused cabling, or 'dark' fibre, available to lease.
This bandwidth has tended to become available in metro areas with major sports stadiums, where the stream could be carried as data alongside other traffic, and could save cost because telecom operators often charge customers only for the amount of data carried. It also increased resilience, as geographically diverse redundant paths could be used while the receiving device switches unnoticeably between the strongest signals.
Multiple, Parallel Feeds over Fibre
The ability to deliver broadcast quality audio and video over IP at the optimum bitrate depends on the quality of the signal routing and of the codecs used. While H.264 is in general use and now H.265 is under consideration, JPEG2000 is also well-suited for IP delivery. Jiri said, "This codec maintains high video quality with 10:1 compression ratio for contribution applications. It uses wavelet algorithms, which are generally considered to degrade more gracefully than the discrete cosine transforms used in MPEG-type compression. JPEG2000 also supports uncompressed, packetised delivery, when compromises to quality are not acceptable."
Broadcasters have become more used to the idea using limited compression on contribution circuits, and to carrying those streams via IP. But they are also interested in carrying more than one stream from a location to a studio. Jiri believes that such developments are what will transform production processes.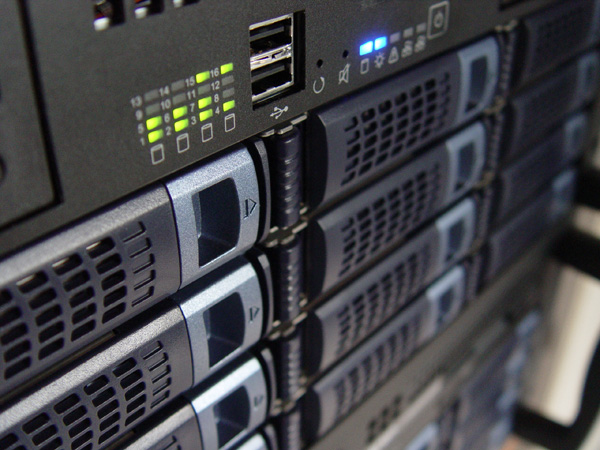 He said, "It becomes possible to deliver multiple parallel feeds from an event. For rugby or football, you could have different cuts for each team. For an athletics event you could have separate track- and field-oriented feeds. You could set up an international feed alongside a domestic production that includes an on-site studio for discussions and presentation.
"It also means that you can deliver alternative content alongside the main feed, allowing the rights-holder to package an event in different ways for different platforms. All of these are new ways to engage with the audience, and to monetise the coverage of the event."
Local and Remote Distribution
Another important requirement is to deliver multiple feeds at the location. One use case currently attracting attention is a video referee who needs to look at and compare multiple camera angles. Rigging a large number of video feeds would be time-consuming and a challenge, but running the feeds via a single fibre is simpler and cheaper.
For now, video referees are usually located at the event but already, the NBA in the US is running a centralised video referee facility, the NBA Replay Center next to New York City, that collects and displays feeds from all simultaneous matches, at one place. Live footage comes in from all cameras in each of the NBA's 29 arenas. The system receives 12 broadcast-quality feeds from every match, with additional camera angles available from each broadcaster if needed. Raw video is processed into the critical clips and returned to any of the arenas for review.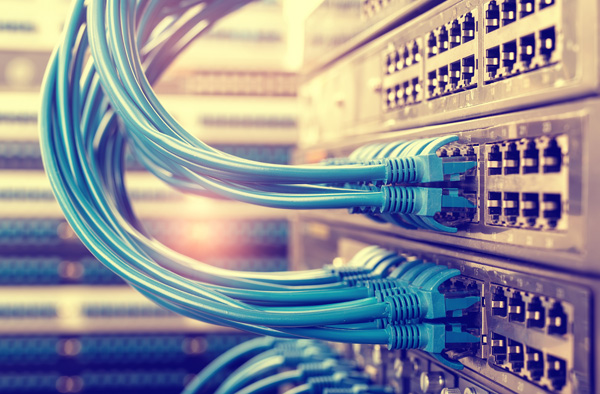 More typical are broadcasters' courtesy feeds to stadium screens and to other areas in the venue such as the press box and radio commentary. Again, distribution of multiple feeds over fibre is easier to supply.
Simplifying Control
Jiri said, "A similar concept can be applied to distribution, that is, the delivery of streams from the broadcaster. Again, this is traditionally a single channel output over a video circuit, which is then modified for the platform at each individual headend. That means the broadcast signal will be compressed by hardware at the headends for terrestrial, cable and satellite before multiplexing, which combines the digital signals into one signal over a shared medium - and it will be transcoded for storage for VOD, and for live streaming across multiple platforms.
"This architecture is inherently expensive, because it requires dedicated devices for each stream at each headend. It is also risks quality, because the remote transcoders are outside the physical control of the broadcaster."
On the other hand, if architecture that presents multiple video streams along a single or multiple strands of dark fibre is applied to distribution, the broadcaster or content provider can maintain quality control over all the encoding in-house, pre-packaging and distributing all the different formats required.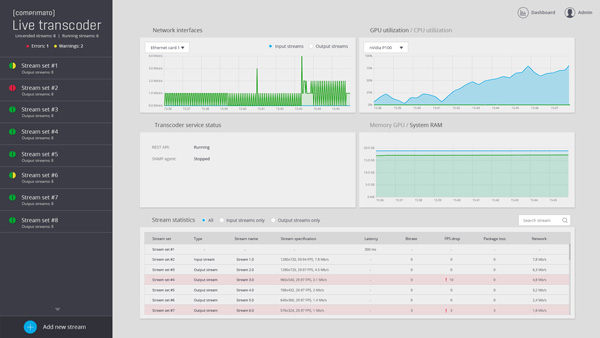 Scalable Software Encoding
The process that turns these ideas into a practical system is the ability to affordably encode and stream varying numbers of high quality strands. "Comprimato's core specialist skill lies in implementing high quality codecs in software, to run on standard IT platforms, and particularly on GPUs. This expertise has allowed us to develop the Comprimato Live transcoder, a practical example of how such a system can be delivered," Jiri said.
"It runs on standard x64 server architecture, either a physical device or virtualised in a data centre. The software supports up to 70 full HD streams in a single 1U server, so it is extremely compact.
Its purpose is to make almost unlimited options available for stream scalability and video processing customization to meet the variable requirements of media delivery. Reacting quickly to new devices, screen sizes, resolutions, subtitles and ad insertions will continue to be a necessary part of broadcasting. Meanwhile, quality still needs to be preserved, and complexity and cost of delivery needs to be controlled.
Greater Agility, More Options
Because all the functionality is implemented in software, it doesn't require extra, proprietary hardware. The software is agile so that new streams can be added in less than a minute. It is also designed to be extensible, allowing new formats like HDR or 4K, or new functionality, to be incorporated immediately, as soon as soon as they can be justified on the basis of expected commercial benefit.
Furthermore, the Live transcoder is codec agnostic, supporting MPEG-2, H.264, H.265, Google VP8 and VP9, and JPEG2000. Individual output streams can apply adaptive bitrate delivery as required, and maintain high quality at latencies of less than 700ms, through an entire video delivery chain. A facility can also avoid the capital cost of several different encoders and decoders, and run the software on industry-standard servers. comprimato.com