BBC Wales Builds New IP Broadcast Centre Hub on Dalet Galaxy MAM
BBC Wales has built a new digital media facility and headquarters located in Cardiff that will become one of the first BBC facilities in the UK to use IP systems across production and broadcast operations. Relying on internet protocol connectivity, the intention is to allow different devices located around the BBC's new building at Cardiff's Central Square to recognise and communicate with each other for tasks such as camera control, program editing and delivery, and will also assist in producing programmes and news items from remote locations.
Another major goal in using this approach to carrying data and signals is that it will give BBC Wales more flexibility as systems develop in the future, for example, should higher bandwidth or video resolution become available. The broadcast teams are working with Grass Valley, Cisco and also with Dalet on the development.
Dalet Galaxy Media Asset Management (MAM) and Orchestration platform has been selected to facilitate workflow and asset management requirements. Galaxy will work as a centralized content repository with tools to orchestrate workflows and media processes across production, news, studios and delivery departments. The massive installation design and deployment, spanning several years, will be managed by Dalet Professional Services as BBC Wales adjusts and aims to maximize return on investment under its more agile infrastructure.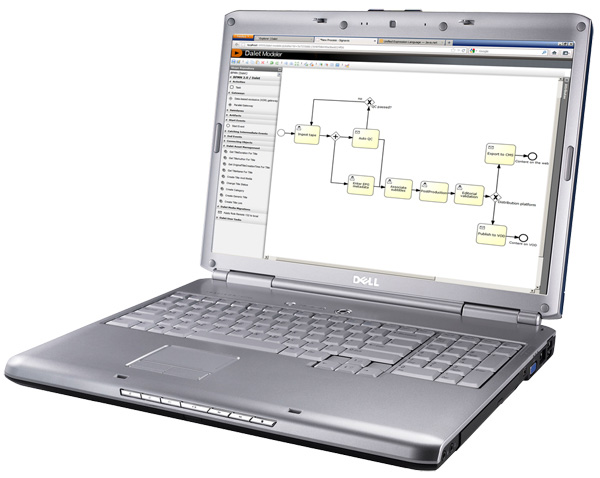 Dalet Galaxy will be deployed as the core media hub of the facility. All systems and sub-systems deployed in future phases will connect to this hub. The Dalet Workflow Engine will enable the BBC to orchestrate a combination of back-office and user tasks including media services ranging from ingest, transcoding and QC, to logging, editing, media packaging and distribution.
On the back-office side, it manages metadata services, conversion, media exchanges and transfers, all of which are to be fully automated as well. On the user side, it speeds up user workflows through production tasks lists management and by intelligently opening the relevant tool for a specific task, directly on the user desktop.
A simple workflow designer interface allows users to model business processes, picking from a palette of stencil operations such as user tasks and notifications, media and metadata services, gateways, timeout and error management and others.
As well as Dalet Galaxy, Dalet will be supplying a new Dalet HTML application that simplifies management of camera card ingests, and its Dalet Brio video server. Supporting both SDI and IP, Dalet Brio is a high-density ingest and playout platform that adheres to the SMPTE 2110 standards, allowing broadcasters to step into the future of IP while retaining the security of SDI.
The comprehensive and open Dalet Galaxy API, covering most of the system's functionality will allow the BBC to tightly connect storage and infrastructure technologies, media services and post-production applications, and traffic and business platforms, orchestrating a fluid workflow that tracks assets and associated metadata across the media enterprise.
Dalet UK has been working with the BBC on a large number of projects for more than 15 years. During this time and now into the future, Galaxy's flexible architecture works as a consistent framework on which the BBC can evolve to meet new demands and production requirements that arise over the coming months and possibly years. www.dalet.com