Chile's Mega TV Updates for Future of Broadcast on Dalet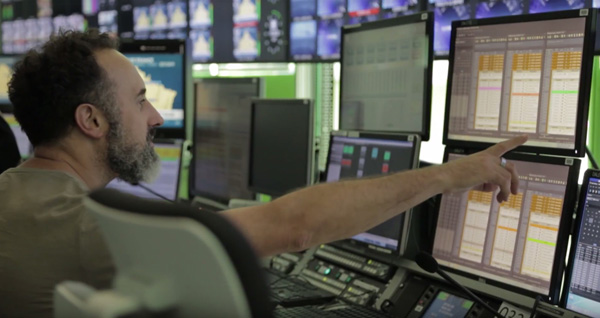 Mega TV in Santiago is a free-to-air broadcast network and the first private broadcaster in Chile. Its programming covers TV series, sitcoms and telenovelas, variety and talk programs and daily news shows including 'Ahora Noticias' ('News Now'). "In order to extend our reach and engage audiences more effectively, we are especially keen to deliver better news content across as many viewing and listening platforms as possible," said Saúl Ureta, technical manager for Mega TV.
"As we expand our broadcast portfolio, we believe we need to decide between working with independent production and post-production systems that might create silos in our workflow, and planning for the future by building a collaborative workflow efficient enough to produce news that can be re-purposed to span across all our channels."
Content and Story-based Model
Mega TV is updating its operations with the Dalet Unified News Operations system, based on Dalet Galaxy media asset management, orchestration and editorial software, specialised for news production and distribution. The company has been a Dalet customer since 2012 but, in light of their concern for the future, another deciding factor is the Galaxy platform's ability to accommodate many different operating and organisational models, new standards and content formats into the near future, and its options for integrations and connectors.
In particular, the Unified News Operations model for Galaxy works in a flexible manner. For example, it integrates tools for remote production, and promotes collaboration. It includes a complete social media framework that Mega TV's teams can use to engage with audiences, as part of their everyday workflow. Content packages will be crafted on Adobe Premiere Pro CC, which will integrate directly into the collaborative workflow via Dalet Xtend.
All of these components are native or tightly integrated into the system, and are controlled and orchestrated by Dalet Galaxy, which integrates with Mega TV's own content management system. The whole system will be implemented through Dalet business partner Zer Digital.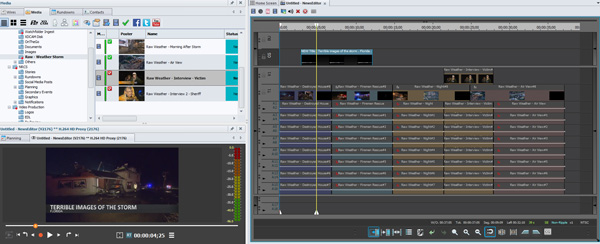 Graphics on the timeline using Dalet Cube.
Collaboration
Dalet Unified News Operations will replace Mega TV's existing newsroom computer system and news production system, at the same time adding some new tools and collaborative processes. Journalists, reporters and producers will be able to share assignments, stories and any assets, accessing a single media repository and set of tools by using configurable workspaces governed by permissions and tasks. Dalet WebSpace and the On-the-Go mobile app extend these capabilities into the field, allowing authorised users to be part of the connected workflows that relate to their work.
Collaboration spans all of the workflows from planning through scripting, production through to broadcast and distribution. All of these activities are served by the one platform and accessible from multiple devices. Chat rooms allow users to open news stories quickly, using ad-hoc groups to exchange media, scripts and ideas.
Social Media
Regarding Dalet's Social Media framework mentioned above and the Social Media Panel, true convergence is one of the key aspects of the system - users can plan, produce, schedule and broadcast from a central news story to digital platforms such as CMS, OTT and social media platforms.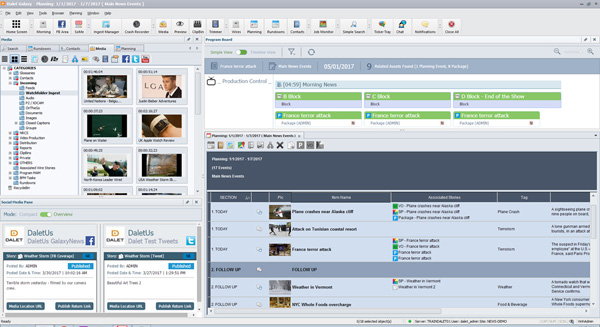 Dalet Social Media Panel
Journalists do not have to create material solely for social media, but instead have tools to re-package TV content for social posts, including graphics on the timeline. While writing a story for television or radio, they can curate their script for social, including drag and drop of images and video into the social media section. Throughout the development of a story, journalists can create special sections of it to update tweets and posts.
The Social Media Panel gives editorial teams, journalists and news directors a complete overview of all their posts, including simple analytics to understand popularity of their posts, in one glance, helping to fine-tune content and target certain audiences. Because of this ability to monitor and analyse, the social systems work in both directions – that is, they harvest and analyse, plan, produce and deliver content efficiently to Facebook, Twitter and YouTube, while gathering more data about the audiences and their engagement.
Media Processing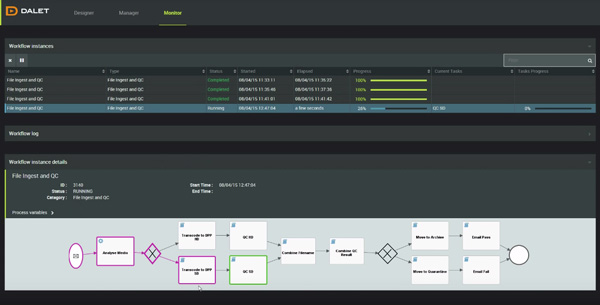 AmberFin processing workflow design.
Dalet Brio manages the system's ingest and playout transactions of live news shows through an IT-based input and output video platform built on non-proprietary hardware. Dalet Brio units come in various I/O, or local or central storage combinations, supporting a very wide range of software codecs and standard wrappers such as MXF or MOV and AVI for workflow integration with third party NLEs and Dalet software.
The Dalet AmberFin media processing system, which runs on commodity IT hardware like Brio, will be used for transcoding. It is another scalable Dalet platform, in this case integrating ingest, mastering, QC and review functionality. www.dalet.com