La Télé Automates News Operations and Playout on Harmonic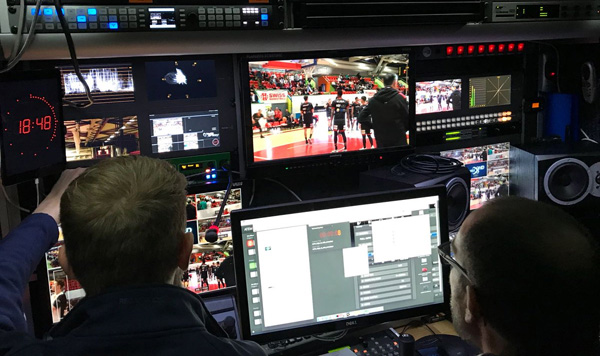 La Télé broadcast news channel based in Switzerland has deployed a comprehensive live and scheduled playout system. Combining playout, news production and channel-in-a-box functionality, the system has been designed to increase workflow efficiency and reliability for live and recorded HD video delivery, so that La Télé can deliver more varied on-air content to its viewers.
The system employs Harmonic's Spectrum X media server and Polaris Play automation to control scheduled playout operations, with Aveco automation for live news coverage. "Recently, we decided to upgrade our playout workflow. Having a capable media server at the centre of our operations was a top priority," said Francois Vittoz, technical director at La Télé.
"Harmonic supplies the most critical component for any playout system - extreme reliability, along with extensive deployment experience and a recognised reputation for powering some major news channels. The Spectrum X media server simplifies our workflow, and the money we save allows us to deliver higher quality branded programming to consumers."
La Télé has integrated the Spectrum X server and Polaris Play automation with a Chyro software traffic system and IMC Technologies Incite MAM software to control the uninterrupted execution of the playlist and optimal playout of local news and events, including playlists, on-air graphics and subtitles. Combining file and live ingest with the integrated channel playout capabilities, Harmonic's Spectrum X system has in fact lowered La Télé's capital and operational costs. IMC Technologies handled the supplier and integration services.
During live events, video is recorded on the Spectrum X media server. The Aveco ASTRA automation system takes control of the Spectrum X media server and a Caspar CG system, allowing La Télé to brand its live programming with custom graphics. The Aveco automation system is also integrated with the Incite MAM and a newsroom computer system (NRCS) from Octopus to further oversee uninterrupted playout of live news and events.
"La Télé wanted a faster workflow, and upgrading its media asset management systm was a great way to achieve that," said Georges Nakhlé, managing director at IMC Technologies. "We designed and integrated a complete system for the channel that includes a simple traffic system and a robust media server." Spectrum X media server supports high availability, which works well for a local news organisation like La Télé, where getting on-air quickly is the priority. Because the Polaris Play system is embedded in the Spectrum X server core software, it can be directly integrated with the Chyro traffic system and resulting in uninterrupted execution of the playlist. By supporting fixed and open-ended live events, Harmonic's playout system remains flexible for fast-changing news environments. www.harmonicinc.com