TVU Pioneers Cloud-Based Live Multi-Cam and Story-Centric Workflows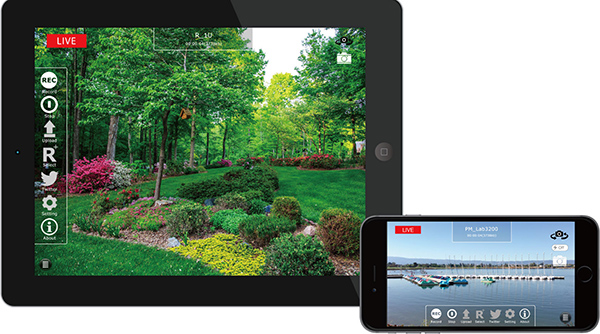 TVU Anywhere
TVU Networks' Producer Pro is a new cloud-based video production system for remote operations. It supports live multi-camera capture, graphics and delivery without major hardware, software or training investments. Covering live events such as sports, concerts, corporate presentations, house of worship services or most other types of multi-camera production can be done from virtually anywhere using a straightforward web-browser based interface.
Producer Pro, on view at NAB 2018 taking place 9-12 April in Las Vegas, has a multi-channel IP video switcher, titling and graphics capabilities and the ability to simultaneously output directly to Facebook Live, YouTube Live, Periscope Producer, most CDN platforms and SDI through a TVU transceiver.
"Covering live, multi-camera events has traditionally been expensive and complex. The cost of purchasing or renting live video production hardware or production services has meant that smaller events could only be allocated limited coverage or no coverage at all," said Paul Shen, CEO, TVU Networks. "TVU Producer Pro was developed as a flexible, economical alternative that requires no investment in specialised hardware or rental equipment services, and to be simple enough for nearly any operator to produce an event from any location.
Final Challenge
"One of the biggest remaining challenges for web-based production tools is Internet delay. The unpredictability of Internet delay prevents actions like switching from occurring at the intended frame. TVU Producer Pro's frame-accurate switch system has proven very effective at overcoming this limitation so far, enabling frame accurate previews in the web-based interface and the action to happen at exactly at the user's intended frame."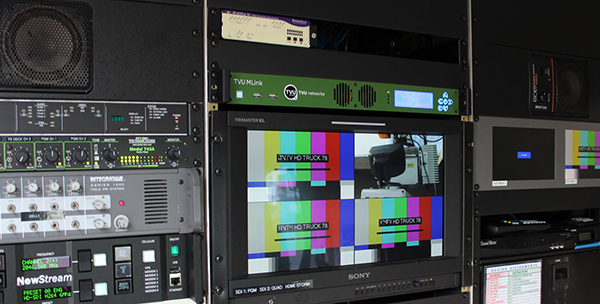 TVU MLink
TVU Producer Pro supports multiple-user operation – that is, several producers can collaborate together concurrently to produce content. The WYSIWYG interface design makes it possible for non-professionals to manipulate graphics and text overlays during production, following visual prompts and indications.
TVU Producer Pro will work with all of TVU's existing transmitters – TVU Anywhere, TVU One, TVUPack and TVU MLink – IP video sources or any standard IP video stream including HTTP, RTP, RTSP, UDP and so on. A user can add up to six live streams at any time directly from the TVU Producer Pro interface. The platform is also designed to allow a user of an iOS, Android or MacOS device to be added as a live video source, in only a few seconds, by downloading the TVU Anywhere application. TVU Anywhere makes it possible to use portable smart devices or laptops as transmitters.
Story-Centric Production Workflows
Another development that TVU is showing at NAB is a story-centric approach to video production and distribution workflows, a new software platform called TVU MediaMind. Consistent with TVU's interest in AI, big data, IoT and cloud computing, the goal is to increase producers' capacity to customise video according to the specific requirements and tastes of individual consumers and distribute content through an automated process.
MediaMind's tools enable the mass production of content for individual audiences through the automation of video production and distribution. AI engines recognise video content and automate its creation and distribution to cell phones, streaming to the Internet, television and social media channels.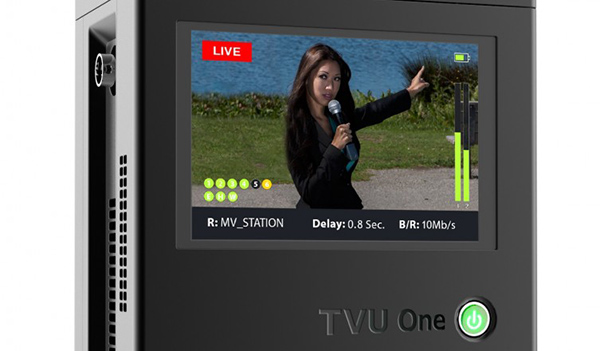 TVU One
"This functionality helps media companies aiming to produce more content without increasing expenditure," Paul Shen said. "Instead of creating content manually, the system can enable the tailoring of raw video for viewers on specific social media platforms, cell phones, streaming channels and TV. Archived footage can be repurposed as an asset complete with searchable metadata. Media companies can't earn revenue from material that's never broadcast."
TVU MediaMind consists of TVU Contribution Automation, TVU AI Engine, TVU Real Time Search Engine, TVU Workflow Engine and TVU Producer Pro, described above. From the start of the video production process, all video is immediately indexed based on its metadata by TVU MediaMind's AI real-time search engine.
Using a cloud-based model that includes voice and object recognition, live and pre-produced video clips are located and indexed down to the exact frame and can be shared instantly. MediaMind automates the ability of different production groups to find the content. With cloud-based TVU Producer Pro, different content can be cost-effectively created for different platforms or even audience groups.
Existing TVU customers can already utilize TVU MediaMind through such tools as a real-time search engine for all of their media assets. The TVU AI Engine can be enabled with the tens of thousands of TVU Transceivers that are deployed around the world. www.tvunetworks.com