Aspera Supports New Hybrid-Cloud, Live Streaming Workflows for Video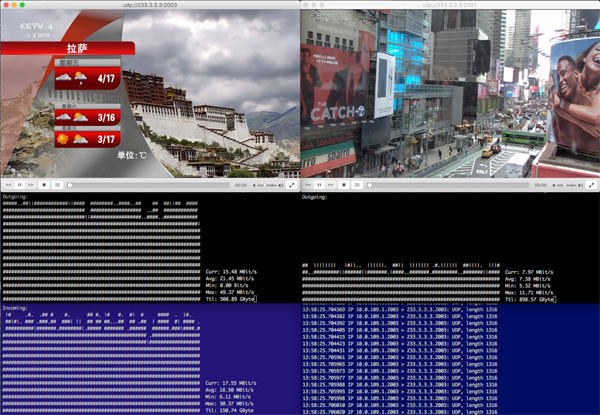 At NAB, Aspera showed its developments in two of the Show's hottest topics, cloud transfer and data streaming. The recent Aspera on Cloud service addresses the trend among organisations to take on hybrid-cloud systems, with transfer workflows that combine public or private cloud with on-premises storage and compute resources.
Aspera Streaming for Video is a development of the FASPStream protocol that supports live and near-live video streaming at low latency. Stream Manager automates the set-up and local and remote control of streaming devices with FASPStream installed.
IBM Aspera on Cloud
Thw Aspera on Cloud service transfers, exchanges and delivers content from any location to anywhere, with anyone, at very high speeds. While high speed data transfer has always been Aspera's main focus, Aspera on Cloud takes into consideration the more frequent adoption of hybrid-cloud systems.
Moving content around hybrid-cloud environments has become more challenging because files that need to be exchanged may be stored in multiple clouds or on-premises systems. In some cases, the traditional transfer methods bridging these environments become slow and unreliable when it comes to moving content, and physical disk shipments between them are time consuming and expose data to security risks.
The purpose of IBM Aspera on Cloud is to overcome hybrid cloud file transfer challenges by allowing media companies to move their content across on-premises and multiple-cloud environments at speed. Meanwhile users can still maintain control over security and reliability. Aspera on Cloud access may be extended to a desktop, browser and mobile applications.
User Interface, Performance, Security
IBM Aspera on Cloud has a simple user interface for accessing all content, stored on-premises or in the cloud. Users can directly send large files from on-premises or cloud storage out to clients and partners, and invite them to upload content directly to their storage locations. Access to transfer functionality and the configured content stores are protected by an access control model managed by service administrators.
Since the critical issue is the performance achieved when transferring large files and large collections of files across any distance, IBM Aspera on Cloud was built to optimise available bandwidth. Typically, transmissions achieve substantially higher speeds than traditional network transfers. Aspera's direct-to-cloud transport moves content from the client directly into the cloud storage layer, making transfer speed a primary focus and post-transfer data available immediately.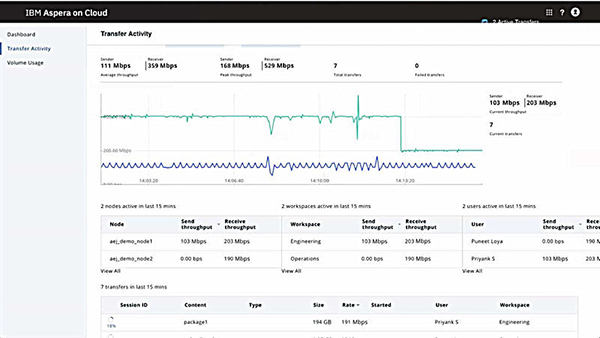 Aspera's cloud services are supplied with enterprise-level security in order to protect content while it is being shared and exchanged with collaborators at dispersed locations. The service authenticates users on login, encrypts data in transit and at rest using strong cryptography, and verifies data integrity to protect against attacks.
Sharing and Delivery across the Hybrid-Cloud
The same interface handles file uploads, downloads, search, sharing, distribution and content management across on-premises and cloud storage. Its structure resembles a file system so that, for example, users can move folders across data centres and cloud platforms, transfer material to any storage location or share with other users and groups, using drag-and-drop.
Files and users can be organised into workspaces that function as secure collaboration areas for groups. Customisation for previewing media ranges from thumbnail, keyframe grids and playable media, and users have search, filter and sort tools to find items fairly easily within very large file stores.
Inboxes visualise cloud and on-premises storage for users so that content can be submitted directly to an inbox or a shared content submission portal. Users can also compile their own content into a digital package and distribute to one or more recipients using a regular email-client style interface, customising email templates and logos to match their brand identity.
Centralising hybrid environments
Giving users this much visibility and control over the Aspera high-speed transfer environment means an organisation can monitor transfer activities in real time, meanwhile embedding their brand into each of their communications and web assets, and monitor activity logs and service alerts. Users can manage transfer activities, storage usage and digital packages in real time as well, and manage membership to workspaces, user groups and shared inboxes.
Aspera On Cloud can be used to connect to all of the user's cloud and on-premises storage and remotely manage their transfer nodes from the one interface. Users can store and access files and folders in multiple cloud-based or on-premises storage systems, and embed sending, sharing and delivery functionality into custom applications using the Aspera API.
To control transfer nodes, located in a data centre or in the major public cloud platforms IBM Cloud, AWS, Azure and Google, users configure access to them themselves and establish network policies that govern how transfer nodes interact with each other.
Live and Near-Live Video Streaming
Based on its FASPStream protocol, Aspera Streaming for Video supports live and near-live video streaming at high quality without adding latency over commodity internet. Centralising administration using existing video infrastructure means high bit-rate programming can be produced in real time with less need to duplicate production staff at remote venues.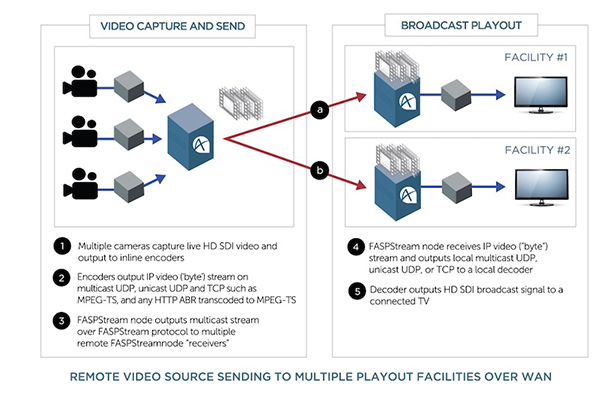 By lowering the production costs for many kinds of events, especially tier 2 and tier 3 events, broadcasters have the potential to create and deliver new content and target new audiences. Tiers refer to documentation of processes, tools and culture that maintain chosen standards for event and problem management across the entire service operation. Streaming for Video also supports transcoding, packaging and delivery on-the-fly to speed up live video delivery, and open-file workflows for real-time editing and production.
Video Quality - One Stream Source, Multiple Destinations
The quality of video delivery is controlled by keeping start-up delay at a distance down to almost zero and maintaining less than two seconds of delay from live for 50 Mbps video sources over global Internet networks. Interoperability is also important – the system transports live video sources or growing file sources available on local unicast TCP and multicast UDP, and outputs video to the same destinations. Transport is via a uniform lossless, in-order byte stream that supports both constant and adaptive bit rate formats with performance independent of video encoding or network conditions.
One stream source can be sent to multiple destinations concurrently, setting up built-in path redundancy at the same time. The server hosts are natively clustered so that stream sessions failover automatically to another host.
The new Stream Manager automatically discovers Aspera FASPStream-enabled devices on a network, which makes deployment, configuration and management quite simple. It reduces the cost and effort of traditional setup at the stream origin – that is, the remote venues - while increasing visibility and control at the point of production, usually the broadcast centre. A new interface for administrators contains controls over remote devices, creates and manages multiple streams, and displays device and stream status. asperasoft.com