Greek Basketball Club Webcasts and Records with Matrox Monarch HD
The International Basketball Federation, usually referred to by its French acronym FIBA, is the global governing body for basketball and has coordinated basketball leagues and competitions since 1932. FIBA is based in Switzerland and takes an active interest in new ways to further public awareness of the sport and the way it is presented across the media.
Consequently the Federation is enthusiastic about streaming video and has made it compulsory for member teams to transmit certain parts of international games - such as coach and player interviews and peripheral actions - over the internet, allowing more fans to watch. AEK Basketball Club (AEK BC), one of Greece's biggest teams, has taken up the rule and seized the opportunity to gain greater exposure.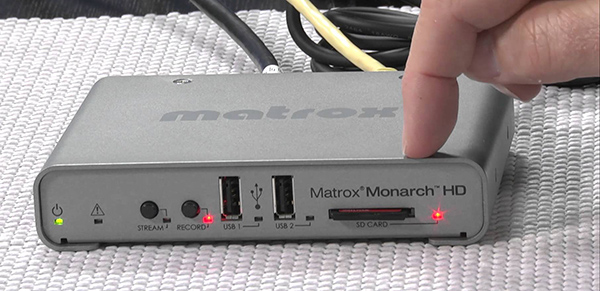 More Content for Dedicated Fans
Antonis Prentzas, who oversees the equipment AEK BC uses, said, "Anything that helps us communicate with our fans is a good thing. We operate in a fast-changing media environment. In sports, it gets even more complicated as we all consume and produce content about our favourite teams on multiple social media channels. The more material you put out there, the better it is for dedicated fans to use in their everyday networking."
During a regular basketball league season, lasting from October to May, AEK BC is scheduled to play one or two games almost every week in the National League. In addition, the club participates in international FIBA matches, including the Basketball Champion League. AEK BC wanted to make the star of the game, the coach and other player interviews and press conferences from all games available to fans in real time, as well as highlights of the games soon after.
The club decided to look out for a reliable, compact encoder that is simple to use and would allow them to stream live as well as record high quality content in any venue. They worked with systems consultant AmyDV, who helped them evaluate several different ssystems and eventually choose the Matrox Monarch HD, a small, portable H.264 hardware encoder.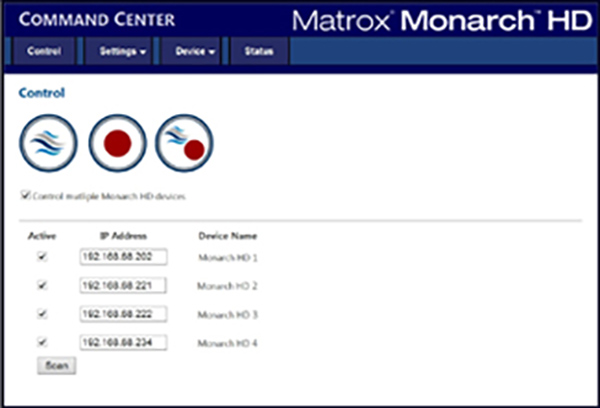 Fewer Steps
Matrox Monarch HD takes an HDMI input from a source such as a camera and generates an encoded stream compliant with RTSP or RTMP IP protocols. While encoding the video at bitrates suitable for live streaming, it can simultaneously record a higher-quality MP4 or MOV file to a USB drive, an SD card or a network-mapped drive.
Antonis said, "It is a deceptively simple machine that gives a high-quality stream with very few steps. Previously, we used another system that needed many more steps and therefore had more points of failure and issues. This created a level of uncertainty that made it necessary to have the supplier on-call each time, and be present at the venue at least an hour ahead of time to help set up. Now those measures are no longer necessary. After connecting the camera and switching it on, streaming begins automatically."
Live Stream Plus Recorded Highlights
Monarch HD delivers the content, such as coach and player interviews, to a server that uploads live to the FIBA website for fans from around the world to watch. Meanwhile the team's higher quality files, recorded to an SD card, are used to create video assets such as highlights to complement the live stream. These compressed H.264-encoded files make uploading to post-houses quicker and smoother in order to shorten the overall turnaround time for each match.
Prior to each game, AEK BC's AV technicians can set up the system, entirely on their own, and publish live streams to FIBA's website for thousands of basketball fans to watch. Monarch HD also makes it simpler to create their own highlights from various team events for AEK BC's fans to view on demand. www.matrox.com/video.