Australia's First eSports Studio Broadcasts Live for Gfinity Elite Series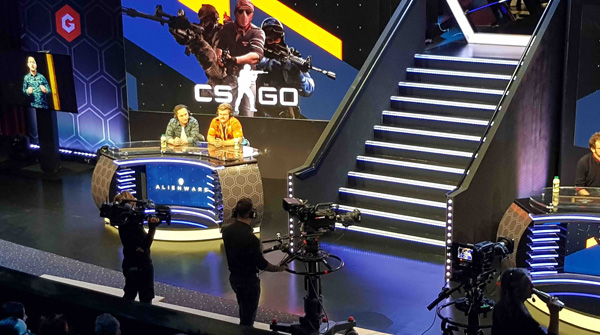 Gfinity eSports Australia's new Elite Series competition is now underway, delivered to gamers and fans via a structured competition framework within Australian eSports League. Presented by Alienware, the series follows six city-based clubs competing weekly in front of a live audience at Gfinity's new eSports arena, recently built inside the Hoyts Cinema Complex at Sydney's Entertainment Quarter.
Clubs compete across game titles including Counter Strike Global Offensive, Street Fighter V and Rocket League, for a share in the eSports League prize pools. Each event is broadcast live on Twitch. The arena is Australia's first, dedicated eSports production studio, constructed by local systems integrator and supplier, Videocraft.
eSports Production Studio
Videocraft's project engineer Nick MacLean said, "Gfinity have been producing eSports events in the UK for some years. As well as creating and building a studio to create content for Twitch, Videocraft also had to send content, ready for playout, to TEN's digital channel One. For this studio we had to produce all the content to a higher standard than for regular SD television, which is usually 1080 50i. However, because the primary delivery and viewing platforms are online, all of the content from the studio is supplied at 1080 60p - which is the same as a live feed from the USA - in order to keep up with refresh rates."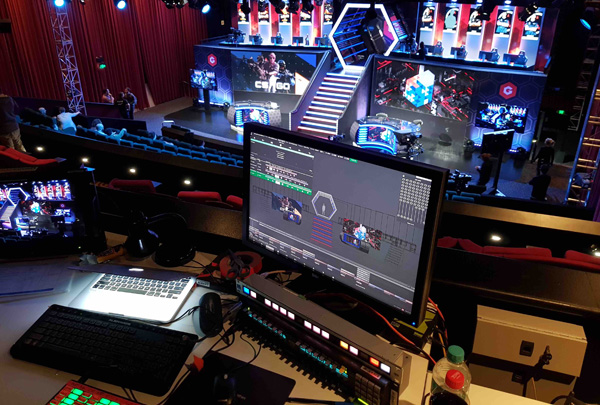 Videocraft designed and built the studio based on one of their FlyAway kits, customised to integrate Sony HDC-2400 cameras, HDC-P1 cameras, EVS XT3 video servers, a Sony vision mixer and full Yamaha audio.
Consistent Quality of Experience
"This project is essentially concerned with quality of experience. We deliver all of the competition match content in 1080 60p live to Twitch who in turn put it out live to their viewers," said Nick. "For One, we had to work with Channel TEN on a compatible format that looked to be of the same quality as the video on Twitch. We designed a workflow in which we send One the content in 1080 60i and then cross convert that video to 1080 50i. From there it all went out via the Telstra DVN."
The Telstra DVN (Digital Video Network) connects all of the major Australian broadcasters with each other, and also connects stadiums, racetracks and venues across Australia. Live or recorded content can move anywhere on this network, which can also access Telstra's global media network for international delivery or receiving. All transmissions are monitored from a 24-hour operations centre in Sydney. Users manage, monitor and control video and data services through a web-based portal, from any location with connectivity.
Nick said, "Supplying vision feeds to monitors throughout the new facility was another part of the job, which we did using the new Bird Dog NDI converters. We were using the new NDI decode functionality of the Bird Dog NDI Studio units to directly feed the screens, and had a separate unit for each screen. This meant we could control the units and ensure they would accept and display any material we chose in 1080 60p, whenever required."
Live Clip Playout
The Bird Dog converters made the network infrastructure they had built for the new facility more flexible and simpler to use. For example, they could use an existing Gigabit Ethernet network instead of tie up a number of router outputs. Plus, control of the NDI screens could be handed over to staff who were directly involved in the game control. They had precise, timely information on when to update images on the screens according to what was happening in the game from moment to moment.
"We were using a new software application that lets the operator choose the images they want to send to any or all of the Bird Dog Studio units in the system. We could load either graphic stills or video clips, as needed at any given time, and use the network of Bird Dog Studio units as a straight multi channel clip playout system. Using our traditional TV broadcast systems to run the screens would have cost quite a lot more, needed a specifically trained operator, and in the end would not have been as flexible.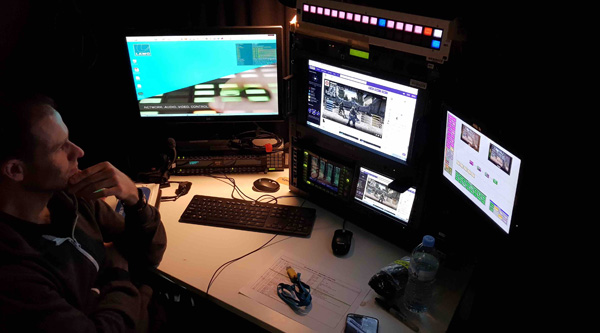 "Bringing this project to the Cinema Complex location had some inherent challenges as well. The studio floor was built into the cinema itself, but our central apparatus room and control room were built in one of the projection bio boxes on the other side of the complex. A full fibre installation was completed so that we can send signals to various parts of the cinema complex. Using Reidel Mediornet, a media signal processing and distributing network, with a 10gig Ethernet backbone has made this fairly simple."
Season 1 of the Gfinity eSports Australia Elite Series started on 2 June and runs for seven weeks of competition, featuring teams from eSports clubs Melbourne Avant, Sydney Chiefs, Brisbane Deceptors, Perth Ground Zero, Melbourne Order and Sydney Roar. www.videocraft.com.au