NRL Moves Online with New NEP Studio and Post Facility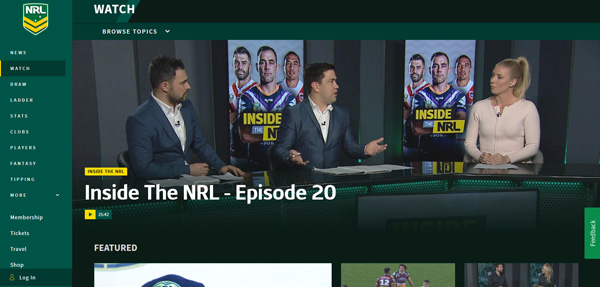 Australia's National Rugby League now operates from a new production and post production studio and facility at NEP's Redfern HQ in Sydney to produce live and recorded online programming and content for their digital network, www.nrl.com, which includes websites and mobile applications for 16 clubs and two state associations.
NRL media services manager Wayne Dakin said, "Online properties like nrl.com and the content clubs produce for them are important now for sports teams. With this in mind we wanted set up a studio and facility for fast-turnaround highlights edits of all matches, panel shows, pre and post-match content. As well as fast, it needed to run reliably and cost effectively."
Production Servers and Asset Management
Local systems integrator Videocraft was commissioned to work with NRL partners NEP and the NRL production office. The first task was to make sure the facility design would integrate directly with NEP's existing production infrastructure and with NRL Bunker, the team's central facility for live in-game decision making. The design also integrates Telstra's digital video network (DVN) - for transmitting and managing real-time SD/HD video between digital media platforms - and satellite infrastructure for content delivery.
Videocraft MD James Taylor said, "For the speed of turnaround that was required, we would need an EVS XS Server and IP Director production asset management system for the new nrl.com studio and post facility. Because the facility would also be used to manage all incoming feeds and studio records and then playout the material, EVS' compatibility with all of the NRL's existing broadcast providers and partners such as NEP, Channel 9 and Fox Sports made it a good choice." For example, because content for the NRL Bunker is also managed by NEP, the set-up meant their crew could continue using the same processes.
Broadcast Graphics System Integration
Due to NRL's concern that the visual quality of their online presence compete with conventional broadcast quality, special effort was put into the graphics system, which is based on a Ross Video Graphite production switcher controlling a highly specified version of XPression 3D motion graphics, two channels of clip server and RAVE audio engine, all built-in.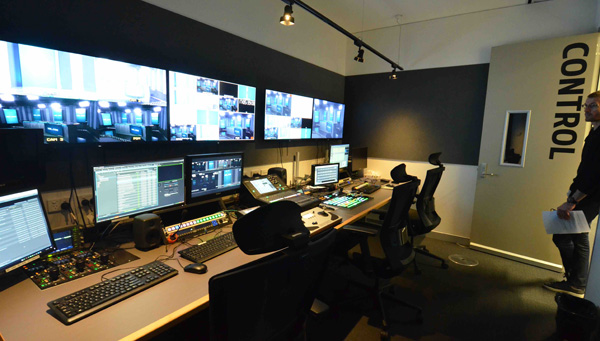 "NRL are using the Graphite production system that integrates the Ross Carbonite video mixing engine with the Ross XPression graphics system," James said. "Their particular configuration has been optioned to include all of Ross Xpression Studio's functionality, with Datalinq for external data sources, and a clip player."
The Studio edition has four integrated components - a scene editor for template design and a sequencer for playout running on the BlueBox render engine, and an object-oriented COM API for automation. The result is a system that graphics designers, operators and directors can use - and automation programmers, if required. Depending on the hardware and supporting software in use, its functionality can be applied up- or downstream for studio, pre- and post production work.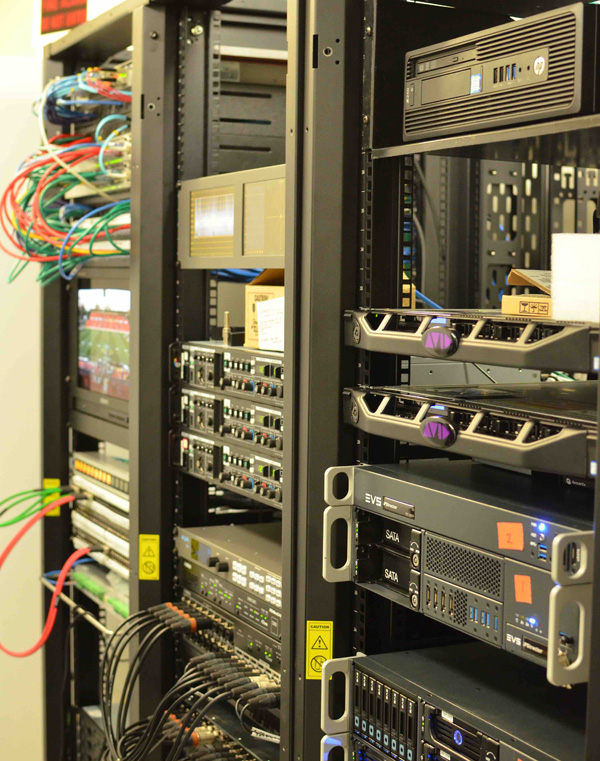 XPression's template designer has tools and functions familiar to CG operators and graphic designers with flexibility supporting fluid, complex broadcast design. Any scene can be used as a base template for a sequencer entry. Designers drag-and-drop a scene into the sequencer as many times as needed, creating a take item.
Before playout, the published template properties can be updated from within the sequencer itself. Also, template links can be attached, or bound, to external data sources by using a DataLinq source. Essentially a data management tool, XPression's DataLinq Server binds data to scenes and has presets for commonly-used data sources, plus support for the major scoreboard manufacturers.
BlueBox, the system's real-time render engine, is at the core and can simultaneously render to a number of resolution-independent output channels, anti-aliased with fill and key and 128-bit internal colour processing.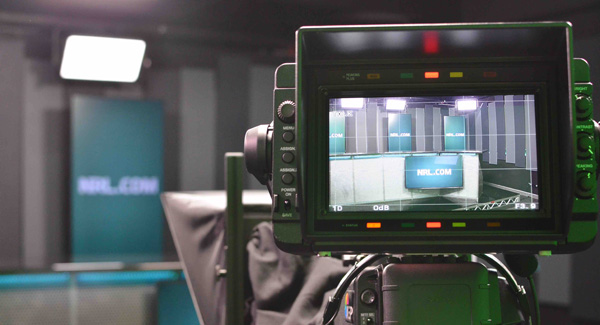 Programme Turnaround
Videocraft's system integrates a 400TB Avid Media Central system with NEXIS storage to help speed up programme turnaround, chosen for reliability and interoperability with EVS systems. James said, "We installed two 200TB Avid NEXIS Enterprise E4 chassis, for a total of 400TB raw storage capacity. The performance of the file system, intuitive user interface and very compact size compared to its capacity, made Nexis a good choice for this facility.
"Avid's Media Central works very tightly with NEXIS storage and manages the media brought into the system. One key aspect is the integration within their EVS production network, bringing in the metadata created in the EVS IP Director workstations and making all of this additional information available to the editors. As a result, they can find the material they need quite easily. The system also allows the nrl.com team to expand their workflow to enable remote editing clients out in the field to connect to Media Central and move material between the production storage and the remote location." www.videocraft.com.au