Embrionix Software-Defined Gateways Take on SDI-to-IP Conversion at CBC/Radio and IBC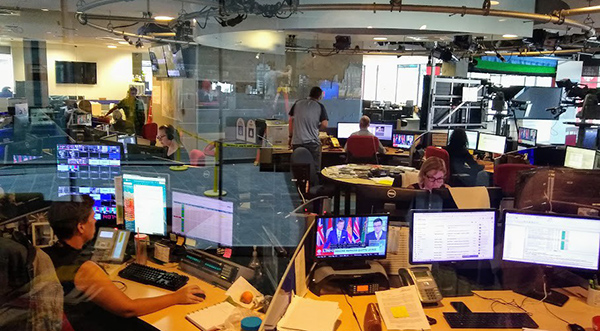 CBC/Radio Canada has built their new Maison de Radio-Canada Montreal broadcasting facility on a very flexible IP infrastructure that aims to reduce the organisation's physical footprint and energy consumption at the same time. They are using Embrionix miniaturised, software-defined emSFP HD and UHD SDI-to-IP gateways, to be deployed within the core IP infrastructure.
Francois Legrand, Senior Director, Core Systems Engineering at CBC/Radio-Canada said, "The tiny SDI-to-IP gateways integrate directly into COTS IP switches and can be controlled by third party control software through various methods such as open APIs, AMWA IS-04/05 and Ember+, so we optimise space, consume less energy, limit equipment purchases and facilitate integration into large-scale systems. Each gateway can also be repurposed as a frame sync, IP clean switch, up/down/cross converter or other IP-to-IP processing tool, depending on our future requirements."
AMWA IS-04 specifies APIs to allow network-connected devices to register their resources on a shared registry. AMWA IS-05, which specifies an HTTP API that connects Senders and Receivers in a transport- and format-independent way, can make use of information discovered through AMWA IS-04. The Ember+ control protocol developed by Lawo Group and L-S-B Broadcast Technologies, allows equipment to interact without significant development effort. Once Ember+ is implemented on products, from basic micro controllers up to powerful PCs, little further development or hardware is needed to control new unknown devices.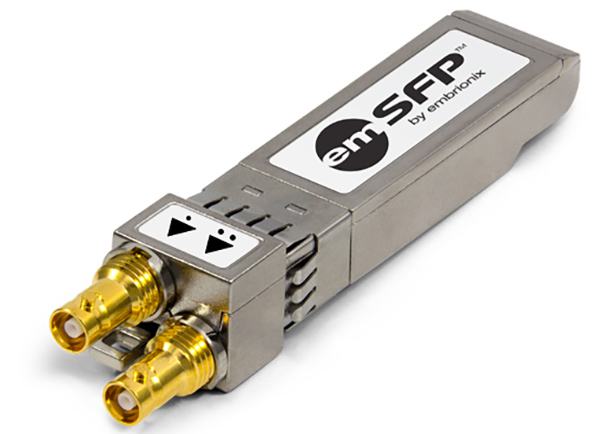 IBC2018 - emFUSION-6 UHD-IP Aggregate Gateway
As well as these compact, high-density IP gateways, which Embrionix specialises in, at IBC2018 coming in September, the company will demonstrate its emVIEW-6 to target 2022-7 applications, including driving four HDMI 1.4 monitors simulataneously, or 2 x HDMI 2.0 (UHD) monitors over IP, without compromising frame rate or resolution.
The miniaturised emFUSION-6 UHD-IP standalone aggregate gateway is designed to interconnect multiple remotely located devices over IP. A good fit for remote productions, the emFUSION-6 is software defined, and can be repurposed to serve as an IP processor, up/down/cross converter, IP multiviewer, IP clean switch or encapsulator with frame sync, depending on the broadcaster's needs over time.
"Within a SMPTE ST2110 remote production scenario, broadcasters still need to interface with surrounding source and destination media devices that are not yet IP native, " said Louis Caron, Embrionix director of product management. "The tiny emFUSION-6 gateway offers a simple, low-cost way to smoothly interconnect baseband equipment within the system, supporting resolutions from SD to UHD-IP. "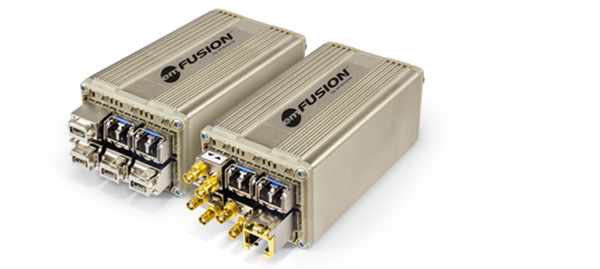 The emFUSION-6 optimises a 25GE link to drive two UHD or up to 4 x HDMI 1080p display monitors over IP without compromising frame rate or resolution. Optional clean, quiet switching is available on de-encapsulation.
The emSFP-based I/Os of this gateway can also be reconfigured to permit up to six POV camera returns with control of pan/tilt/zoom commands. Signal return is then carried out over just one fibre link - reducing extensive cabling and streamlining costs. Hitless redundancy (ST2022-7 - switching between the primary and backup line card without losing framing sync when a primary line-card failure occurs) can also be achieved through dual network connectivity, and optional frame synchronisation on encapsulation eliminates the need to genlock cameras.
The emFUSION-6 hangs simply off the back of a display monitor and control is achieved through Ember+ (see above), RESTful or NMOS protocols.
Also at IBC, Embrionix will show their new emVIEW-3 gateway, driving two HDMI 2.0 (UHD) monitors with one IP link. This miniaturised, low-footprint, high-density gateway minimises the number of fibres required, helping to lower users' operational expenses. www.embrionix.com