Local Internet Service Scales Up IP Video with Broadpeak, Inca and Espial
Hiawatha Broadband Communications (HBC), a local internet service provider based in Minnesota in the US, operates a fibre-optic network that supplies gigabit broadband, telephone and video services. It delivers video via approximately 300 channels and VOD, including wide coverage of local high school and college sporting events produced at HBC Studios.
Broadpeak and Inca Networks partnered on the design and installation of HBC's IP video delivery system, which prepares and distributes video content via IP applications. HBC manages its subscribers and user experiences from Espial's Elevate Cloud IPTV platform, a TV-as-a-service used to make IPTV and app-based TV services available to customers. As an open platform, Elevate could be integrated to Broadpeak's and Inca Networks' media processing components, resulting in rapid deployment of IP-based services.
Espial's Elevate Cloud IPTV platform
HBC uses Broadpeak's BkS350 Origin and Packager to ingest live video channels sent by the Inca ABR transcoder 3840, in which Inca Networks' hardware transcoding engine transcodes MPEG-2 or MPEG-4 AVC video sources into frame-aligned, multiple bit-rate outputs in MPEG-4 AVC. When media is received from the transcoder, the BkS350 packages the video content in the requested ABR format – such as HLS or MPEG-DASH - and sends it to Broadpeak's BkS400 adaptive bitrate caching server for local caching and streaming to subscribers.
The Inca ABR transcoder 3840 transcodes or downscales up to 24x HD programs using hardware transcoding, outputting to multiple frame-aligned video streams with consistent density. The device chassis can be configured for redundancy to automatically failover to a secondary source when errors are detected, including automatic recovery to the primary source. Using the 3840's IP multicast video monitor, HBC can view all ABR profiles from each source in the headend through a web browser - monitoring is compatible with most types of third party equipment in a headend.
Broadpeak's BkM100 mediator manages network topology creation and content provisioning, and requests allocation. At HBC, BkM100 is the CDN manager that supervises the BkS350 and BkS400 servers, and manages the streaming requests and redirects them to the servers.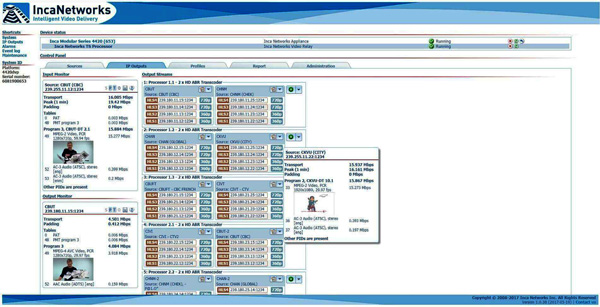 Inca ABR transcoder 3840
BkS350 Origin Packager combines just-in time packaging and built-in caching, which saves on encoding and storage resources and preserves throughput capacity. It can then deliver content to a chosen off-net or on-net CDN, and deliver content through the CDN using a combination of delivery methods. The BkS400 adaptive bitrate caching server caches video content locally, and runs on Intel-based off-the-shelf servers. It focuses on high throughput, which makes it efficient and moreaffordable to deliver high-quality video content over the open Internet, and broad HTTP format support.
Because of Broadpeak's pay per use business model, HBC was able to start distributing IP video on the system without making a large upfront investment. Furthermore, Broadpeak's software-based systems could be deployed on hardware that HBC was running via virtualised machines.
Jim Kronebusch, vice president of technology and engineering at Hiawatha Broadband Communications, also noted, "Broadpeak and Inca Networks supplied us with a system that can be adapted to match future developments and requirements. We deployed the IP adaptive-bit-rate (ABR) delivery recently, for example, in order to support OTT video and make other improvements."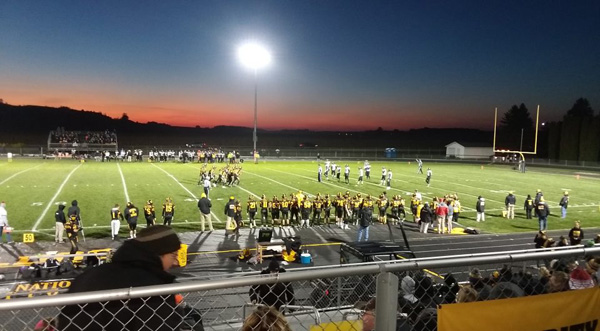 HBC delivers video via approximately 300 channels and VOD, including coverage of local high school and college sporting events produced at HBC Studios.
Streaming Video Alliance
Broadpeak was one of the first CDN and video streaming developers to make multicast ABR available to content providers and pay-TV operators. Broadpeak uses a huge array of broadband gateways, cable modems, Wi-Fi routers and STBs as active components of an operator's content delivery infrastructure, in order to scale live multiscreen video delivery as far as necessary. Operators can also use Broadpeak's local video caching, CDN selection, multicast ABR and low-latency video delivery to help control delivery costs while they try to increase the quality of experience they can distribute to viewers.
Broadpeak has joined the Streaming Video Alliance, an industry association dedicated to helping solve challenges facing the online video market. "The Streaming Video Alliance addresses topics that are central to our strategy, from optimising video delivery to reducing latency, enhancing security, accessing the multicast capabilities of networks for live multiscreen video delivery, and using advanced analytics," said Jacques Le Mancq, CEO at Broadpeak.
"These innovations are designed to ensure the quality of experience across all screens, at scale, and speed up distribution for content providers and operators." Alliance members work together to produce best practices, specifications and requirements, supporting providers' and operators' projects. broadpeak.tv