SVT, Grass Valley and Net Insight Scale Up Remote IP Production at Ski Champs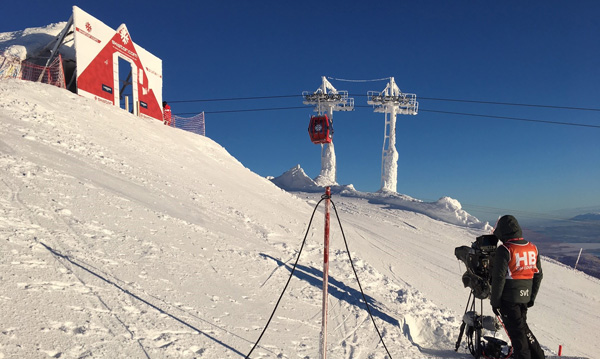 Sweden's national public broadcaster Sveriges Television (SVT) and media systems provider Net Insight have partnered with Grass Valley to undertake remote IP production for the broadcast of the FIS Alpine World Ski Championships – now underway in Åre, Sweden, from 4 to 17 February 2019. The production setup for the competition relies on the largest number of cameras deployed and the highest volume of remote signals – video, audio and data – transmitted to date from a live location to SVT's headquarters in Stockholm, over 600 km away.

In planning for the last ive years, this undertaking has made effective use of recent developments – techniques and equipment - in remote production. Eighty LDX 86 Series cameras from Grass Valley located along the ski course in Åre are delivering uncompressed HD signals over two 100 Gbps fibre circuits from Telia, to three control rooms at SVT's Stockholm facility.
Network Transport
Each circuit uses Nimbra transport from Net Insight, including their terabit-capacity router Nimbra 1060 that was launched recently. Using a network function virtualisation (NVF) architecture, the Nimbra 1060 router handles WAN transport of all-IP media services. It combines the capacity for media services using SMPTE 2110, assured quality for live events plus agility to accommodate customer-provisioned, automated real-time services.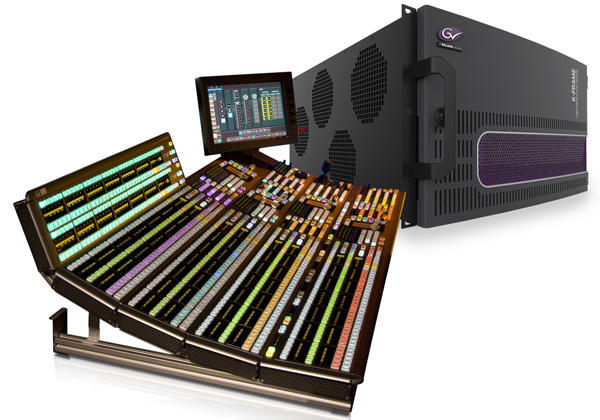 Grass Valley Kayenne video production centre switcher with K-Frame X video production and processing engine
The use of virtualisation allows it to run on a single common hardware platform, deploying media functions anywhere in the network, and connecting event sites, stadiums, studios and production sites over 100 Gbps links with straightforward traffic engineering.
Grass Valley's DirectIP capability is central to this workflow, enabling the cameras' configurable XCU base stations to be situated in the central equipment room in Stockholm, while the cameras are in the snowy hills of Åre. DirectIP simplifies the interconnections that need to be made, allowing all the camera signals to connect straight into each camera's XCU. This also enables the camera shaders to match the cameras without any delay due to distance, with fewer people travelling and more of the broadcast team working in a comfortable environment in Stockholm.

The FIS Alpine World Ski Championships are now underway in Åre, Sweden.
Camera Control
Using waveforms, vectorscopes and other tools, the camera shaders need to make sure that the look from all camera feeds during a shoot match in colour and light levels. This is especially important in outdoor situations, like live sports, with variable lighting conditions. However because of the IP interface on the camera, broadcasters can connect LDX Series cameras directly to commercial-off-the-shelf (COTS) switches on an IP network. Doing this transports the complete camera protocol through an IP network to the cameras' XCU base stations connected to another COTS switch on the same IP network.
This system enables control of all the cameras through a centralised control room. Thus, by facilitating complete transmission protocol between the cameras and XCUs over IP networks, broadcasters can capture events anywhere with less staff and equipment on site, and have more possibilities for managing multiple production locations from one central studio.

LDX 86 Series camera Configuration Diagram.
"This accomplishment demonstrates how far we've come in executing remote productions, especially looking back at our remote setup in 2012 for the London Summer Games," said Adde Grandberg, director of technology, CTO, at SVT. "To achieve this project for the Alpine World Ski Championships, we knew from the beginning that we'd need more bandwidth, an adaptable workflow and tight collaboration with Net Insight and Grass Valley – without compromising our ability to deliver high quality, synchronized images to our rights holders.
"The Grass Valley cameras' picture quality with minimal latency, combined with the DirectIP capability, made them choice for us and this project. They formed an integral element in a robust, reliable workflow that can cope with the particular conditions of a live ski event. Together we have set a benchmark for live remote production at a major sporting event."
Remote Workflow
The remote production workflow is set up to support a team of around 150 camera operators and technicians on location in Åre, with the restof the production workflow and staff in Stockholm. The DirectIP configuration on the Grass Valley cameras enables efficient handling of uncompressed HD signal distribution. A Grass Valley Kayenne video production centre switcher panel based in Åre gives the director access to a Grass Valley K-Frame X video production and processing engine back at the studio.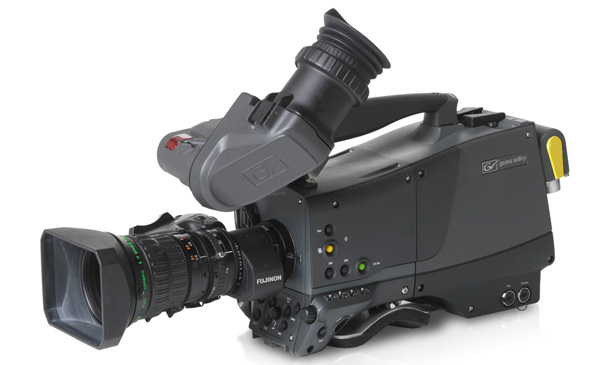 Grass Valley LDX Series camera
K-Frame X handles HD, 1080p, high dynamic range video and 4K UHD without adding stress to the operations. As well as supporting the Kayenne panel's M/Es and keyers, it has an Internal 10-channel ImageStore for stills and movies with video and key, plus audio. IT runs alongside an expandable, multi-format Sirius 850 router that was purchased specifically for this event. The Sirius 800 uses hybrid processing to integate functionality that would typically need external modular infrastructure – for example, audio processing, frame synchronisation and clean switching, or video and audio delay.

Larissa Görner, strategic product manager at Net Insight said, "When SVT first approached us about this project, achieving the capacity to support so many cameras and reliably transport uncompressed HD signals over IP across such a large distance seemed extremely ambitious. We were working with Grass Valley at the time on this same type of undertaking, which definitely helped us with SVT's Alpine Ski production." www.grassvalley.com